Salad with cucumbers, carrots, cashews and honey dressing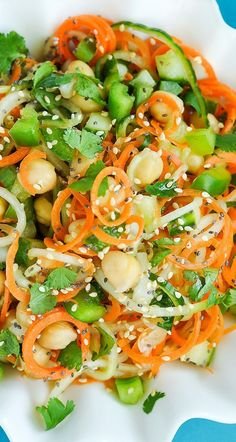 Image source
Ingredients
1 large cucumber;
2-3 large carrots;
1 bunch of parsley;
1 tablespoon of liquid honey;
3 tablespoons apple cider vinegar;
1 tablespoon of sesame oil;
1 clove of garlic;
salt - to taste;
ground black pepper - to taste;
50 g of roasted cashews;
1 tablespoon sesame seeds.


Preparation


Slice the cucumber and carrots with a spiral using a special knife. Finely chop the parsley. Put the vegetables and herbs in a bowl.
Thoroughly combine honey, vinegar, butter, chopped garlic, salt and pepper. Pour this mixture of lettuce and mix well. Garnish with cashew and sesame seeds.
---
Thanks for reading. Stay Healthy.