How to make Delicious Chocolate Lollipops (Original Pictures)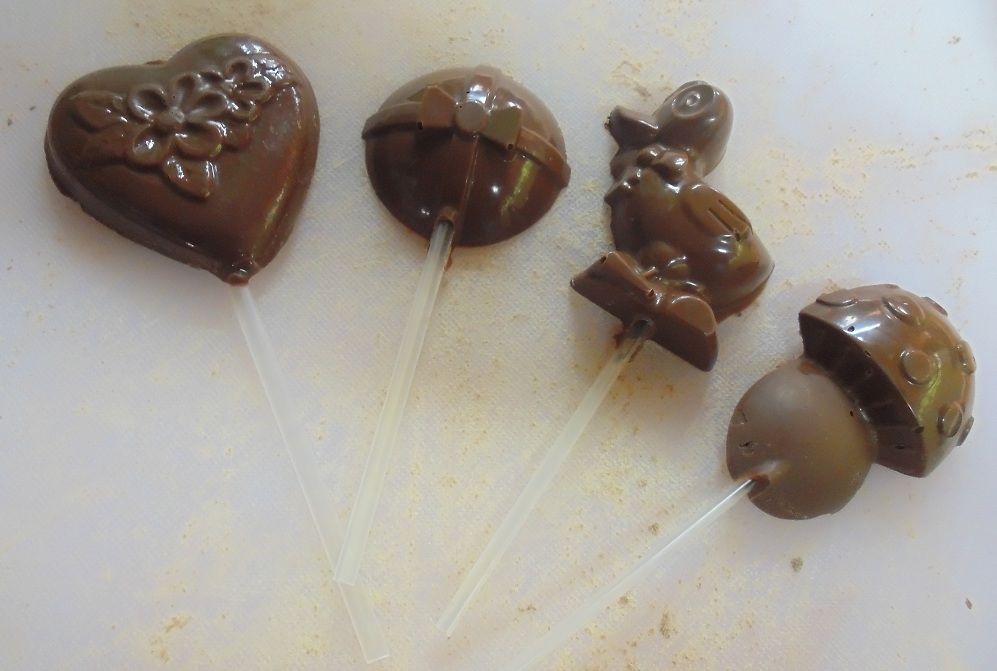 Hi Dears Steemians
In the course of chocolate that perform makes already some days, an of them things that more I liked was learn to make these fabulous lollipops of chocolate, always I have liked much and now them teach to you to prepare them.
It is very simple and is that to their children, cousins, godchildren, or nephews, they love. Let's start...
Ingredients and preparation:
200 g of Dark Chocolate.
150 g White Chocolate.
Pallets plastic for lollipops.
Mold for lollipops with figures.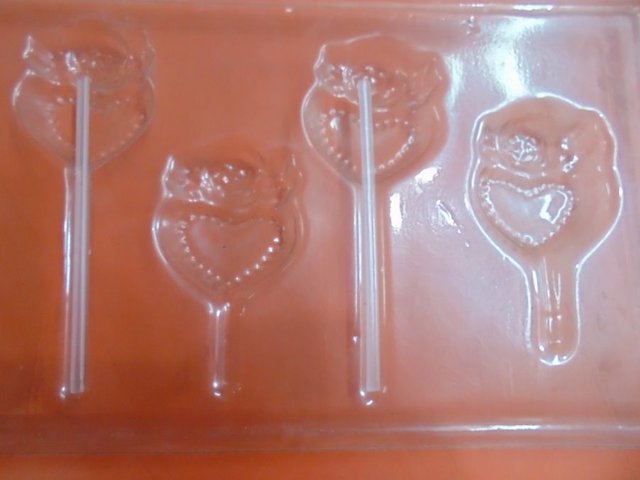 Like I said, it is very simple just need Chocolate and a bit of white chocolate to melt in the course that I learned the proper way to melt chocolate, then I teach them is:
How can I melt the chocolate?

Is advisable to melt the chocolate to a temperature between 40 and 50 ° C. Either white milk or chocolate. You always have to avoid putting chocolate in direct contact with the heat source. Use preferably microwave or water bath, regulating them in such a way that it melts the temperature recommended in a uniform way.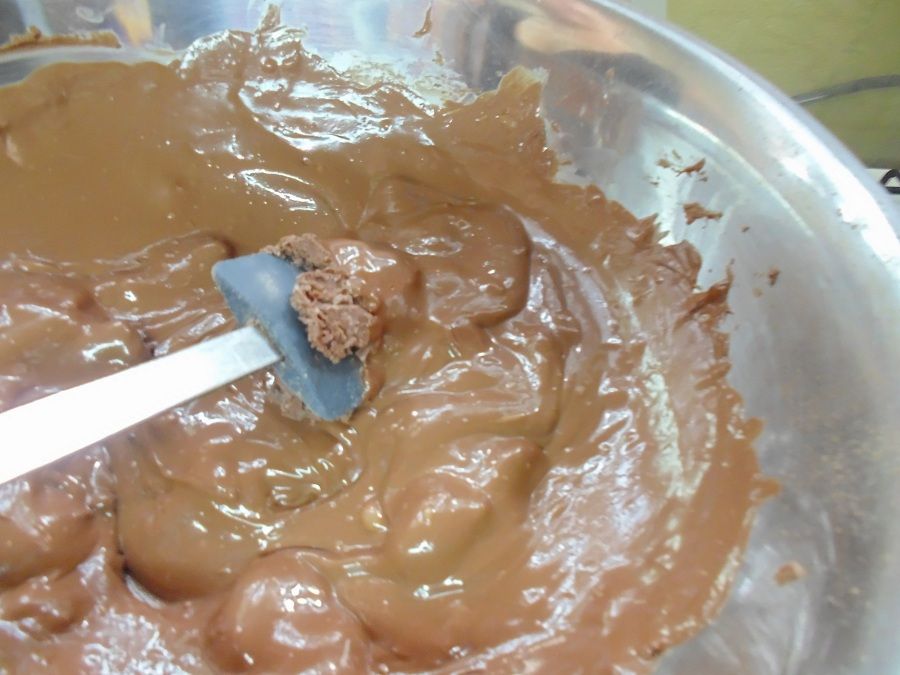 After melting the chocolate, blend them this will give them a delicious flavor.
Then simply place it the mould with its respective palette and carry it to the refrigerator for at least 30 minutes.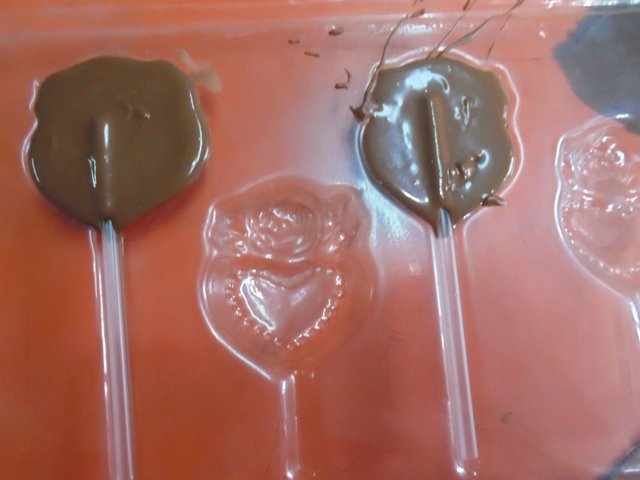 In the course also learned it way right of cool the chocolate and it describe below:
How cool the chocolate?

The ideal temperature to cool the chocolate is between 10 and 12 ° C for the molded figures. Drenched parts need to be chilled preferably between 15 and 18ºc. Fluctuations in temperature of more than 1 ° c should be avoided completely It is also important to note that when the molded figures cooled should be a large air flow, since during the process of solidification of chocolate a great amount of heat must disposed. Drenched parts cooling is preferably made without ventilation. Once the molds are ready to cool, is placed in a place fresh and the result will be a first solidification of the chocolate and then cool.
And ready, fast, delicious, simple and economic lollipops of chocolate to give away.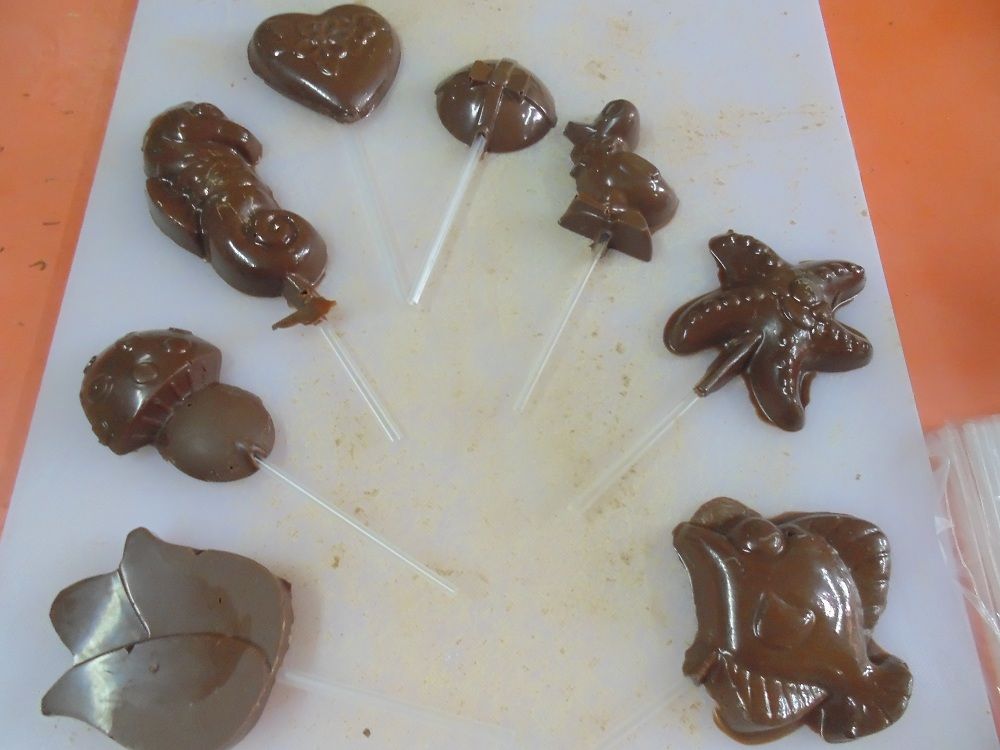 I hope that les has liked my publication, follow me so are pending of my next post about the delicious chocolate.

Thanks for your attention!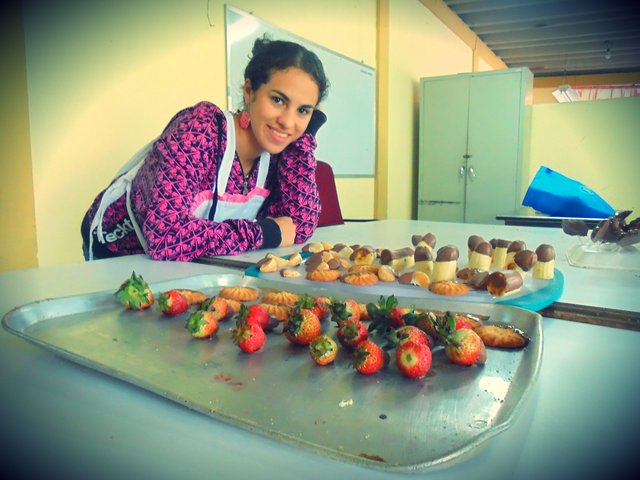 Versión en Español
Como Hacer Deliciosas Chupetas de Chocolate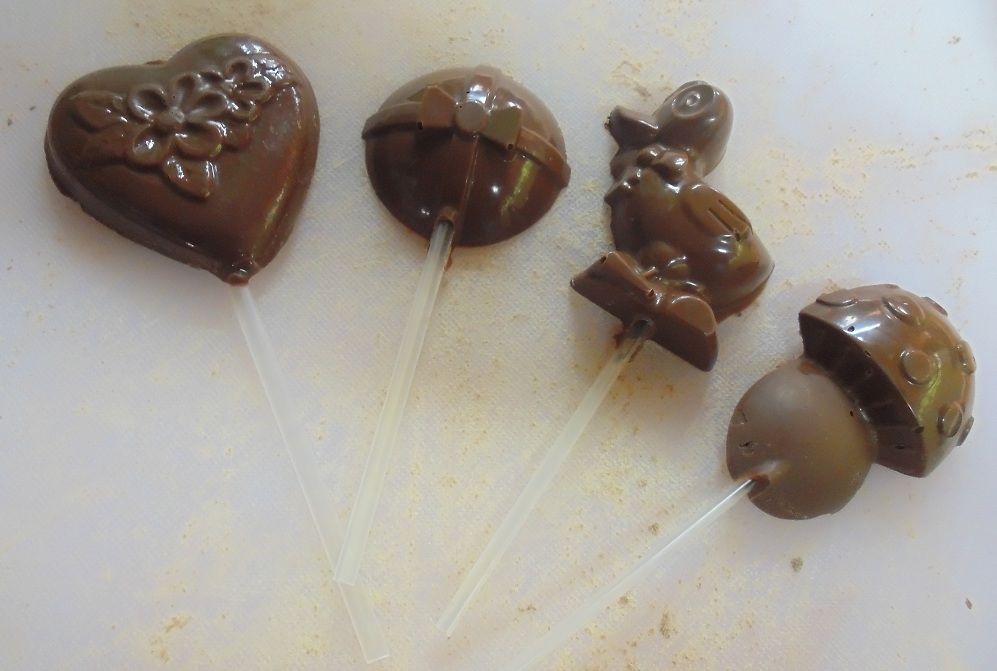 Hola Queridos Steemians
En el curso de chocolate que realice hace ya unos días, una de las cosas que mas me gusto fue aprender a hacer estas fabulosas chupetas de chocolate, siempre me han gustado mucho y ahora les enseñare a ustedes a prepararlas.
Es muy simple y se que a sus niños, primos, ahijados o sobrinos, les encantara. Comencemos...
Ingredientes y Preparación:
200 gr de Chocolate Negro.
150 gr de Chocolate Blanco.
Paletas de plástico para chupetas.
Molde para chupetas con figuras.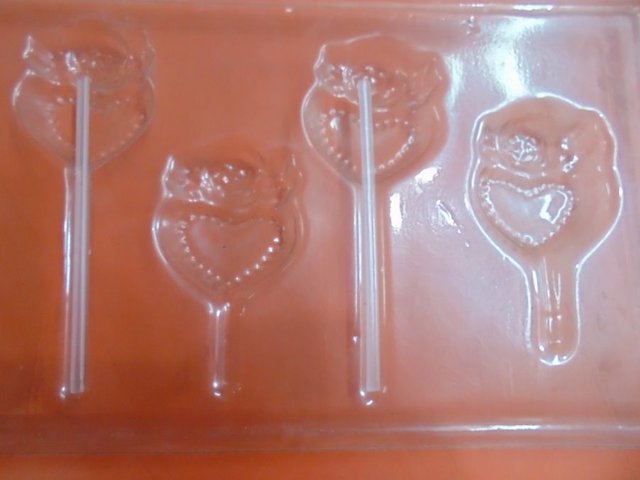 Como les dije, es muy sencillo solo necesitamos Chocolate negro y un poco de chocolate blanco para derretir, en el curso que realice aprendí la forma correcta de derretir el chocolate, a continuación se las enseño:
¿Cómo fundir el chocolate?

Se aconseja fundir el chocolate a una temperatura entre 40 y 50 ºC. Ya sea blanco de leche o negro. Siempre hay que evitar colocar el chocolate en contacto directo con la fuente de calor. Utilizar con preferencia microondas o el baño maría, regulándolos de tal manera que se funda a la temperatura aconsejada de forma homogénea.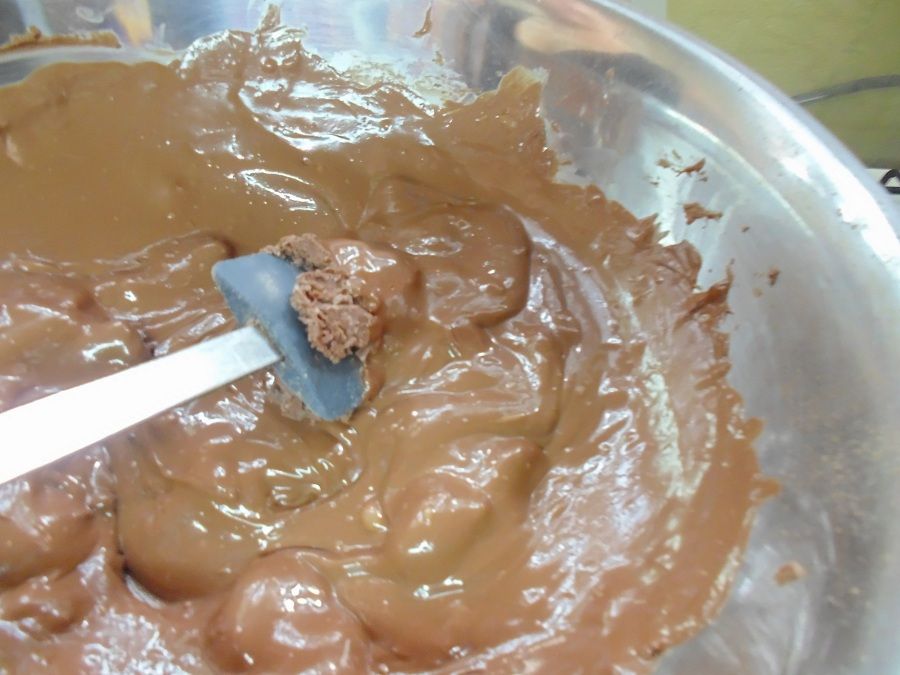 Luego de fundir el chocolate, los mezclamos esto les dará un delicioso sabor.
Luego simplemente lo colocamos el el molde con su respectiva paleta y lo llevamos al refrigerador por al menos 30 minutos.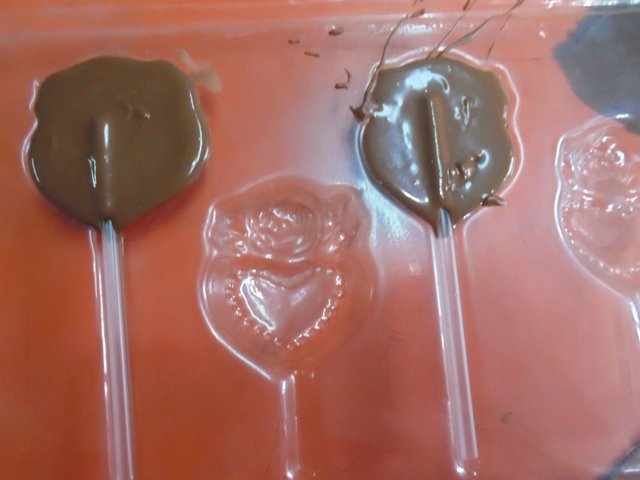 En el curso también aprendí la manera correcta de enfriar el chocolate y la describo a continuación:
¿Cómo enfriar el chocolate?

La temperatura ideal para enfriar el chocolate es entre 10 y 12ºC para las figuras moldeadas. Las piezas bañadas deben enfriarse preferiblemente entre 15 y 18ºC. Deben evitarse totalmente las fluctuaciones de temperatura de más de 1ºC. También es importante tener en cuenta que cuando se enfrían las figuras moldeadas debe haber una gran circulación de aire, ya que durante el proceso de solidificación del chocolate debe evacuarse una gran cantidad de calor. El enfriamiento de las piezas bañadas se hace preferiblemente sin ventilación. Una vez que los moldes están listos para enfriar, se colocan en un lugar fresco y el resultado será una primera solidificación del chocolate y luego enfriar.
Y Listo, Rápido, delicioso, simple y económicas chupetas de chocolate para regalar.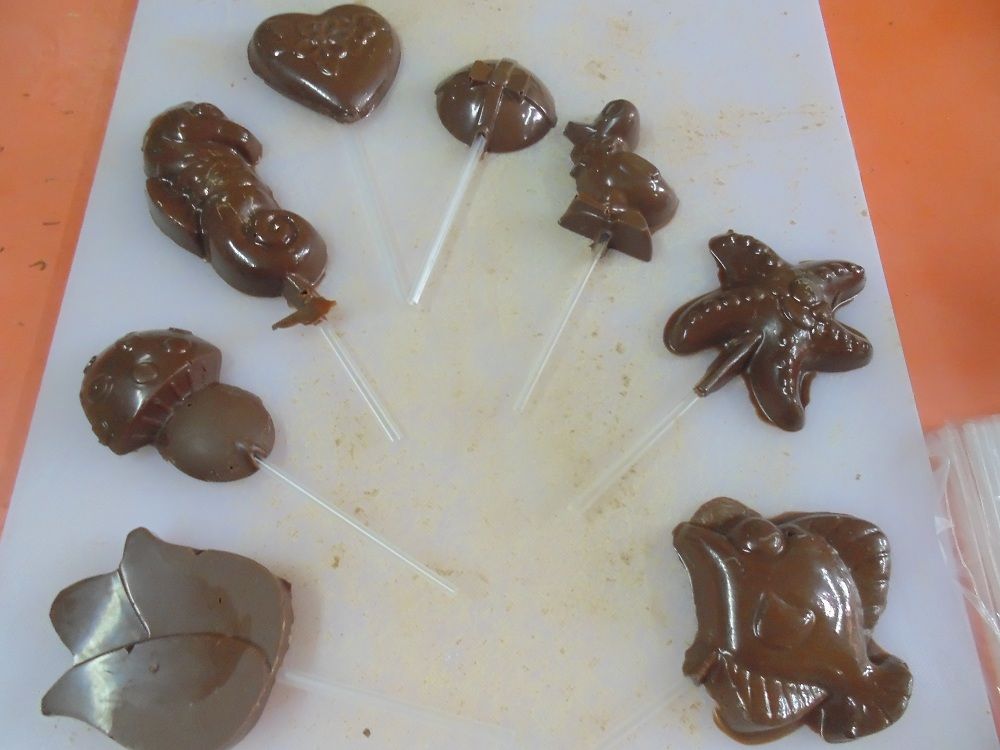 Espero que les haya gustado mi publicación, Sígueme para que estés pendiente de mis próximos post sobre el delicioso chocolate.

¡Gracias por su Atención!