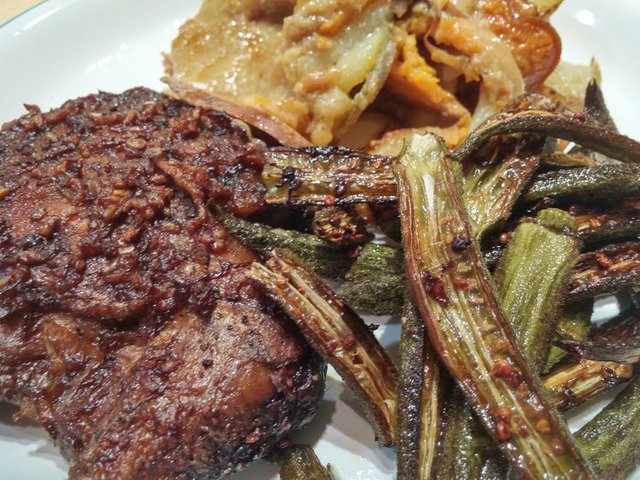 What in the world is a Lion's Mane Mushroom?
No, this is not a picture of a space alien. Nor is it a powder puff. This rather strange looking veggie is the Lion's Mane mushroom. And, as odd as it may look, it is truly a gastronomic delight when properly prepared.
Lion's Mane Mushroom is Not Just a Pretty Face.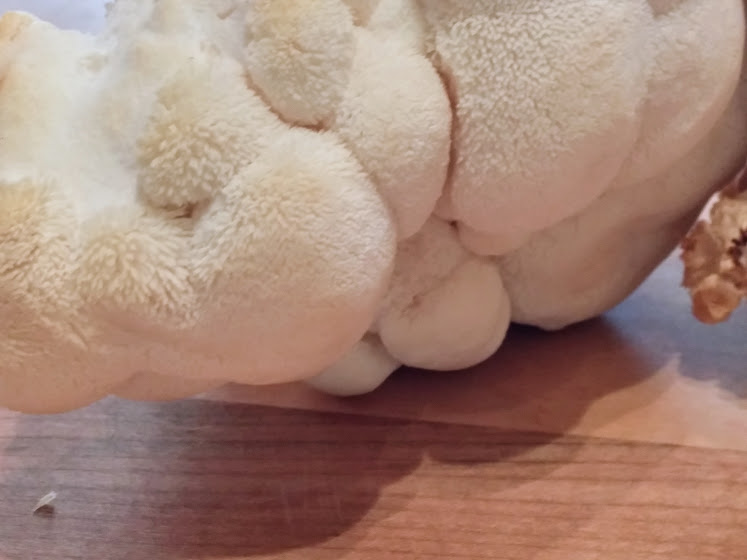 The scientific name for Lion's mane is "Hericium erinaceu" and is native to Europe, Asia and North America. It is an edible and medicinal mushroom belonging to the tooth fungus group. In addition to being absolutely delicious), the Lion's Mane mushroom is is a type of medicinal mushroom and has long been used in traditional Chinese medicine.
It has been proven that Lion's Mane mushrooms:
Can improve mental focus and concentration
Increase Energy
Decrease High Cholesterol
Reduce Inflamation
Improve Insulin Sensitivy
*Support Gut Health
Among other benefits. (References: https://blog.kettleandfire.com/lions-mane-mushroom/ and https://www.verywell.com/the-benefits-of-lions-mane-89474 )
COOKING WITH LION'S MANE MUSHROOMS
In addition to it's proven health benefits, Lion's Mane Mushroom also makes a tasty and delicious meal. When I want to plan a romantic meal for two or need a dish for a fancy dinner party, Lion's Mane Mushroom Steaks are always a winning choice!
Check out these step by step photos to making the perfect Lion's Mane Mushroom Steaks. (Don't worry, I'll share the full recipe at the end of this post.)
STEP ONE: SEASON THE MUSHROOMS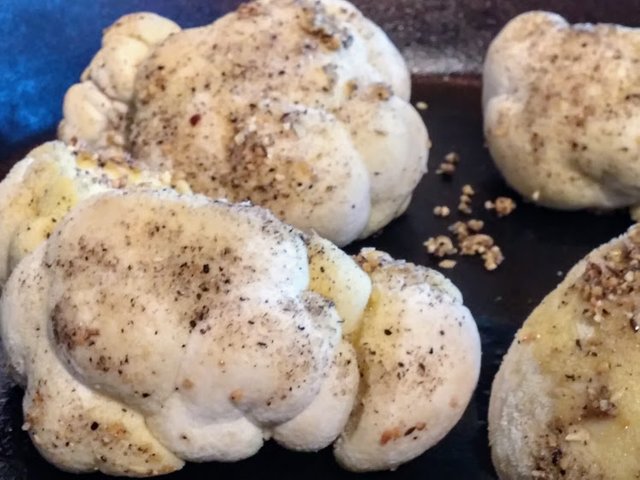 STEP TWO: PLACE THE SEASONED MUSHROOMS IN A HOT, LIGHTLY OILED CAST IRON SKILLET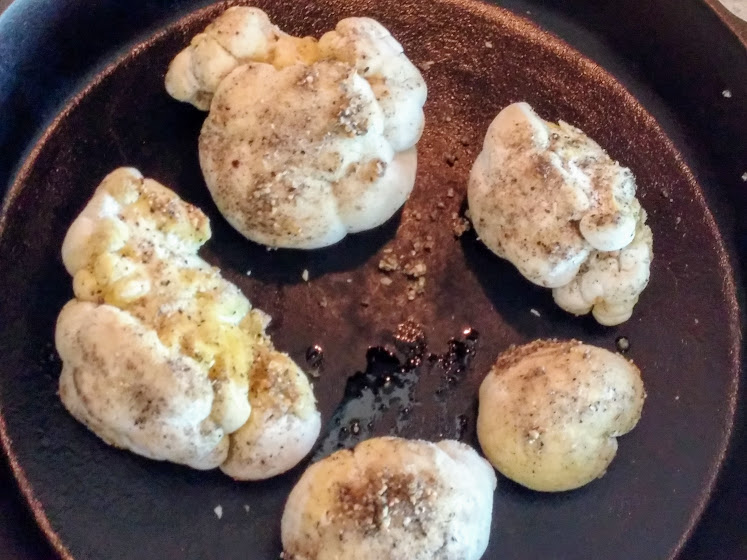 STEP THREE: PRESS THE MUSHROOMS UNTIL THEY REACH THE DESIRED THICKNESS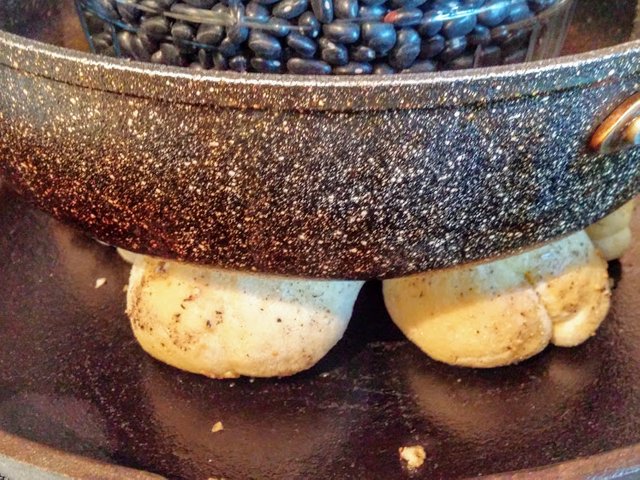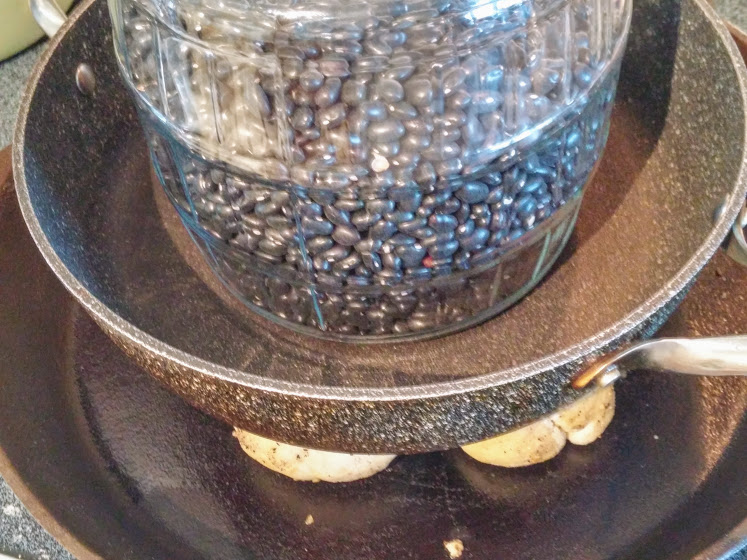 STEP FOUR: SEAR THE MUSHROOMS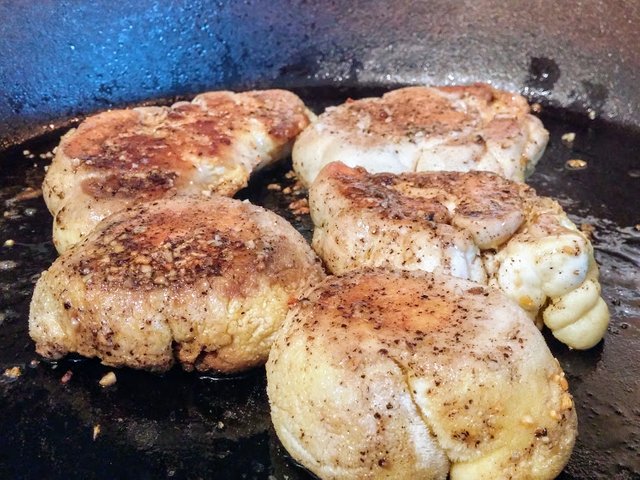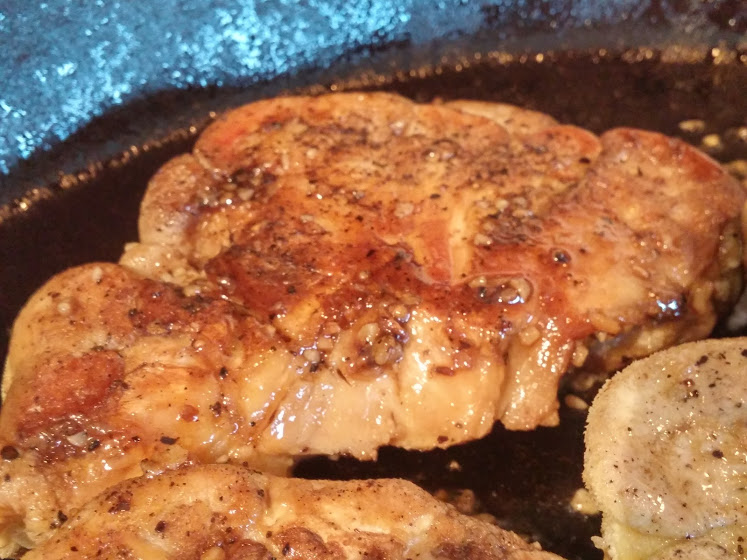 STEP FIVE: COAT THE MUSHROOMS WITH A FLAVORFUL MARINADE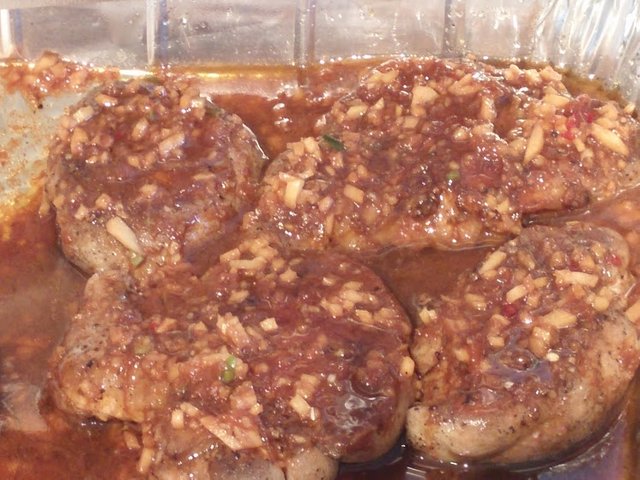 JUST LOOK AT THAT STEAK!!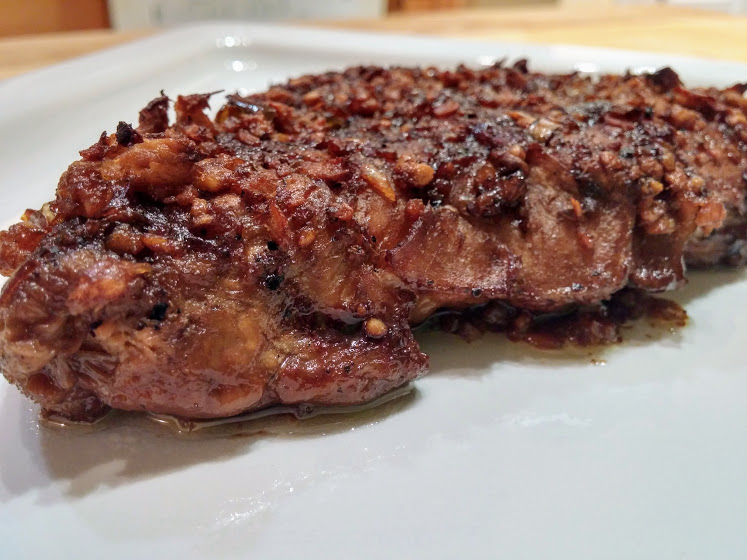 DON'T YOU WANT A BITE? SAVOR THE DELICIOUS LION'S MANE STEAK!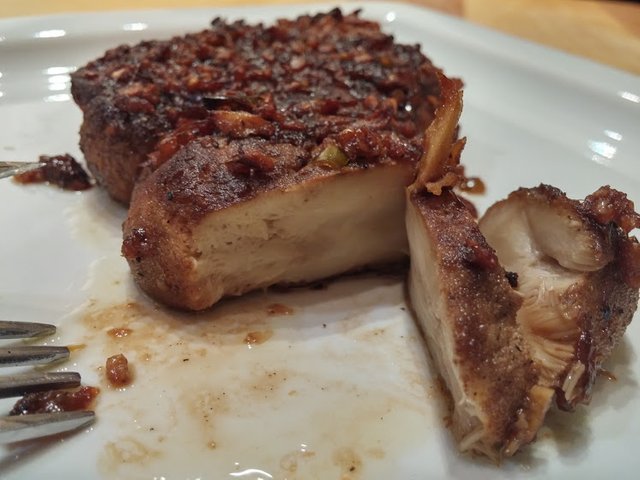 LION'S MANE MUSHROOM STEAK DINNER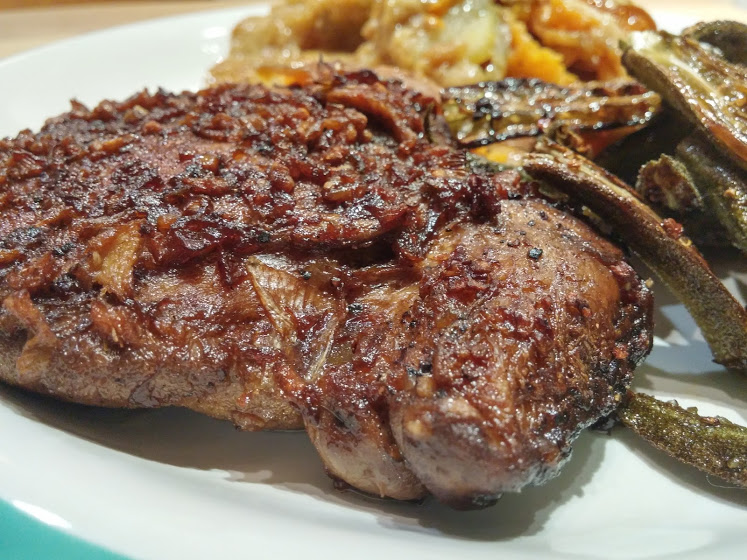 RECIPE FOR LION'S MANE MUSHROOM STEAK
Note: As a Vegan and Plant-Based Culinary Professional, I cook only plant-based meals for my family. I love cooking with mushrooms. You could even say that their versatility in flavor and texture make them the king of my kitchen. I just love trying new varieties and recipes for mushrooms.
I've adapted this recipe from one I found at http://wickedhealthyfood.com/2017/08/04/wicked-healthys-shroom-spotlight-lions-mane/. Those guys over at Wicked Healthy really know their way around the 'Shroom. I purchased my mushrooms from my favorite local organic mushroom farm. These mushrooms were a bit more expensive and were a little hard to find but, they were so worth it!
Lions Mane Mushroom Steaks
Serves: 2
Ingredients:
2 large Lion's Mane Mushrooms (About 1 pound)
Olive oil or plant-based butter
for the spice blend:
1 tablespoon paprika
2 tablespoons crushed black pepper
1 tablespoons sea salt
1 tablespoon granulated garlic
1 tablespoon granulated onion
1 tablespoon crushed coriander
1/2 tablespoon dill
1/2 tablespoon dried sage
1/2 mustard seeds
1/2 tablespoon crushed red pepper flakes
1/2 tablespoon freshly crushed black pepper
(Or you can take a shortcut and just use a storebrand ...like McCormicks's Montreal Steak Seasoning. Personally, I like to control the amount of salt being used)
for the marinade:
1/4 C low sodium tamari
1 T Vegan Worcestershire Sauce
3 T organic miso (or vegan fish sauce)
2 t olive oil
2 t sesame oil
1 t freshly chopped ginger
1 t freshly chopped garlic
Juice of 1/2 lime
1 thai chili pepper (seeded and chopped) or 2 jalapeno peppers (seeded and chopped)
Directions:
Combine spices and herbs of the seasoning mix. Gently pulse in a spice grinder or grind with a mortar and pestle. Set aside.

Combine the ingredients for the marinade and set aside.

In a large bowl, drizzle the mushrooms with about 2 T of olive oil (or desired oil of choice). Generously sprinkle with the seasoning mix. Toss gently to combine.

Press and sear the mushrooms. Heat a large cast iron skillet to medium heat. Add the mushrooms (being careful not to overfill the pan) and weigh down with additional cast iron pan. I put a large jar of beans in the top pan to add more weight. You can also use a brick wrapped in tin foil or heavier cover to create a press. Cook for 2 -3 minutes then flip over being careful not to tear the mushrooms. Sprinkle a bit more of seasoning and then press with pan again. Repeat this process several times until mushrooms are condensed and compressed to about an inch thick. During the pressing, feel free to season the mushrooms with the more of spice blend or drizzle on more oil if needed.
If there is still liquid from cooking your mushrooms in your pan once they have reached the desired thickness, just drain it off and add it to your marinade liquid.
Once pressed to desired thickness, add cooked mushrooms to marinade for up to an hour to overnight. When ready to prepare, slow roast on a 200-degree grill or oven for up to 2 hours, flipping and basting with extra marinade about every 15-20 minutes until a nice char crust forms.
Enjoy!
Note: Shout-out to @Steemit-ironchef Week #14 Contest which featured mushrooms. I waited too late to enter this week's contest, but this recipe was just too good not to share with the Steemit Community.
Bonus Recipe
Roasted Okra Fries (First published at https://www.atmemestable.com/roasted-okra-friestailgating-101-part-2/)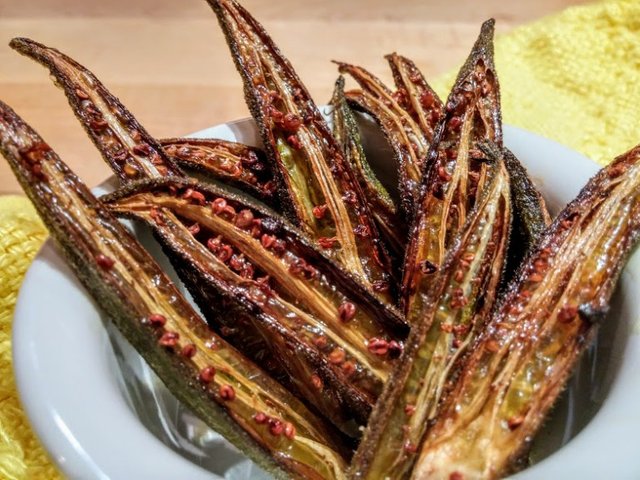 Golden. Crispy. Delicious. Nutritious. Roasted Okra Fries. 'Nuff Said!
Ingredients
*Fresh Okra Pods, about 1 pound
*Salt and Pepper, To Taste
*Olive Oil, either a spray or wipe on just enough to give a sheen to your pan
Instructions
*Wash and slice tender okra pods length-wise
*Lightly spray a large, cast-iron skillet with olive oil or, put about 1-2 tsp of olive oil in pan and wipe onto skillet to lightly coat
*Arrange okra, cut-side down, into skillet and sprinkle with salt and pepper to taste
If cooking your okra at the tailgate party, place the cast iron skillet onto a hot grill and cook until okra is golden, sizzling and starting to curl up on the ends.
*Carefully turn and check the cut-side of the okra for desired color. It should be a rich brown. It generally takes about 15 minutes to reach the desired, rich brown color. More or less depending on the temperature of your fire.
*If cooking your okra in the oven at home, then place the cast-iron pan in the middle of a pre-heated 425 degree oven. *Cook until okra is golden, sizzling and starting to curl up on the ends. Carefully turn and check the cut-side of the okra for desired color. It should be a rich brown. It generally takes about 15 minutes to reach the desired, rich brown color. More or less depending on how brown you like your okra.
*Carefully remove from pan.
Best served hot!
Note
*In Southern United States homes, cast-iron pans are often passed down from generation to generation. I absolutely love mine and use it in the home and, when tailgating, on the grill. When treated with love, these things are virtually indestructible!

Hi, I'm Benita G. You may also know me as, or call me, @AtMemesTable.
Hope you loved this post. Now, make me a happy girl and upvote my post and follow me.
I would love to have the opportunity to talk to you and to get to know you and you me. Check me out later! 'Cause you'd best believe that I'm going to be checking you out! Find me @AtMemesTable.
See you tomorrow!