Unrelated to the post content, this is my first time publishing via @SteemPeak, thanks to the recommendation by @TheMarkyMark... Let's see how it goes :-)
---
For the past many months, I've been refocusing most of my energy back onto myself, my personal development, my self-care, my dreams, and integrating my trauma. It has felt so good to practice holding space for myself, lots of old habits & thought patterns have crept up to be acknowledged & released, and the reduced stress from my first summer without back-to-back-to-back-to... (you get the point) festivals has been so refreshing & relaxing.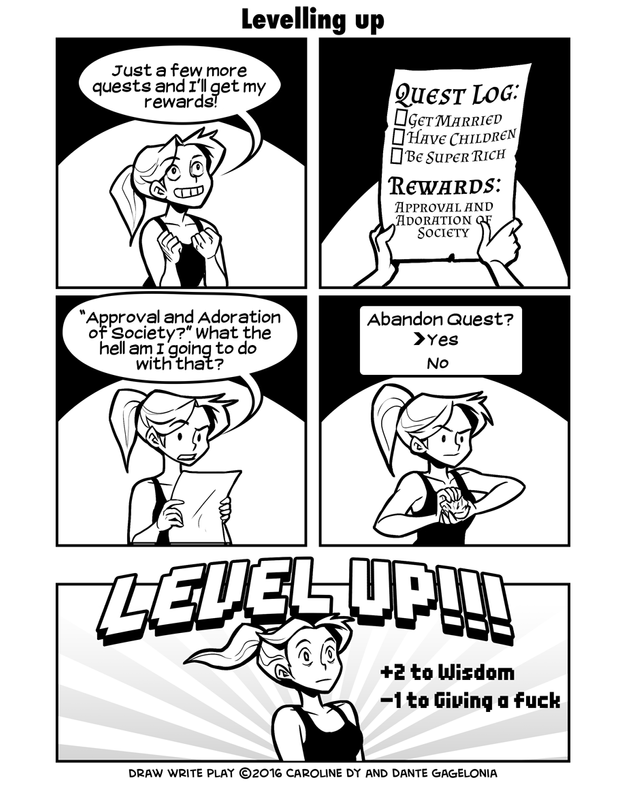 Image Source
Of course, along the way I have certainly been doing plenty of internal work, as well as staying on top of Steemit and the @TribeSteemUp project as much as I can without taking away from my self-care. One of the things that I've been putting out through Steemit, and am so excited to finally have more people reading & giving feedback on is my Real Life: The RolePlaying Game project. Over the past week, as I've locked in the place I'll be renting for most of the rest of this year, and have started looking at ways to better structure my time for maximum impact, I've been spending a LOT of time looking at character sheets & quest logs from RPGs, as well as ones folks have already created for real life.
I'm currently looking at creating a one-page (front & back) character sheet that is sort of the simplified, what's going on now basics for someone, along with an in-depth questionnaire to help us each dive much deeper into who we are, who we are becoming, and what got us to where we are. Needless to say, that project is going to take a while.
Something that has been much quicker in coming is a type of quest-log for myself. Turning this into a nice looking document template is still a ways off, but I'm starting to get some ideas around functionality, and I am certainly building a big old list of quests for myself.
The images below were taken from this character sheet for real life.
Ongoing/Large-Scale Quests (Variable RP)
Producing @Be-Empowered (May 17-19, 2019)
Facilitate & Release Real Life: The Role-Playing Game
Getting land to create the village
Become comfortable & joyous around sex & sexuality
Become ambidextrous
Learn sign language
Catalog all my books
Monthly Quests (50 RP)
Attend a Solsara workshop
Crystal Grid Activation (every 2 weeks)
Attend at least 1 new MeetUp
Weekly Quests (10 RP)
Kundalini Yoga Class (2x/week minimum)
Qi Gong Class (2x/week minimum)
Visit the Co-Op farmers' market
Daily Quests (1 RP)
Publish an article/video
Make sure @TribeSteemUp votes are working
Go for a walk (minimum 2 miles)
Dance
Read something not on a screen (minimum 30 minutes)
Don't consume any THC
Don't consume any questionable foods (obviously mindful eating is always huge for me, but there's some specifics I'm cutting)

Don't consume any refined sugars or syrups (strictly fruit as sweeteners)
Don't consume any oils besides coconut & avocado
Don't consume anything packaged if I can make it myself

No pornography & no masturbation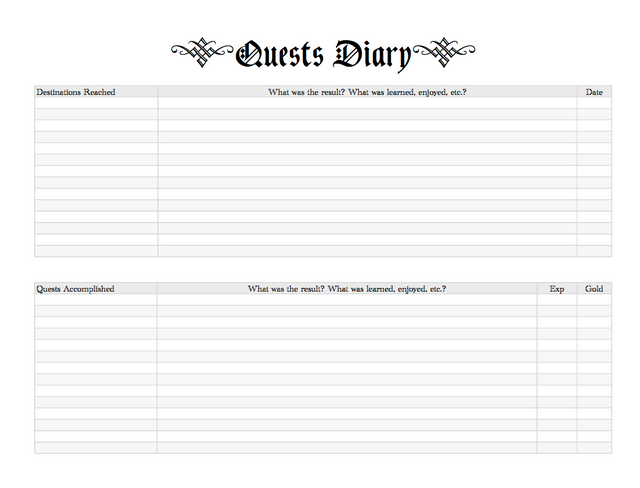 Rewards for completing quests
In many RPGs, any given quest will have an assigned reward that you get when you complete it. In my current model for my own quests, I am assigning reward points (RP) to each quest, then creating a separate list of things that are exciting/fun/I may not normally do for myself, and giving each of them a RP cost.
This way, as I complete quests, whether they be little daily habits or GIANT year-long projects, I am constantly accumulating RP I can spend to "justify" (not that I need to) giving myself wonderful little gifts. Really it will be more to motivate myself to do these things for myself, rather than a justification of. I am most likely going to create a wall-mounted board to track a lot of this stuff, and I'm excited to see what it all looks like.
A few things I'm thinking of including as rewards:
Attend a Magic: The Gathering tournament (50 RP)
Get a massage (100 RP)
Buy a Hang Drum (500 RP)
Rewarding, not punitive
One of the things that became really clear to me as I began writing up my quest log and creating a rewards system is the need for there to be positive reinforcement, without the threat of negative reinforcement (which leads back to self-judgement). If I fumble and don't complete one of my daily quests, I simply do not receive the RP for it, same with weekly, monthly, etc. Rather than setting up a system where I punish myself, the negative feedback is simply the lack of positive feedback that was possible.
---
---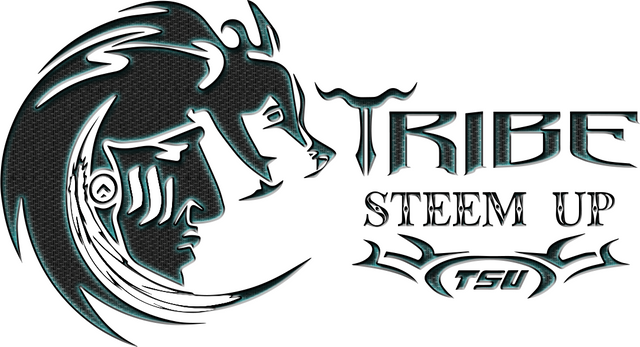 ---
---
If you enjoyed this, you may enjoy some of these highlights of my blog:
"Greatest Hits/Table of Contents" of my first 2 years on Steemit
You've Created Your Steemit Account and You're Ready to Get Started... What Now? [New Steemians Start-Up Guide]
The 8 Pillars of @TribeSteemUp: Clarification, Refinement, and Re-Casting the Spell
The Status, Vision, and Needs of Real Life: The Role-Playing Game
Be Empowered Official Announcement & Website Launch - 3 Days of Steem-Powered, Holistic Empowerment
---
---