Kolejny dowód na to, że PiS ma jakieś ciche układy z opozycją i obiecał im bliżej nieznane korzyści materialne w zamian za to, że zrobią wszystko by PiS wygrał. Inaczej nie można wytłumaczyć kilka znaczących wpadek KO podczas swojej kampanii. Najpierw prezydent Gdańska Aleksandra Dulkiewicz na konferencji prasowej wygłosiła, że:
Dzisiaj chcę zaprosić do wspólnego ŚWIĘTOWANIA o 4.45 spotkajmy się u stóp pomnika, razem z harcerzami, ale także, jako miasto Gdańsk, zaprosiliśmy kilkanaście miast pamięci. Miast z całej Europy doświadczonych II wojną światową, które lekcje wojny odczytują nie tylko jako bohaterstwo żołnierza, ale przede wszystkim tragedię ludności cywilnej
Następnie Arłukowicz z ekipą w Węgrowie przeprowadził bardzo 'sympatyczną' rozmowę z mieszkańcem, który miał być najmocniejszym elektoratem PiSu. Okazało się, że pomylili człowieka. Zaczepili mieszkańca, który nawet nie głosuje na PiS. Mimo późniejszego ocieplania wizerunku publikując na Twitterze dowód, że mieszkaniec Węgrowa nie poczuł się urażony tym, że opozycja chciała go w jakiś sposób wyśmiać, że jest wyborcą PiSu, to pozostał jakiś taki niesmak i świadomość, że opozycja bierze się za swoją kampanię od dupy strony.
Teraz chyba najbardziej dziwna i niewytłumaczalna logicznie wpadka (mam wrażenie, że to jest celowe działanie) Bogdana Klicha, który zamieścił wyniosły post z dziwnym hashtagiem #TwojSzwab.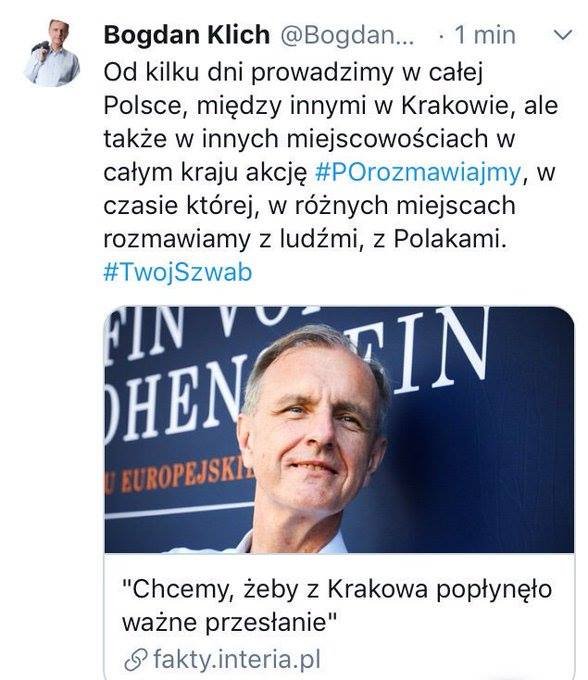 No wiadomo, literówka, każdemu może się zdarzyć, choć i tak sam hashtag brzmi śmiesznie. Jednak co dziwne takie typu 'wpadki' zaliczyło je większe grono KO: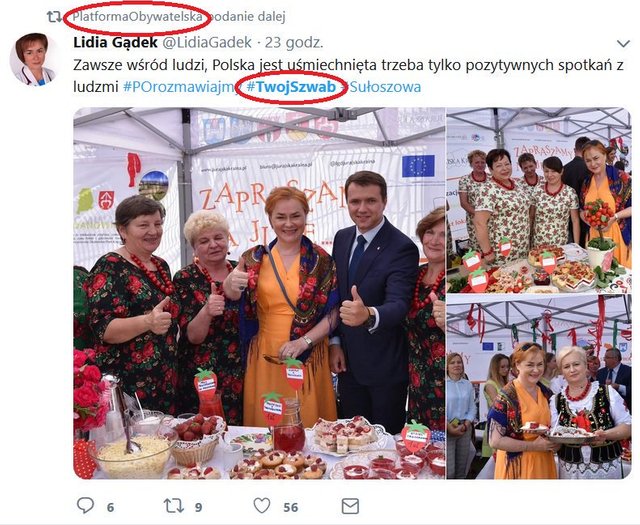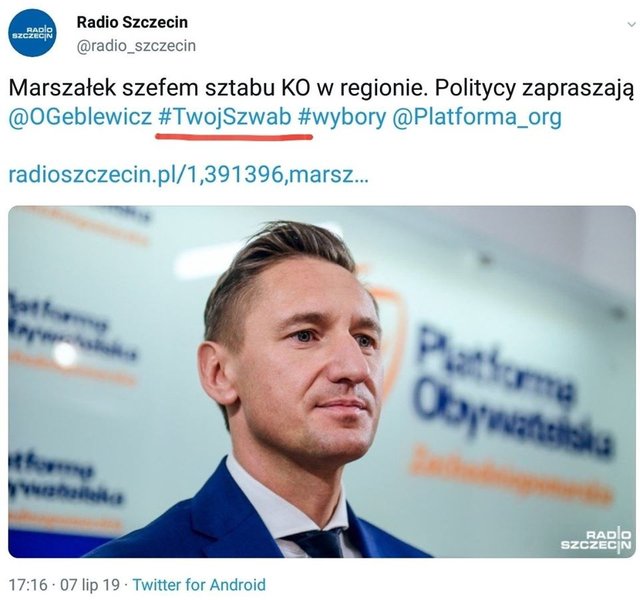 Dziwne i śmieszne w jednym. Opozycja robi bardzo dużo, żeby PiS wygrał. Jedynie co mnie interesuje, to jakie korzyści im obiecał Kaczyński.