I've been a little side tracked this last month with trying to find work but the panic has subsided a little so I decided to do some more unpacking. Yes, we've been here over a year and still have lots of stuff in boxes. I figured if I stuffed them in the loft then they'd unpack themselves...thats the way it goes right?
Any way, I digress. One of the first boxes I stumbled across, completely by accident of course was the one labelled "RC Stuff". What a find :)
When I was a lad I was obsessed with model planes, cars and bikes. After badgering my dad for a long while he agreed to buy me a radio controlled car for my birthday; I think it maybe my 12th or 13th birthday. Mine never quite looked this good as I decided a custom paint job (bodge) would be much better. The Tamiya Astute.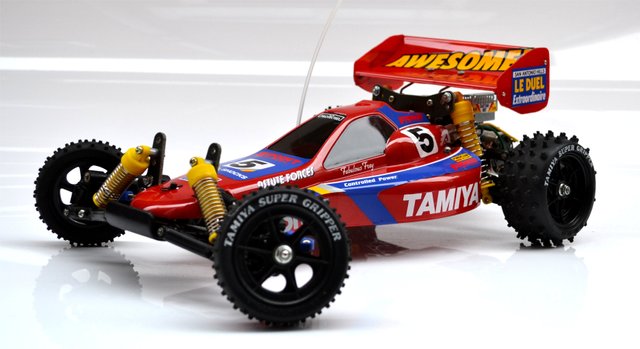 Credit
Although in pieces, I still have that car in the garage waiting for a rebuild - it has been in that state for some 25 or so years as I need a few parts but they're like rocking horse shit to obtain.
I still remember how I felt when unwrapping that present - absolute bliss. The tactical pointing in our local Beatties toy store in Aylesbury had worked! What a great shop that was...unfortunately they are not with us any longer after going into administration in 2001.
The car was in kit form and I spent hours and hours at the dining room table assembling it. Once built it got 'bashed' about a lot and even made it to the race track at the back of a garden centre in Toddington. I used to go with a lad I met at secondary school and his dad. They both had serious racers by brands such as Kyosho and Schumacher - Tamiya was more of a 'toy' back then but I didn't do too badly.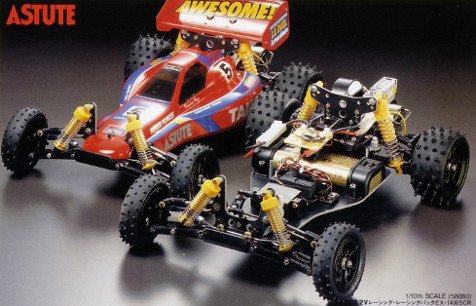 Credit
It has been out of action since breaking a front hub when taking it to school. In my head it was the last day of secondary school but I could be mistaken. That birthday present is where it all started and with that car I have some very special memories. If he were still around I think my ol' dad would be delighted to know I still have it even though it isn't looking too well.