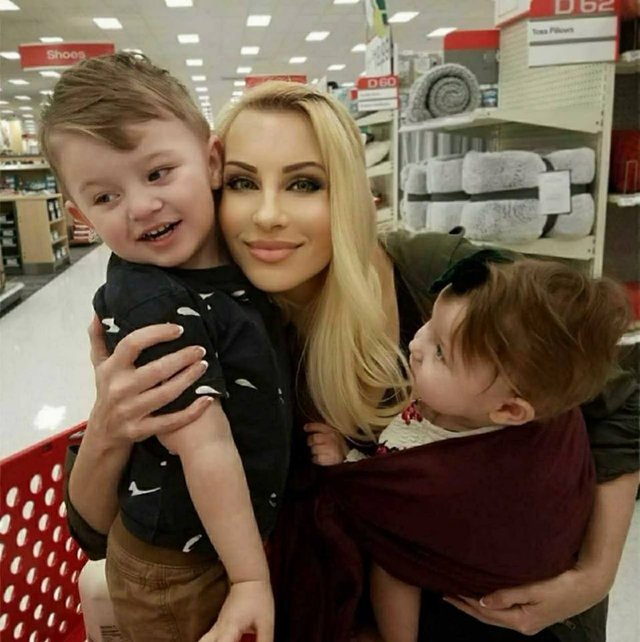 I've been reporting on the Deanna Williams story, a Florida rape victim, who continues to be pursued by the court and an attorney that had zero interest in representing her during her rape case, but is now seeking more than $1 million and her arrest. Governor Ron DeSantis has been contacted, Attorney General Ashley Moody has been contacted. The Florida Bar has been contacted, and though they have assigned a Bar investigator to Ms. Williams complaints, the investigator has failed to contact her. Now, the first casualty in this injustice has occurred.
To catch up on this ongoing story, please check out the links below.
Last week, I was informed that Ms. Williams, who is not only the victim of rape but also has multiple sclerosis and was carrying a child in a high-risk pregnancy which she told the court and the attorneys involved over and over again in correspondence, gave birth to a stillborn baby boy. The reason for the delay on this information was out of respect for Ms. Williams to notify family, as well as an attorney dealing with a paternity suit against the Sheriff of Lee County, Carmine Marceno, who wanted Williams to murder her baby after he unethically pursued her following her attempt to have him investigate the alleged grand theft of $200,000 of her money by attorney Ware Cornell.
The stress leveled against Ms. Williams due to what appears to be a plethora of injustices she has faced from her own attorneys, a judge busted in a prostitution ring and the failure of the attorney pursuing her to depose her in a timely manner that the court order has ultimately resulted in the death of her child.
Williams sent a letter to the court near the end of March explaining the situation and asking for the court to accommodate her concerns regarding her health. She wrote in part:
The level of Mager's hubris while requesting that a rape victim with multiple sclerosis dealing with complications of a high-risk pregnancy and PTSD be jailed for contempt for not turning over extensive financial documents which are nearly impossible to provide after losing her home due to Mr. Mager's theft of hundreds of thousands of dollars is astonishing. It would shock the conscience of anyone who possesses a conscience. Mr. Mager is not a victim of anything but an individual who knowingly bought the rights to sue a rape victim for profit after Michael Dolce abandoned the case after Dolce missed important deadlines and walked out of mediation in the underlying case crying when opposing counsel didn't want to hear explicit details of Dolce being anally raped as a child.

It is in light of Mr. Mager's repeated dishonesty and omission of relevant fact before the court that I ask that all attempts to threaten and intimidate using the court as a weapon stop immediately. I asked that deposition respect my disabilities as a woman with multiple sclerosis and and complex medical issues at present. I ask that deposition is set at a time that works for both parties and I am no longer threatened with arrest.

Unfortunately, due to Mr. Mager's continued possession of funds stolen from me by fraud upon the court, I am unable to be represented by counsel. I cannot even afford necessary medical care. I am most vulnerable as I have been denied the right to have representation due to the thefts erroneously reflected in court records as legitimate funds received by Scott Mager.

I am asking that my health and safety be respected during and before deposition. I am requesting deposition be scheduled at a time agreeable to both parties. I look forward to the record accurately reflecting what has happened in this case as opposed to Mr. Mager's version of events as a party who did not participate in the underlying case. Additionally, I ask that it be noted that I am being denied representation in this matter due to impossibility noted above.
Ms. Williams has contacted each of the above authorities in the state to ask for help in sorting out what appears to be grand theft of at least $200,000 by attorney Ware Cornell, apparent malpractice and negligence that has cost her at least another $200,000 by her previous attorney and ousted Oklahoma judge Michael Chionopoulos, and the substitution of a third party who never represented her in her rape case and had no legitimate interest in the case, but was allowed to be substituted in the place of attorney Michael Dolce, Scott Mager of Mager Paruas.

It should also be pointed out that there were conversations that took place between Mr. Mager and Mr. Cornell, as well as Mr. Mager and Mr. Chionopoulos that Ms. Williams still has no idea of what was discussed prior to her money being taken. She alleges that Mr. Cornell said he "promised" her money to Mr. Mager and would not turn it over to her after he intercepted it. Ms. Williams also alleges that Mr. Chionopoulos pushed her to sign under duress, a form that relinquished the money that Cornell intercepted, telling her she would get the money back later.

Additionally, family members of Ms. Williams contacted then-governor Rick Scott about then-under sheriff Marceno's unethical pursuit of Ms. Williams via Facebook, as well as inappropriate comments on her pictures on Facebook, which he has since deleted.

It's not like people in positions of authority don't know what's happening to this woman or the names involved. It's that they apparently do not care or aren't motivated enough to get an investigation moving forward.

I say this as a reporter who has sought comment from Governor DeSantis, as well as his lt. governor, the attorney general and the Florida Bar. So far, there is absolute silence. Even from the Bar, I received a simple, "We'll get back to you."

The Washington Standard made several attempts to see whether the Bar was even aware and active in providing the investigator they assigned to Ms. Williams. Ms. Francine Walker was helpful in at least confirming that Ms. Williams did contact the Bar and specify to them that she was seeking special assistance from an investigator to help her file a sworn complaint, but apparently, this information was not conveyed in the notes that the Bar has on file.

Additionally calls to Ann Marie Craft of the Bar by The Washington Standard to ask why the Bar investigator was dragging his feet, not having even contacted Ms. Williams to introduce himself and start things moving forward have gone unreturned.

Furthermore, Ms. Williams has had to request a new investigator, which I have been informed is a man by the name of James Monroe due to the fact that the Bar assigned her an investigator named Mike Fox, whose wife was... ready for it? Good friends with Sheriff Marceno, which is an obvious conflict of interest here.

Due to the enormous costs she has incurred in attorney's fees that Williams has paid out since her settlement in 2012, along with the loss of $300,000 of the money mentioned above, Ms. Williams has been unable to obtain any representation, as attorneys demand a retainer of $15,000 to represent her.

Additionally, all of this seems to have stemmed from what Williams alleges was the failure on the part of attorney Gloria Allred to pay the previous attorneys their fees as agreed upon in Ms. Williams' retainer agreement with Ms. Allred and the attorney she brought in to help Ms. Williams at the time, Jonathan Heller.

The Lee County Sheriff's Office, headed by none other than the man who pursued Ms. Williams via Facebook, is actively seeking to arrest Ms. Williams for contempt of court even though she attempted more than a dozen times to comply with a court order via email and phone calls to Mager Paruas only to be told that they would schedule a deposition nearly three weeks after the court deadline. It should be noted that the Florida Department of Law Enforcement knows about Mr. Marceno's unethical pursuit of Ms. Williams but did not make a fuss about because they would have had to suspend him, as well as local television stations who failed to report on for fear he might have to step down.

Not only does there appear to be a "good old boy" network in Lee County, Florida, among attorneys and judges, as well as some in law enforcement, but there also appears to be allowance by the state at the very top to let it exist.

I ask, where is Governor DeSantis? Where is Attorney General Ashley Moody? Ms. Williams has even been in touch with members of the Trump administration with a response. America, you say you want to make America great again. Well, you can't make it great if you don't stand up for the weak against injustice. Who knows when you will need someone to stand up for you!

You can contact Governor DeSantis on behalf of Ms. Williams below:

Executive Office of Governor Ron DeSantis
400 S Monroe St
Tallahassee, FL 32399
(850) 488-7146

Additionally, you can contact Attorney General Ashley Moody on behalf of Ms. Williams below:

Office of Attorney General
State of Florida
The Capitol PL-01
Tallahassee, FL 32399-1050

(850) 414-3300

Finally, it may even help to contact the Florida Bar on Ms. Williams' behalf to see if they will begin to investigate ethics violations, negligence and corruption that appears to have taken place with regards to Ms. Williams' representation, legal agreements and rulings by judges in the cases.

The Florida Bar contact information:

The Florida Bar
651 E. Jefferson Street
Tallahassee, FL 32399-2300

(850)561-5600