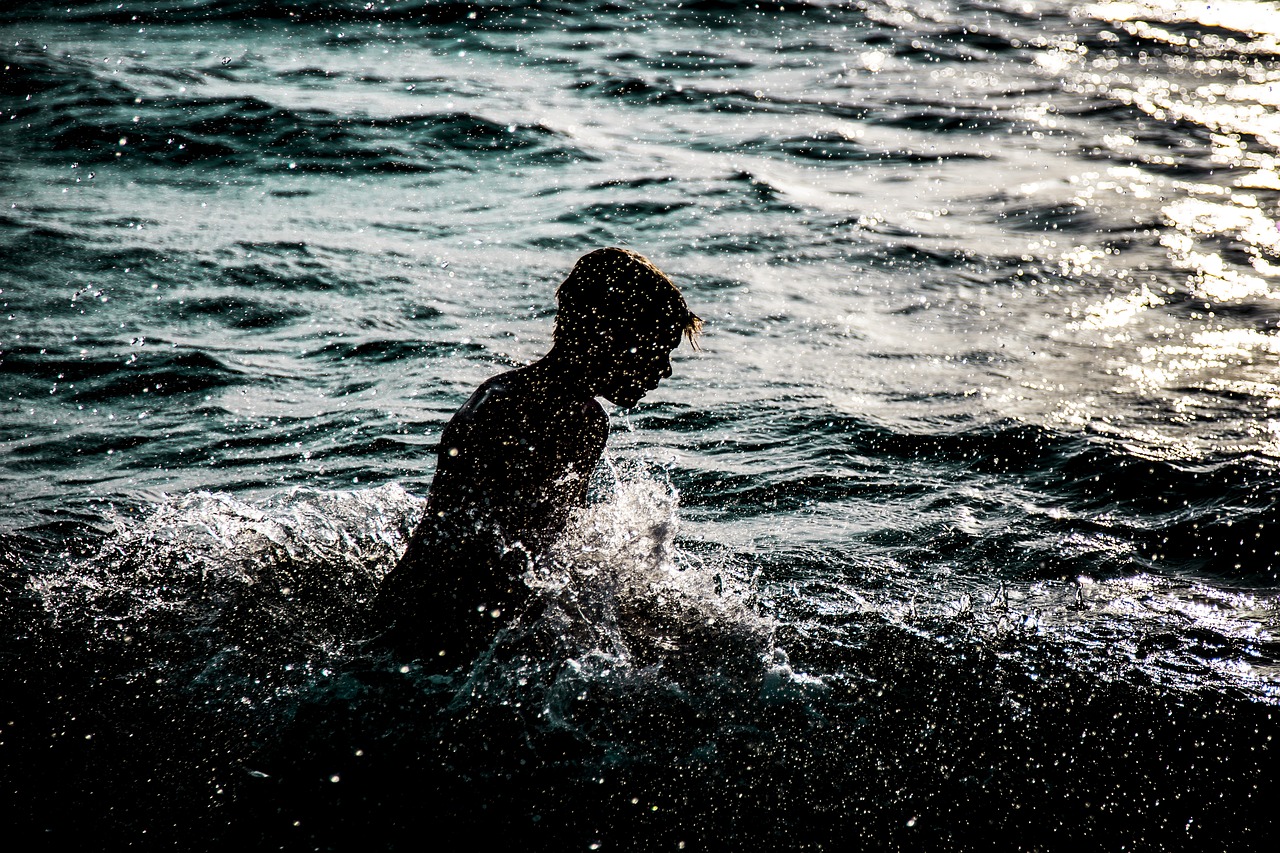 Like many journeys, it began with a title I couldn't resist. While browsing Outside Magazine's online site, I came across the headline of an article about a one-armed surfer who was trying to fix wildfires. What? I had to read that. Let's count the reasons why.
First, this surfer dude must be a character. I gravitate towards stories about unique and unusual people. Second, what do surfing and wildfires have in common, if anything? Each one sounds like an indulgence in a very different element.
And third, how can anyone "fix" wildfires? I can imagine people being more careful about where they build homes. Maybe politicians will decide to invest in active management of forests around the perimeter of human settlement (cleaning up dead wood and that sort of thing). We could address climate change while we're at it. But "fixing" fires? That's worth reading about.
Wildfires have become an annual event in arid, drought-stressed parts of the world from Australia to South Africa to the Western United States, where I live. In the U.S., one big cause has been the encroachment of human settlement into dry canyons and hillsides that burn on a regular cycle every decade or two (and now there are houses in those places). In response to an application to build homes on a hillside above Malibu, California, the National Parks Service noted that:
"The placement of homes on a ridgeline documented to have burned at least six times between 1942 and 2010 makes it almost certain the ridgeline will burn again in the near future."
https://www.seattletimes.com/seattle-news/environment/uw-scientist-says-wind-event-forecasts-gave-advance-warning-of-california-wildfires/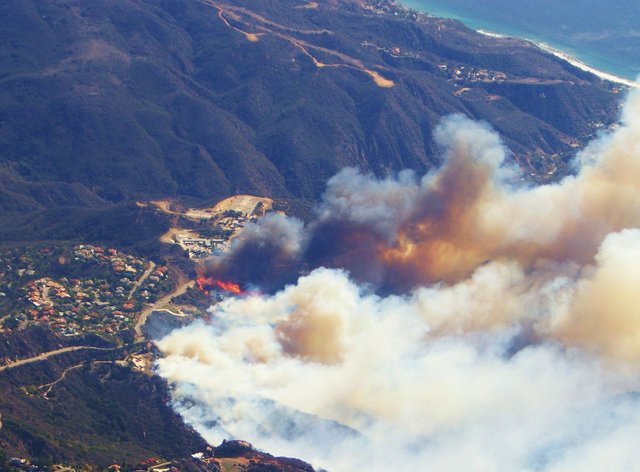 Fire in Malibu, 2007. Creative Commons via Wikimedia by Ron Reiring.
It's rather like living alongside a river and being shocked when the river floods; isn't that why they call it a floodplain or river basin? Yet there's no doubt that drought and climate change are making wildfires more of a regular occurrence in arid regions. Just a few years ago, wildfires were called forest fires, but now they burn in more places that aren't forests anymore, so someone decided to rename them. The fire is wild, even if people think they have tamed the place.
Upon opening the Outside Online article, I learned that the one-armed surfer is Jeff Denholm. I'd heard of him. Tough dude. I think he works for Patagonia and does some promotions for them. He lost his arm in an accident on an Alaskan fishing boat in the Bering Sea. Since then, he's continued to surf, paddleboard, and promote some various environmental causes.
Here's a video of him challenging the famous big wave spot called Mavericks.
What's Jeff doing with wildfires? Apparently, he owns a fleet of fire trucks which he rents out to fire departments. He has some experience and connections in that field. And now Jeff has developed a spray-on gel which he says is environmentally friendly and resists fire. The normal practice is to spray water and fire retardant on houses and fire lines at the edge of fires, but that requires a lot of water and it contaminates drinking water supplies with all of the fire retardant chemicals that leech into the ground.
"Strong water" is the nickname of Jeff's environmentally friendly spray-on gel, which can be mixed by adding water to the dry powder. What's in it? Jeff won't say, but it biodegrades in the environment. It's already been approved for use in the State of California and is used by some fire districts. Why "strong water"? Because this stuff sticks to a structure and it protects a buildings from a fire that's much hotter than water could protect.
If this magic goo works, saving homes, lives, and the environment, then it's a great innovation. "Strong water" fire gel would become the latest in a long string of innovative products that have improved peoples' lives. If there's one thing that Americans have excelled at in our 200+ year history, it's inventing useful things and making them better through continued development and innovation.
Surfing the Google Results
I wondered if I could learn more about this gel, so I turned to Google. I made the mistake of performing a search that was too general, but it turned out to be a happy accident. Turn over the keys to Google and you never know what you'll get.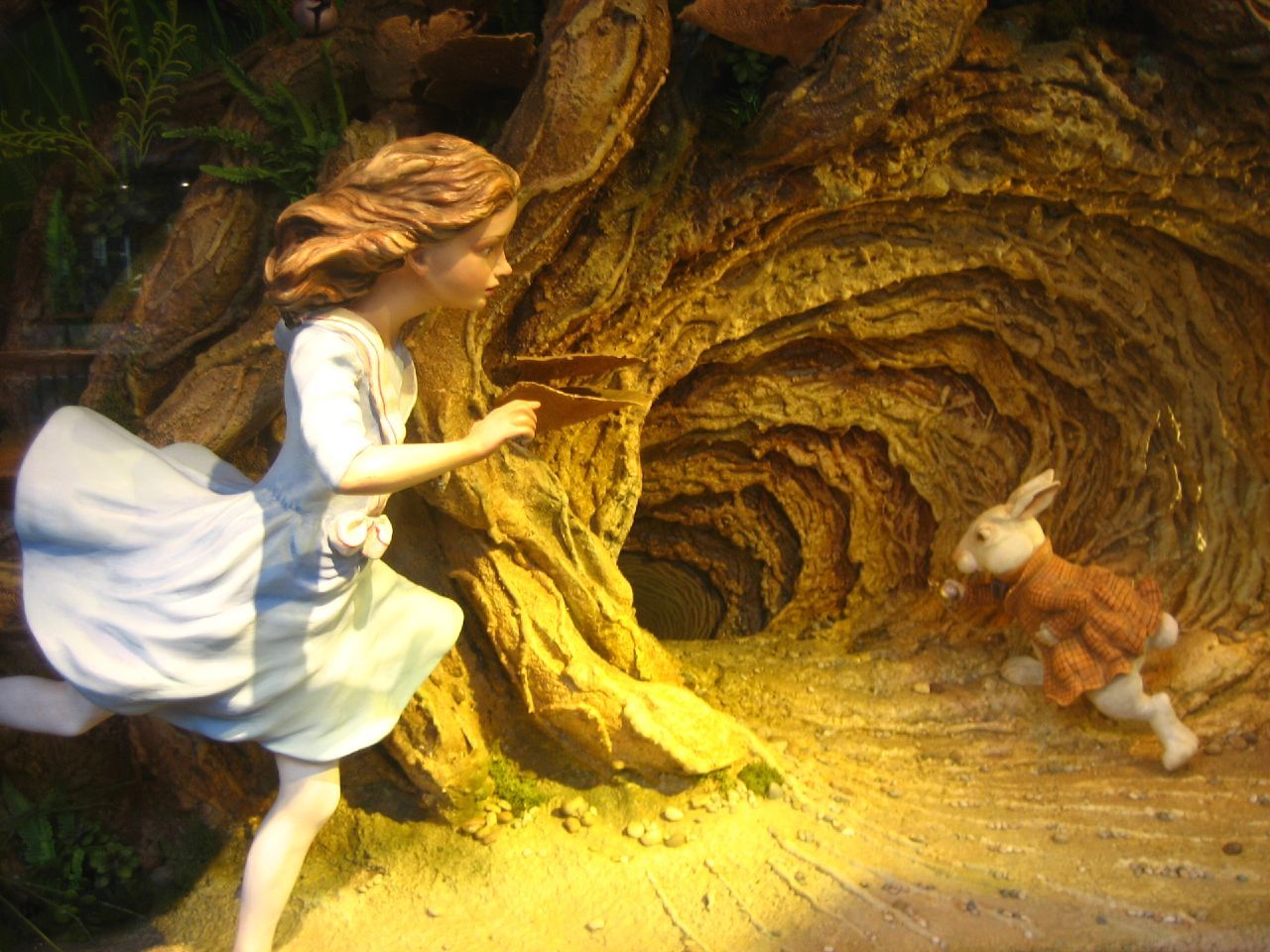 Down the rabbit hole. Creative Commons via Flickr by Valerie Hinojosa.
I searched for the term "strong water". And the results were an art form unto themselves. I weeded out a few results, but most of the top ones were pure gold. So I became quite sidetracked and never continued with my fire gel search.
Why do I consider the search results to be an art form? Because look at what came up on the first two pages of results. First, I noticed a band called Strong Water. Second, I noticed a film called StrongWater. And third, I noticed there was a bar (in Columbus, Ohio) and a distillery (in Denver, Colorado) called Strongwater. And fifth, I saw that there is a horse farm called Strongwater Farm.
After delving into each one, I can report that all of them honor deep American traditions, while adding something new and innovative. I don't remember any Google search that has come up so perfectly with such a variety of different, but similarly themed, results.
Music, Booze, and Horses
Let's begin with the music. Strong Water (the band) plays folk music in the grand Americana genre that fuses roots bluegrass with Southern rock. The band hails from Harrisonburg, Virginia, which is squarely in the Appalachian region that gave birth to American folk music. These guys and gal might be described as a garage band, releasing their first album after crowdfunding it on Indiegogo. Since I love American roots music (from both the folk/bluegrass and the blues traditions), especially with a raw edge and a light touch, I enjoy this style. I'm rooting for Strong Water and hope they continue to make new music.
Strongwater (the name of the Columbus bar and the Denver distillery) brings us to booze. While I'm not a big drinker, I have a strong respect for the role that good quality craft drinks have played in the history of the United States. From the colonial cider mills to the Kentucky bourbon distilleries to the Prohibition-era moonshine (often called "strongwater" in the Speakeasies) to the rum runners to the wineries out west and the craft beer breweries that have taken over in just about every cool town or neighborhood these days, the path of good American alcohol traces the story of this country.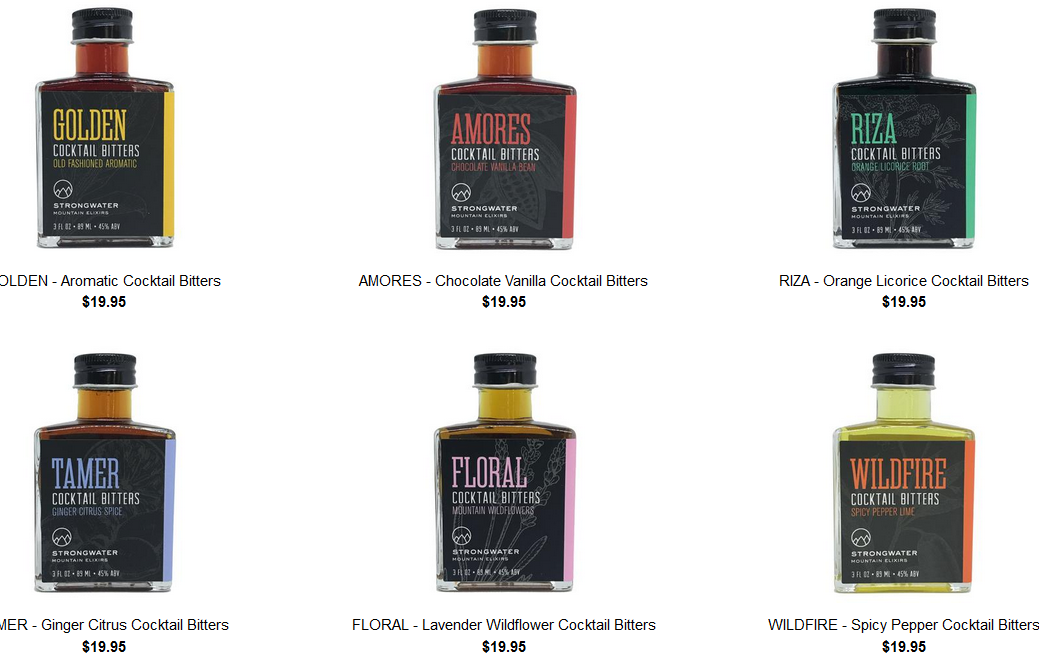 Strongwater Columbus, strongwatercolumbus.com (top), and bitters from Sipstrongwater.com (bottom).
And so it was no surprise to see that the Strongwater bar sits in a historic building at the heart of Columbus, Ohio's original settlement location. The current building was built in 1910 as a porcelain manufacturing company. So many craft breweries, bars, and restaurants have transformed old industrial buildings across North America and beyond, turning them into hubs for meetings, music, and social activity. Similarly, it was no surprise to see that the Denver distillery by that same name focuses on creating craft quality bitters, shrubs, and syrups to provide a modern twist on the traditional aromatic flavoring of cocktails.
The Strongwater Horse Farm is in western Massachusetts. But of course, it is no ordinary horse farm. How could it be ordinary and still be on this list?! Strongwater is an equestrian therapy center, where horses are used to help heal, educate, and provide support for children, disabled individuals, and wounded veterans who need an outlet for recreation and therapy. In a nation that has become quite urbanized, giving people the chance to reconnect with animals and countryside is a true form of therapy. It's great that in our modern world, a good old horse farm can keep itself in business by innovating to fill peoples' needs.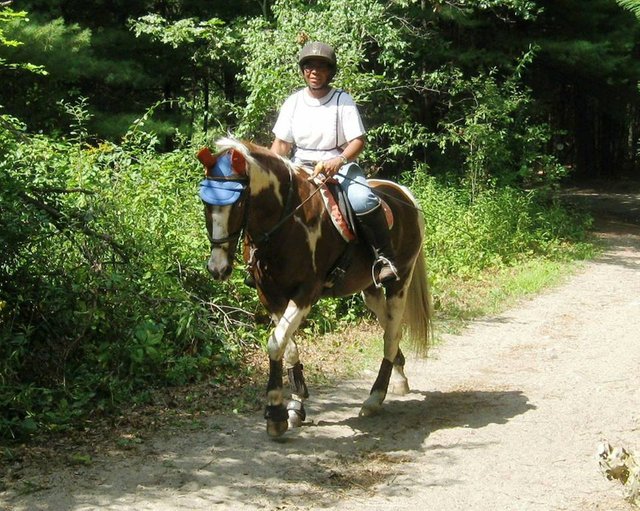 Strongwater Farm in Massachusetts, strongwaterfarm.org.
And now to the film called StrongWater, which takes us back to surfing. The traditional, ancient sport of Hawaiian kings was popularized by Duke Kahanamoku, who also won five Olympic swimming medals for the United States from 1912-1924. From Waikiki to Oahu's North Shore to Jaws in Maui to Huntington Beach to Cape Hatteras to Mavericks, athletes in the United States have pushed the traditional sport of surfing into the arena of adventure sports.
One of the latest innovations in traditional surfing has expanded it inland to rivers. StrongWater follows the course of a group of surfers who took to the river in Missoula, Montana. For someone like me, who grew up surfing on the coast, surfing a single "one foot and under wonder" standing wave in a river looks like deprivation. But by the end of the 10-minute film, which won an award at a mountain film festival, I can appreciate what these guys have done to keep their passion for surfing alive. They carve up this one foot wave in the river and it looks like a fun activity in Montana during parts of the year when these guys are not skiing or snowboarding. If I watched enough of it, I'd start to see shades of The Endless Summer.
In the end, I never found out what Jeff puts in his fire gel. But I did discover that "strong water" was an evocative Google search. I've never been very patriotic, but I feel quite connected to some of the traditions and history of the United States. Strangely, this one Google search brought a number of those elements together and showed how today's innovators are building upon deep cultural roots. These results demonstrated a breadth and common theme that was quite special.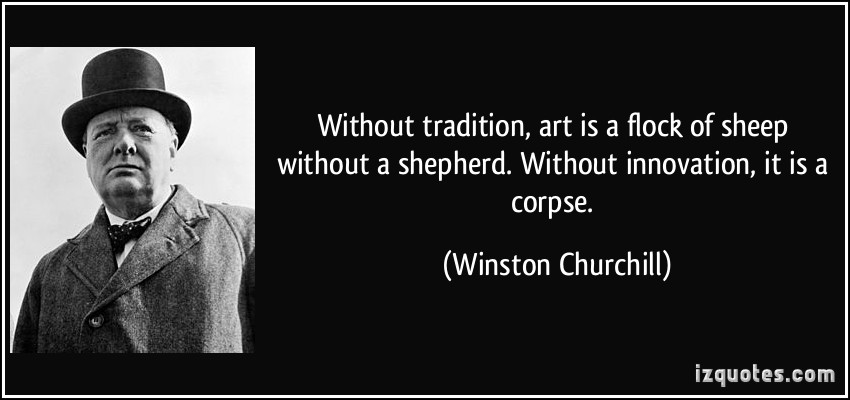 A Brit said it best.
People review movies, books, products, restaurants, and travel destinations. Why can't I discuss search results? Some surf waves; I surf down rabbit holes and place their information in a proper context, connecting dots and bringing meaning to the madness.
Sources:
https://www.outsideonline.com/2286631/how-one-armed-surfer-plans-fix-wildfires
https://en.wikipedia.org/wiki/Duke_Kahanamoku
https://strongwatermusic.bandcamp.com/
http://strongwatercolumbus.com/
https://www.sipstrongwater.com/collections/all
http://www.strongwaterfarm.org/
Top photo: Public domain from Pixabay