Jon Kent, the new Man of Steel, comes out as bisexual. // Contains Spoiler Alert.-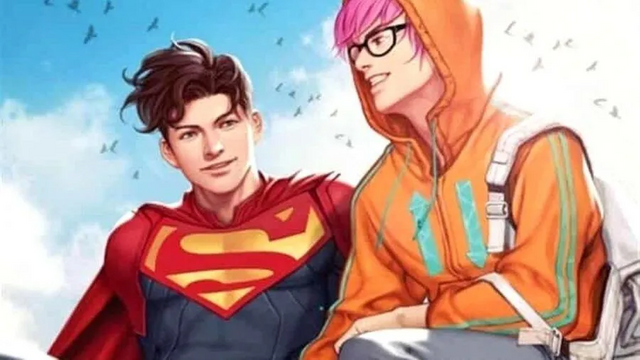 DC Comics Property
Greetings to all the people of this community
Since the middle of this year DC Comics has a new Superman: Jon Kent. The son of Clark Kent and Lois Lane began operating under his father's title in the framework of his own comic book, Superman: Son of Kal-El, as a consequence of the events that will take the Man of Steel off Earth and will be explored in publications such as Action Comics.
After leaving behind his adventures in the Super Sons with Damian Wayne and spending time in the future with the Legion of Super-Heroes, Jon Kent finally returned to a leading role in this story written by Tom Taylor and drawn by John Timms and Daniele Di Nicuolo.
In the three issues that have already been published, "Superman: Son of Kal-El" has shown that Jon is concerned about issues such as migration and the environment. All while trying to adjust to his new life (remember, Jon grew up fast) and position himself as a hero in his own right.
Perhaps the most striking revelation about Jon Kent will come in "Superman: Son of Kal-El #5".
This comic has not yet been published, however, this Monday IGN
announced that the story will reveal that Jon Kent is bisexual.

¡SPOILER ALERT!
¡SPOILER ALERT!
¡SPOILER ALERT!

Fans of the series probably won't be surprised to learn that Jon is striking up a relationship with Jay Nakamura, a hacktivist who idolizes Jon's mother, Lois, and has already helped his new friend. And as this image shows, the two friends will become something more when they share their first kiss in issue #5: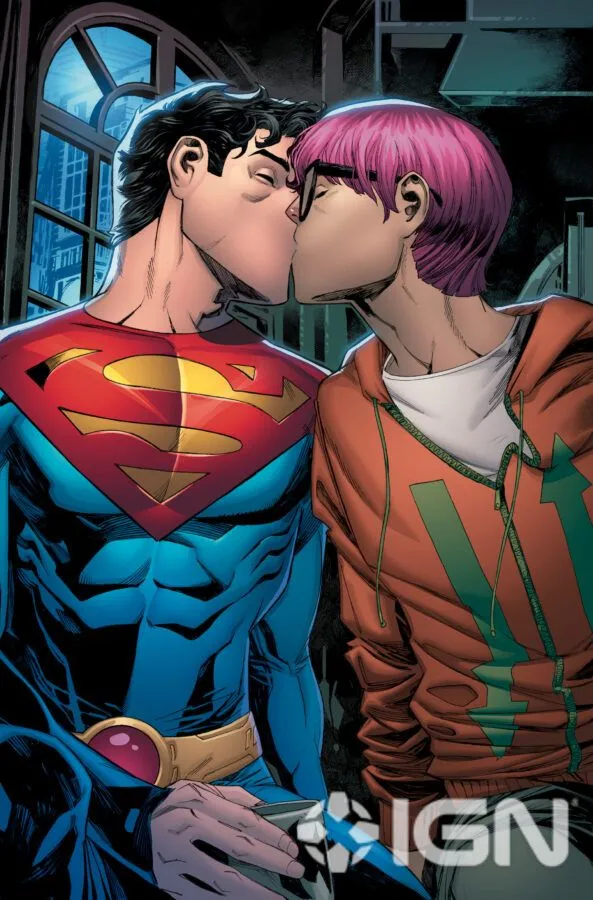 Tom Taylor on interview with IGN...
"Over the years in this industry, you probably won't be surprised to learn that I've had queer characters and stories rejected. I felt like I was letting down the people I loved every time this happened. But we're in a much different and much more welcome place today than we were ten, or even five years ago. When I was asked if I wanted to write a new Superman with a new #1 for the DC Universe, I knew that I was replacing Clark with another straight white savior could be a real missed opportunity. I've always said that everyone needs heroes and everyone deserves to see themselves in their heroes. Today, Superman, the strongest superhero on the planet, is coming out."
John Timms adds...
"It is very important to do it with Jon Kent as Superman. As we have seen Jon grow up in front of our eyes, it will be interesting to see him not only trying to find himself as a person but as a global superhero in the complex atmosphere of modern life. On the other hand, I hope this kind of thing won't be seen as a big problem in the future. You could visualize how it could happen in the future when the most powerful man in the world is part of the LGBT community. There are so many things on the horizon and beyond."
Given Jay's journalistic leanings, there are certainly comparisons between this relationship and the classic Lois Lane/Clark Kent dynamic. However, Taylor emphasizes that Jay plays a very different and more proactive role in Superman's world.
Tom Taylor words...
"Jay has his own fight. He's obviously an effective journalist, and Lois Lane is his heroine. But Jay is also a refugee from Gamorra, so his experience mirrors Clark's as well. While this has thankfully changed over the years, historically Lois has often filled a damsel role. Jay Nakamura will never be that. He and Jon will tackle many things side by side."
This also plays into another revelation coming in Son of Kal-El. Jay himself has superhuman powers, making him an invaluable ally for the new Superman and a companion for a young man who has never had a chance to build a life for himself in the normal world.
Taylor continues...
"Because of Jon's age change and time spent in the future, Jon doesn't really have friends in the present day who are his own age. He doesn't have his own cast. He has a best friend in Damian, who will continue to be an integral part of our series, but it was important to me that we give Jon another close confidant and someone who can support him. The most important thing was to make Jay Nakamura formidable in his own right. To find the balance in their relationship so that they can be equals rather than Jay being overly dependent on Jon. That's why Jay's own powers are revealed in issue #4, and we learn that he can't be hurt. That means that, of everyone in Jon's life, Jay is the one person Jon doesn't need to protect. It means that their relationship is an equal one based on mutual support."
Both creators are well known for their work with Harley Quinn: Taylor in the pages of Injustice: Gods Among Us and Timms drawing numerous issues of Harley's monthly series. Given that Harley was probably DC's most prominent LGBT character prior to this news, we were curious if their experience with the character had influenced their work in the development of Jon and Jay's relationship.
Taylor continues...
"Harley is a very different character than...any other character in the comics. Jon and Jay are very different people. What I will say is that Harley was the first character I was able to write as openly bisexual. Through our own Injustice universe, we were able to tell stories and show relationships that maybe weren't being represented elsewhere at the time. And I was honored to have the opportunity to write Harley and Poison Ivy's marriage last year in Injustice: Year Zero."
Timms continues...
"Relationships in Harley's love life are always a crazy ride. Still, the main lesson is to be as natural as possible, to go with actions from within the characters, driven by emotions and letting them be. I hope to achieve the same with Jon and Jay; while it's always tricky to maintain the stoic exterior of a superhero character combined with strong feelings that won't always be rage or grief, it's a welcome challenge."

This latest twist is part of Jon Kent's larger journey in the DC Universe in 2021 and beyond. Now the question is can he really live up to his father's legacy? Can he find that balance between civilian and hero life that has proven so elusive thus far? And perhaps most importantly, can he figure out what kind of Superman the world needs now?
Tom Taylor concludes by saying...
"I think Clark said it best when he left Earth in Jon's hands. Clark was the Superman of tomorrow. Jon is the Superman of later days. The question for Jon (and for our creative team) is, what should a new Superman fight for today? Can a seventeen year old Superman fight giant robots while ignoring the climate crisis? Of course not. Can someone with super eyesight and super hearing ignore injustices beyond his borders? Can he ignore the plight of asylum seekers?

In asking these questions, it is important to recognize that Jon is not only the son of Kal-El, he is also the son of Lois Lane. Jon is the son of the fiercest and most effective journalist on the planet. With that comes a strong sense of right and wrong, an instinctive aversion to corruption and a strong desire for truth to overcome misinformation. But Jon is young and passionate and sometimes the way he approaches things will be a little clumsy. And just as we see in our world, when young people speak truth to power, it ruffles the feathers of certain older people who are accustomed to being the loudest voice in the room."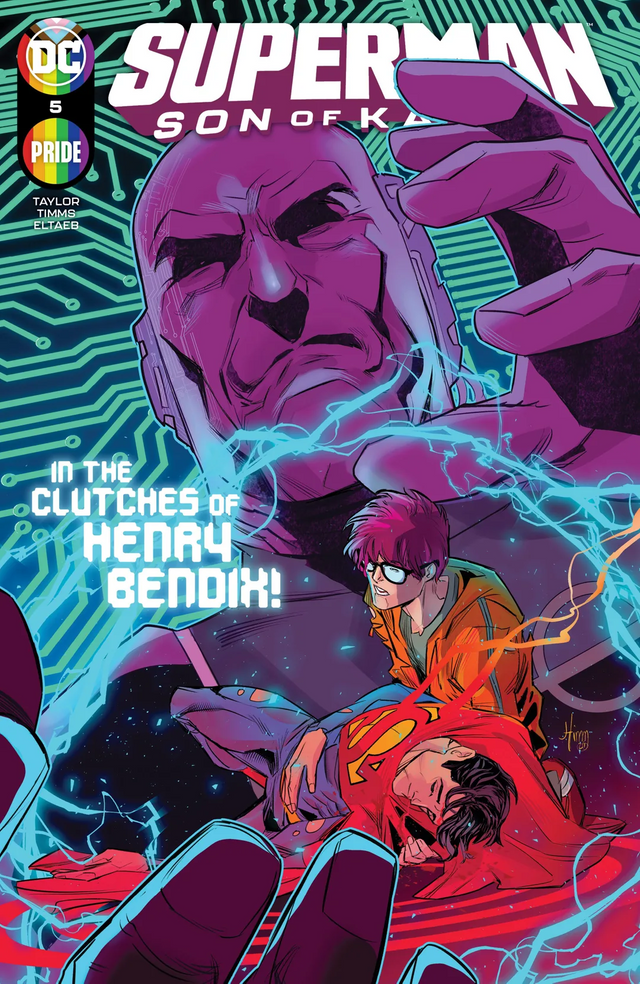 Superman: Son of Kal-El #5 will be released in print and digital form on Tuesday, November 9.
¡From a Geek to other geeks!

¡¡¡THANK YOU FOR YOUR SUPPORT!!!