Tasty Tuesday: Homecook Pasta During Soft Lock-down in Kuala Lumpur
This Tasty Tuesday dish was inspired by Gabbie Kook in one of her Vegan recipe videos; but since I couldn't go out I used whatever I had in the kitchen.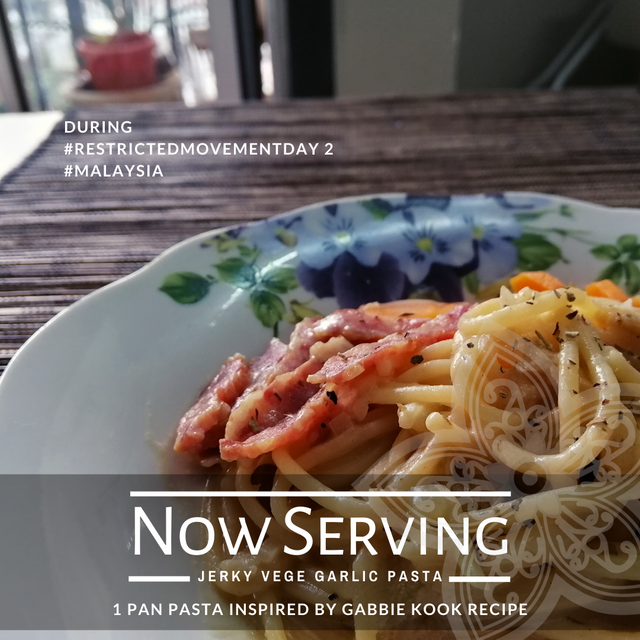 Hello everyone! This was made during day 2 of Restricted Movement Order soft lockdown happened for Malaysia when the COVID-19 escalated confirmed cases.
---
With the people's panic buy since last Sunday, there wasn't much left to get; but the good thing was there was already some pasta I got last year was still lying around in the shelves and needed to be used off sooner.
Traditional pasta (except Aglio Olio) has always have a lot of steps to make; but this "1 pot method" has been easy enough for me to make everything as quick as 15 minutes.
Gabbie is great creating lazy recipes for busy people.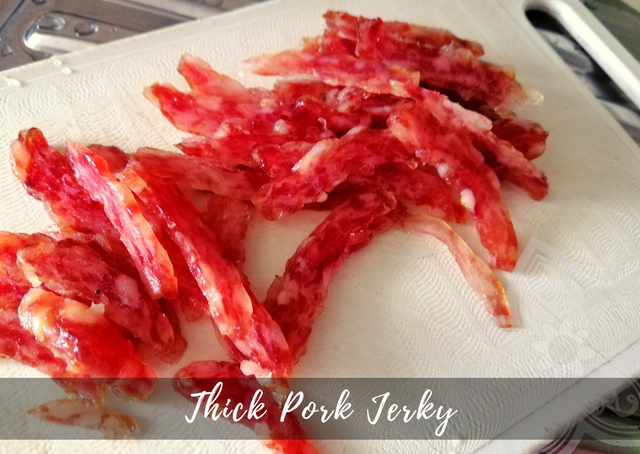 Let's start with Chinese pork jerky - which is every common ingredient during Chinese New Year and also a common gift when visiting relatives. These are actually not cheap and we were very blessed to receive these during Chinese New Year from my aunt.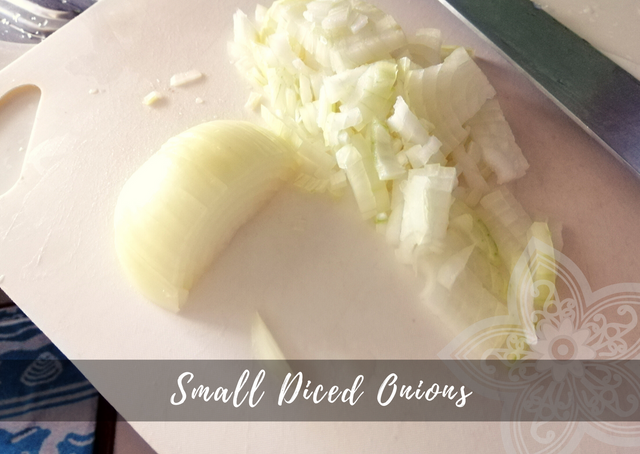 During this quarantine period from the pandemic outbreak of COVID-19, you gotta boost up some immune system and nutrients too; and onions are a great source of immune booster and it wasn't extremely pricey before the quarantine.
A trick to reduce tearing while cutting an onion is you gotta sharpen your knife before chopping them. Saves a lot of stinks on your eyes.
Especially when my mom has weak cornea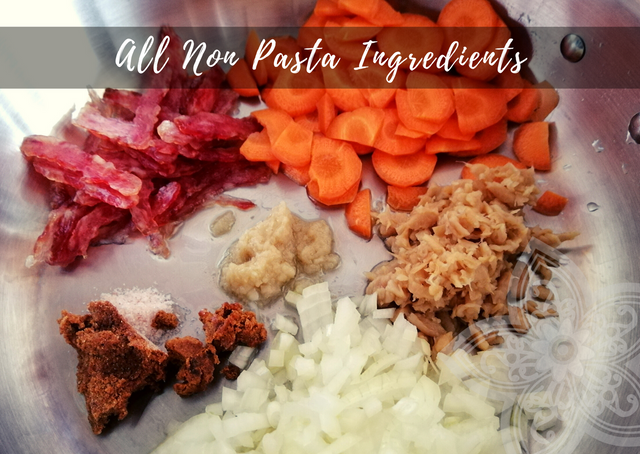 I added other dry ingredients like carrots, pickled raddish and some vege stock paste with onion powder paste and minced garlic with ginger, just for more immune boosting and nutrients in the recipe; all in a large sauce pan.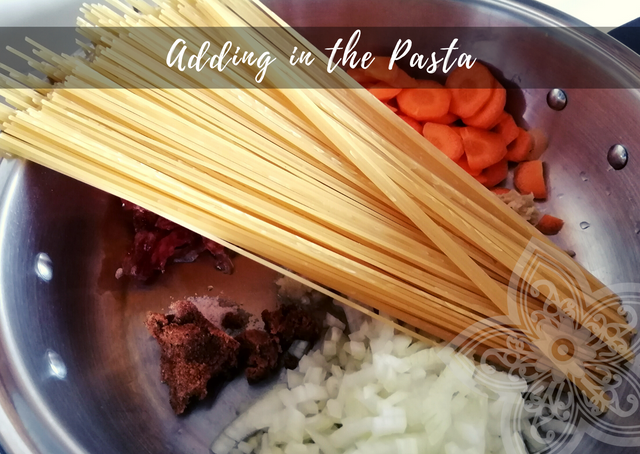 Last but not least, the pasta (that has been kept for too long in the shelf haha)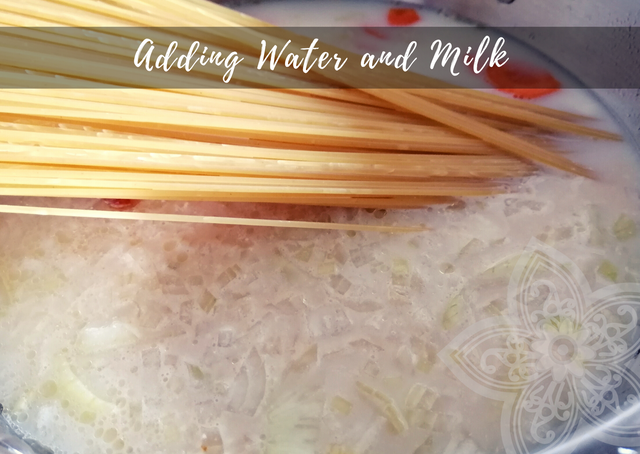 Now for the wet ingredients! 2 full cups of water and 1 full cup of milk just to boil all of it together for 8 minutes, this will actually help the pasta to soften when it boils and the rest of the dry ingredients like carrots to soften as well.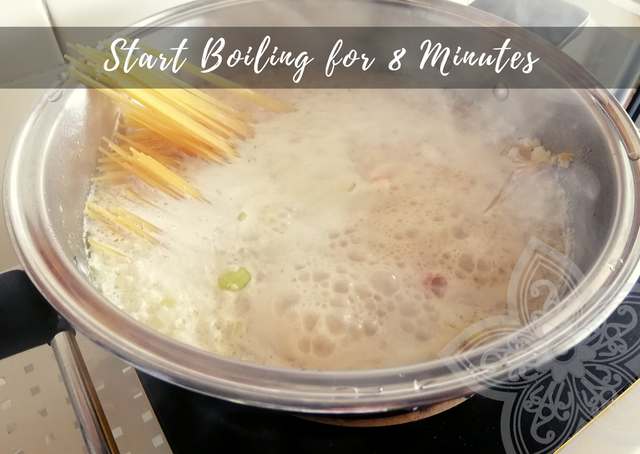 You don't have to worry that the sauce pan could be too shallow for the pasta; because once it starts boiling the pasta will start to soften and you can see it is starting to slide inside.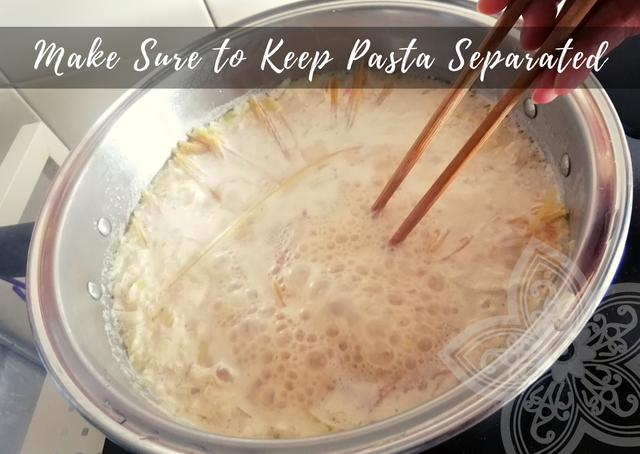 Remember, once pasta is wet they can clump together easily; so a constant check and stir is needed because you will end up with very clumpy pasta, which is not cool.
This is when you will need to put it on medium low heat and let it cook for 8 minutes.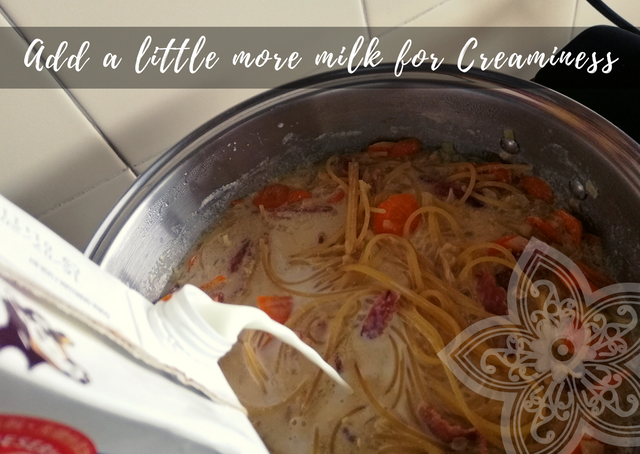 Once 8 minutes has passed you will most likely see your pasta is starting to cook pretty well; but your sauce might be starting to dry up. Add around 1/4 to 1/2 of milk (depending on your observation) where you can make the sauce naturally creamier.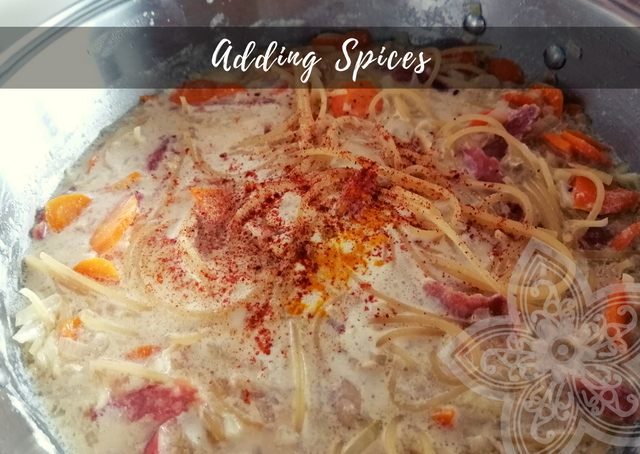 Most creamy pastas would not serve with splices; but hey this is a tweaked Malaysianised dish. You gotta need some spice; but I have just used some red paprika and a bit of turmeric powder just for some jazz.
Low heat for another 2 - 3 minutes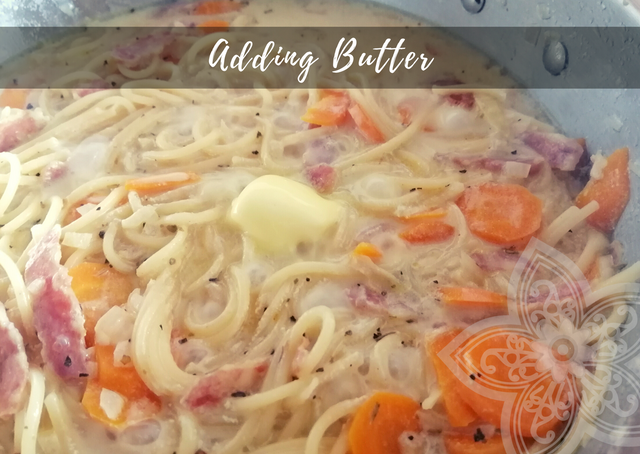 Once you know you are about to serve, plop in a nice 2 table spoon of butter for that buttery effect if you want it creamier; otherwise a table spoon of olive oil would also do.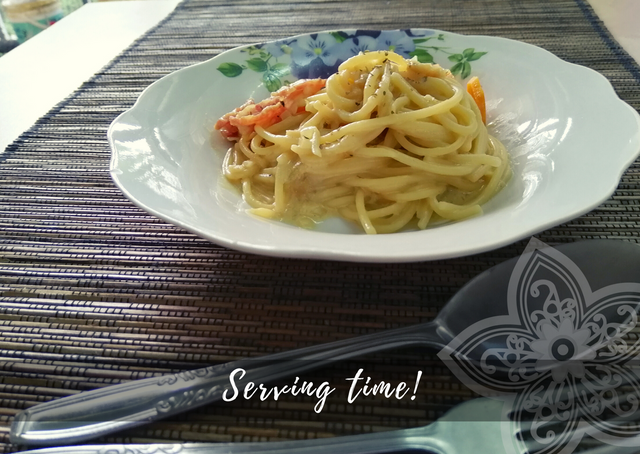 And then... it is ready to serve!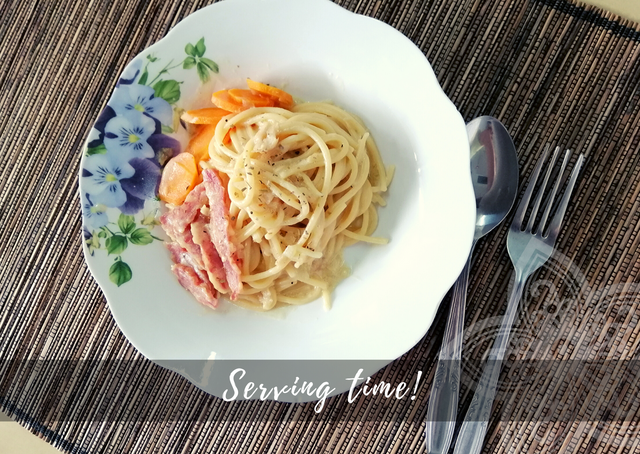 Because it is breakfast right before I start work (from home - yes, we still have to work from home otherwise we are suggested to take unpaid leave knowing that our clients are all still working from home) I have just plated a smaller portion for everyone to enjoy; and save the balance for late lunch.
It's been a bit lazy and hard to be discipline when you work from home; but it has been chaotic for me since I do support of my now "plugged out from central office to remote" colleagues. But that's definitely another story to tell!
That's all from here. I hope you enjoyed my Quarantine Moments Dish from home.
I still have quite a bit of pasta and I can probably improve the cooking time and consistency when it is my turn to cook
Until then

Thank You for Your Time
And stay calm, stay safe, stay healthy


1% of this post goes to null in the support of keeping STEEM alive