Hello wazz up everyone? Happy Tuesday!
I cooked a simple dinner, I'm craving for soup and pasta, and to have it both I made Vegetable Chicken Penne Soup which I'm going to share you how I prepared it.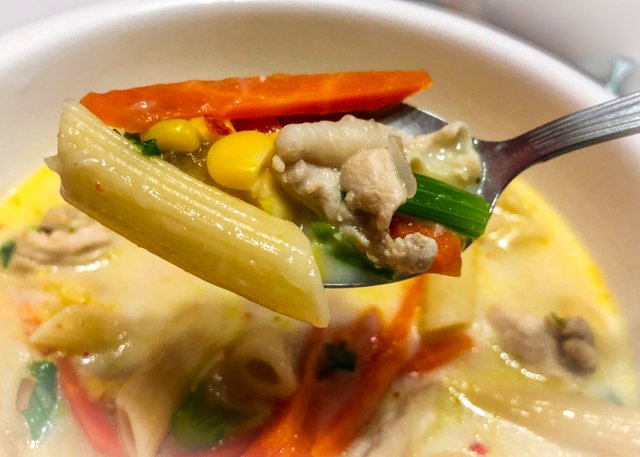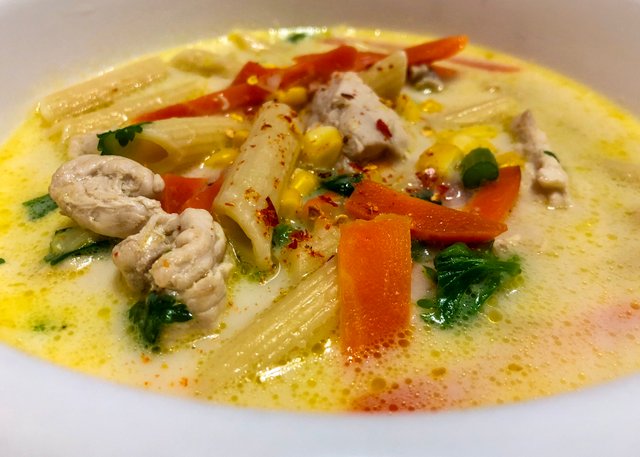 Let's have the ingredients:
• 200 grams chicken meat,
• 1 cup penne pasta,
• medium carrot,
• parsley,
• corn,
• half medium onion,
• 3 cloves garlic,
• salt,
• pepper,
• 3 tablespoon olive oil,
• 750 ml water,
• 1/2 cup milk.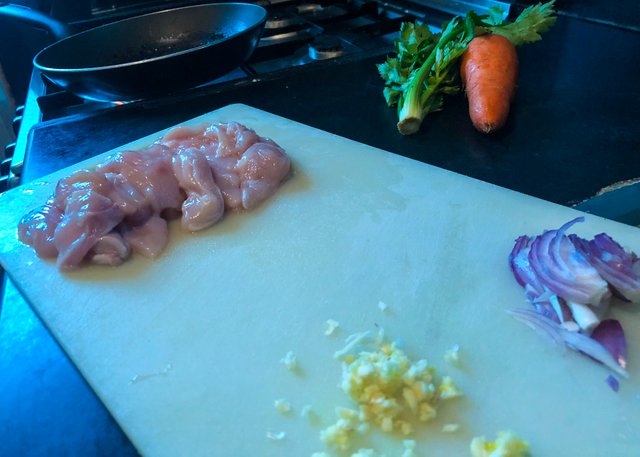 Here's the chicken meat, I choose the breast part skin removed and sliced in lengthwise similar to the size of the penne. Thinly sliced onion and minced garlic. The first thing we need to do is to saute the chicken. Its a very simple process of cooking, just simply put the 3 tablespoon olive oil in the pan with medium heat, followed by onion and garlic then the chicken.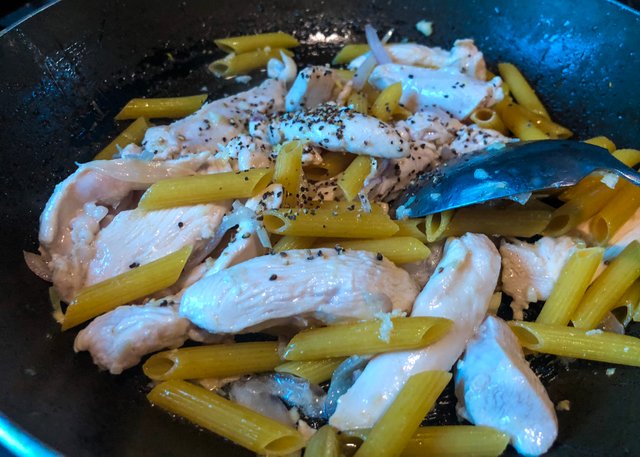 When the chicken is slightly cook, tossed in the penne pasta added by pepper about a teaspoon and salt with the same amount, you can added more later depending on your taste.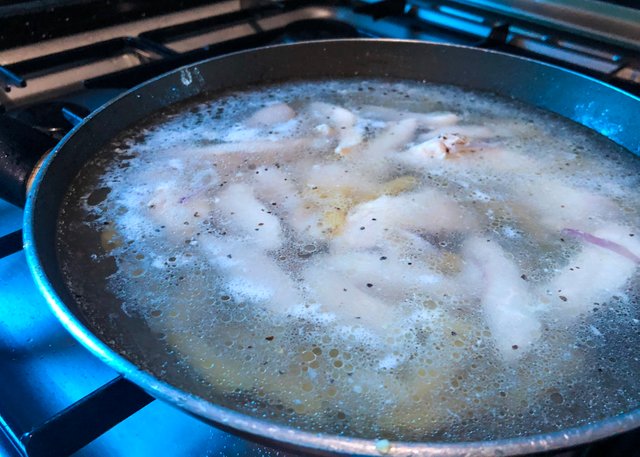 Add the water, let it boil for a little time and for the pasta just al diente. And while I'm waiting, I am preparing the veggies.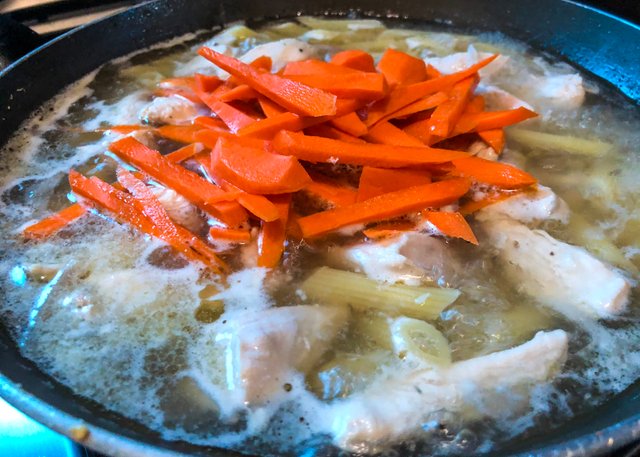 Then few minutes later, add the sliced carrots and bring to boil.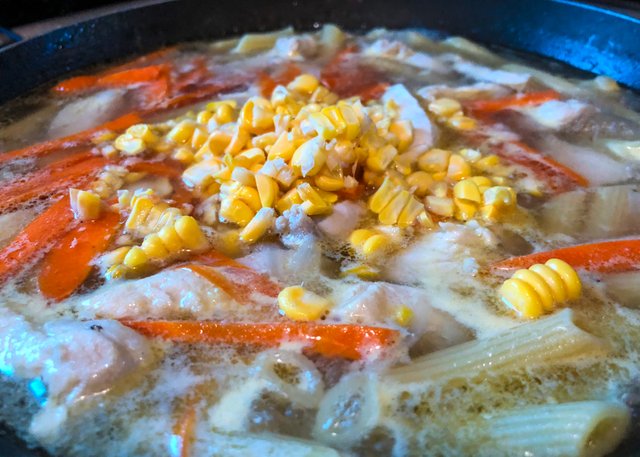 Followed by the fresh shredded corn from its cob, about 2/3 cup. Let it boil again.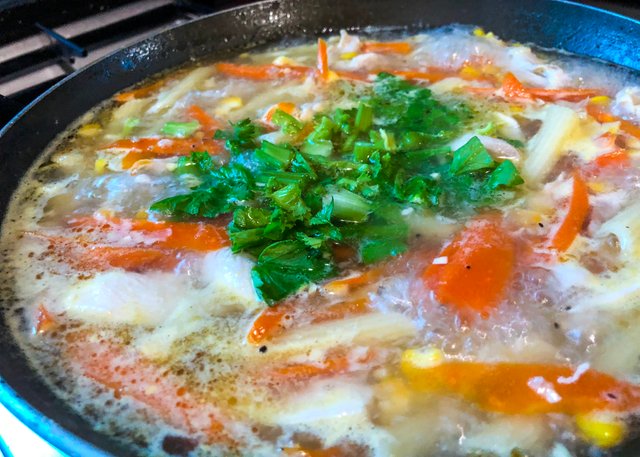 Add the chop parsley, first the stem and followed by leaves.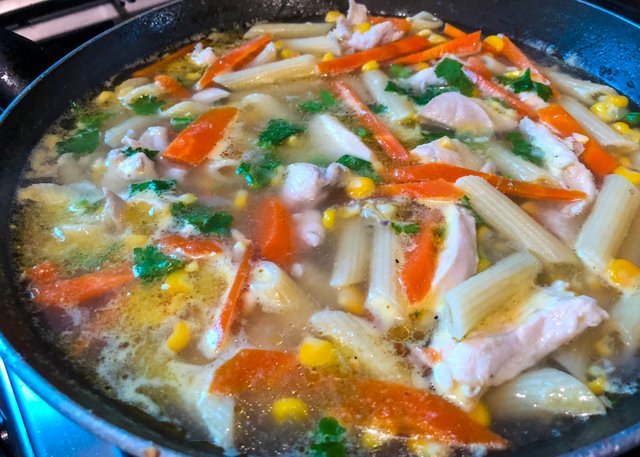 Mix it well and bring to boil for one last time.
But make sure that your pasta and vegetables are not over cooked, just right for your preference.
Well, I love the texture of the veggies like a little crunchy.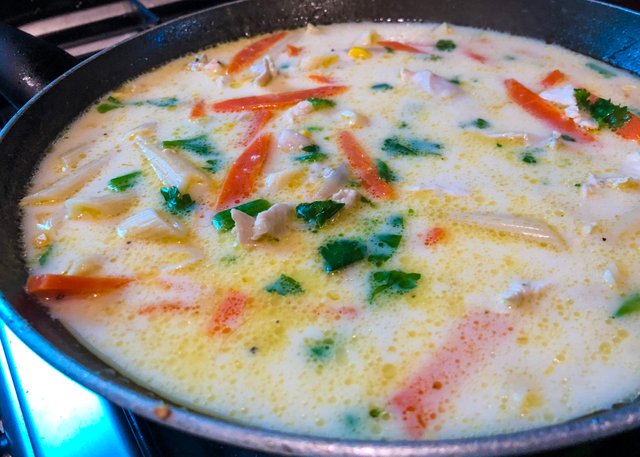 Lower the heat, pour in the full cream milk and stir. Tadah! You got the Vegetable Chicken Penne Soup.
Opss... don't forget to turn-off the stove. Lol!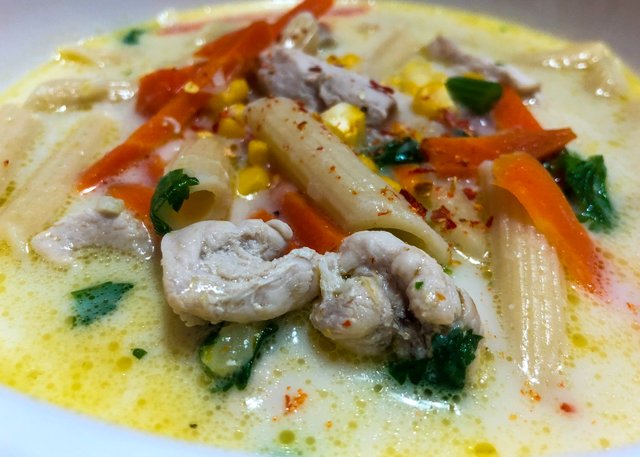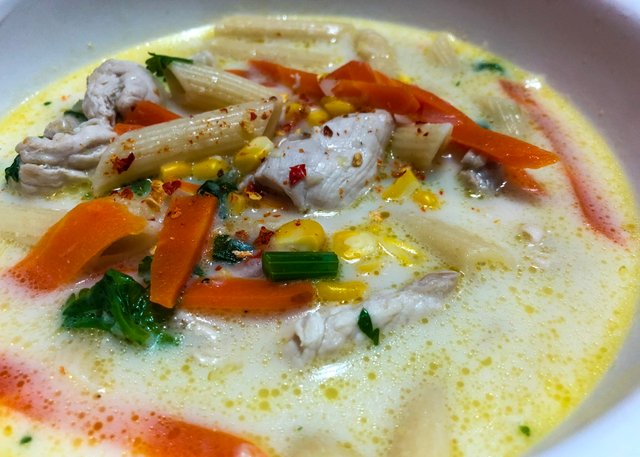 I am obsessed with spicy food, so I added some red chili flakes on my bowl. This soup is really delicious as it looks. It's creamy, sweet and crunchy veggies, perfect bite of the meat and the texture of pasta in my mouth is just right with the inviting lovely colors. Simply delightful! 😋😋
Preparation time took about 40minutes.
These photos was taken by Samsung S7edge.
This is my entry for @qurator's Tasty Tuesday #64 and @photocircle's #food photo contest.

.
Thank you for dropping by. ❤️😊
I OWN ALL PHOTO/S AND CONTENT POSTED ABOVE