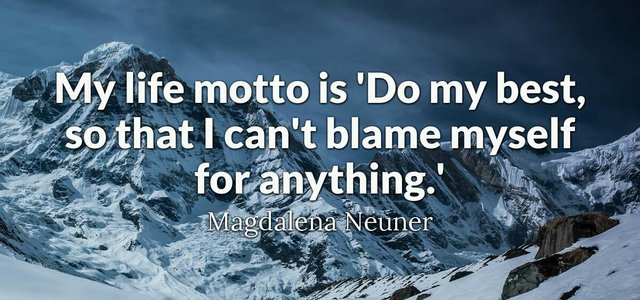 "My life motto is 'Do my best, so that I can't blame myself for anything."
You want to live a meaningful and fulfilled life. How do you discover a new perspective to make sense of the confusion that exists all around you?
You need to have a mental plan that will help take care of life's eventualities. Do not sit back and wait for a miracle to happen, if things are not turning out the way you expected.
Make them happen; get on the right track by heeding the call. Life's challenges will force you to set a new sense of direction.
Make the most of your available opportunities; make your time count. Study the situation at hand. and identify what needs to be done. You are your own best advocate!
Start now!
---
Credits:
https://medium.com/@viomiso31/my-life-motto-is-do-my-best-so-that-i-cant-blame-myself-for-anything-b912b4a8849d
Follow @gabyinho
Regards!
Albert