Believe in the beauty of your dreams...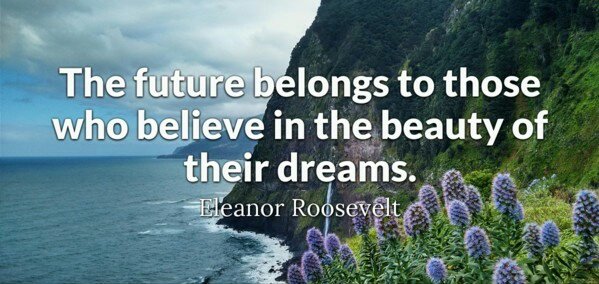 The future belongs to those who believe in the beauty of their dreams.
This is my favorite quote at the moment, and this was said by Eleanor Roosevelt. She was first lady during the second world war and America's worst depression.
She said these words to help inspire a dispirited America, and to free people from feelings of fear and hopelessness.
The full quote is as follows: "Believe in yourself. You gain strength, courage, and confidence by every experience in which you stop to look fear in the face...
You must do that which you think you cannot do... The future belongs to those who believe in the beauty of their dreams."
We are living in an era of change. Who knows what the next decade will bring?
My generation grew up hearing stories about Bill Gates and Steve Jobs. We saw how their dreams of technology changed the world.
Some of us have already been a part of that change as well, maybe in creating a world of social networks, smartphone apps, and wonderful internet content.
Some of us have also been living in a depression. Student debt, housing crash, unemployment. I dropped out of school and began my career during the height of the recession, so I've experienced that world as well.
Even in hindsight, people would still sometimes tell me that this was a foolish decision.
I disagree. The more difficult path is not the more foolish path. It takes courage to pursue your dreams. It takes strength to follow your ideals.
I have tremendous respect for those who have experienced the worst and then found the strength to battle through it. All of the best designers that I know have been through unimaginable struggles. It was the struggles that made them strong.
At this point in my career, I have luckily gained a bit of recognition and support from all over, and many amazing opportunities have recently come up. But I know I still have so much to learn, so there are a few decisions currently in the works that will again take a great amount of courage to face.
I might completely fail and fall on my face. Fear of failure, or fear of hard work, do exist. I am actually a lazy person on the inside. But I don't wish to choose my decisions based on fears.
Choose to work and struggle. Don't follow your fears.
When I was a student, I often looked at people who have achieved great things in the past. Now, I am looking towards the future. This era has created a great deal of struggle for most of us.
What kind of strength will this era create? Who will be the next one to change our world? What new skills, techniques, and ways of thinking will be used to design the future?
Getting stronger means working hard. It means struggling. Are your dreams beautiful enough to struggle for?
---
Surce of information: http://nelsonwah.com/blog/2014/7/19/beauty-of-dreams
Follow @gabyinho
Regards!
Albert