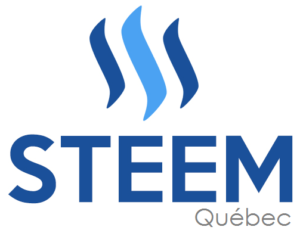 Merci à @wackou pour sa délégation de ~10 000 SP
En effet, ce dernier vient de nous faire don d'une délégation de 9 883,478 STEEM Power ! Cela fait donc passé la valeur de nos votes (à 100%) de 0.07$ à 0,66$ ! Nous promettons d'en faire bonne usage !

Les délégations de @wackou viennent aussi soutenir d'autres guildes de votes comme Steem Québec :
Steem Alsace
AideFr
Francosteemvotes
@lemouth nous annonce aussi que @fr-stars nous ajoutera a son trail pour soutenir là où on vote !
Pour rappel, voici les conditions actuelle de la guilde de vote de Steem Québec :
Promouvoir sa publication sur notre Serveur Discord. (facultatif)
Être un(e) créateur(trice) de contenu québécois(e) vérifié(e) (venez vous présenter sur notre Serveur Discord) ou parler un minimum du Québec dans son article.
Utiliser seulement des images libres de droit.
Bientôt la rentré.
Steem Québec souhaite profiter de cette occasion pour vous annoncer que le moi de septembre s'en vient et que sera donc l'occasion pour nous de reprendre nos activités de plus belles après un bon repos estival !
À venir :
Le retour des Midis Steem (Lunch and Learn) hebdomadaires.
Le Steem Café ! (annonce à venir)
Un nouveau site web.
Des meetups thématiques.
Des formations avancées sur Steem
Un bootcamp Steem
Et d'autres surprises !
Restez à l'affût !
---
Thanks to @wackou for his delegation of ~10 000 SP
Indeed, @wackou has just donated us without warning a delegation of 9 883,478 STEEM Power ! This increases the value of our votes (at 100% VP) from $0.07 to $0.66! We promise to make good use of it!

@wackou delegations also come to support other voting guilds like Steem Québec :
@lemouth also announces that @fr-stars will add us to its trail to support where we vote!
As a reminder, here are the current conditions of the Steem Québec voting guild:
Promote its publication on our Discord Server. (optional)
Be a verified creator of Quebec content (come introduce yourself on our Discord Server) or talk at least a little bit about Quebec in his article.
Use only royalty-free images.
Coming back soon.
Steem Quebec wishes to take this opportunity to announce that September is coming and that will be the opportunity for us to resume our activities after a nice summer rest !
Coming soon :
The return of the weekly Lunch and Learn.
The Steem Coffe ! (announcement to come)
A new website.
Thematic meetups.
Advanced training on Steem
A Steem bootcamp
And more surprises!
Stay tuned !