Indie Rock (ou Rock Alternativo) é um das diversas raízes sonoras do Rock e embora não tenha o mesmo apelo comercial que o seu gênero musical inspirador, o sub-gênero vem ganhando cada vez mais espaço através do trabalho ecoado por novos e diversos artistas, que juntos ajudam esse cenário a crescer e se tornar mais conhecido... The Neighbourhood é um desses bons exemplos que anda circulando no mercado e precisa ser (re)conhecido.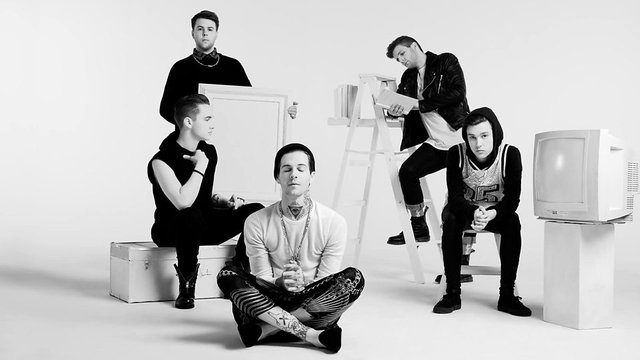 Fonte: Divulgação (Rádio Rock)
Formada atualmente por Jesse Rutherford (vocalista), Mikey Margott (baixista), Brandon Fried (baterista), Jeremy Freedman e Zazh Abeis (guitarristas), essa banda californiana - que também é conhecida pelo título de THE NBDH - começou a ter uma certa visibilidade no cenário musical a partir de 2012, quando lançou o primeiro EP intitulado I'm Sorry... e no mesmo ano, o lançamento de outro EP intitulado Thank You.
Os dois trabalhos chegaram fazendo o barulho necessários para que eles fossem notados, e no ano seguinte, eles lançaram o primeiro trabalho em estúdio: I Love You. O resultado foi surpreendente para uma banda que faz o som deles... Chegando a alcançar o número 39 na lista dos 200 álbuns com mais destaque na lista da Billboard.
Em 2014, foi a hora de lançar mais um mixtate (# 000000 & # FFFFFF) e em 2015, outro álbum em estúdio (Wiped Out!)... Consolidando assim, a carreira tão perseguida por eles ao longo dos anos que conta diversos trabalhos posteriores: que incluem (além de novos álbuns) turnês próprias, apresentações em programas de TV e presença em pequenos e grandes festivais espalhados pelo mundo.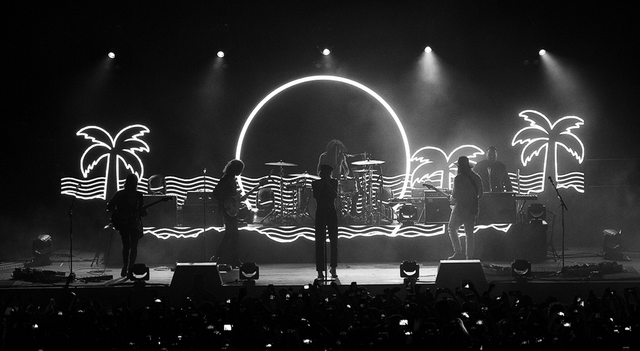 Fonte: Divulgação (One Nation)
A identidade da banda é bem singular e caracteristicamente fácil de ser identificada (algo que fideliza o trabalho deles, porque eles seguem um padrão musical consistente): por exemplo, eles tem uma pegada que lembra muito a sonoridade de The 1975 e AM (mas com uma particularidade só deles, como uma assinatura nas composições... bem como aspectos diferentes em relação a harmonias / arranjos de notas musicais) e visualmente, eles tem um ar meio old fashioned (porque todos os trabalhos visuais / midiáticos dele são em preto e branco).
O clima das músicas tem uma melancolia interessante de ser ouvido (algo que pode ser notado mais facilmente em suas baladas). Mas, até mesmo em suas músicas mais agitadas, esse impressão está lá... E não, isso não é algo ruim e só ouvindo para poder entender melhor. Existe uma coesão entre a parte visual e as músicas que trabalha muito bem junto, criando uma sonoridade diferente a ser apreciada (por sinal, algo que o público sabe fazer muito bem nos shows da banda... e os mesmos são correspondidos com uma ótima interação por parte dos integrantes).
Não conhece o trabalho dessa galera e quer conferir? Então dá um play aqui:
[ Discografia ]
"I'm Sorry..." [EP] (2012)
"Thank You" [EP] (2012)
"I Love You" (2013)
"# 000000 & # FFFFFF" [Mixtape] (2014)
"Wiped Out" (2015)
"Hard" [Extended Play] (2017)
"To Imagine" [EP] (2018)
"The Neighbourhood" (2018)
---
View this post on Steeve, an AI-powered Steem interface