Recruitment Industry faces struggle and PTC is here to save the day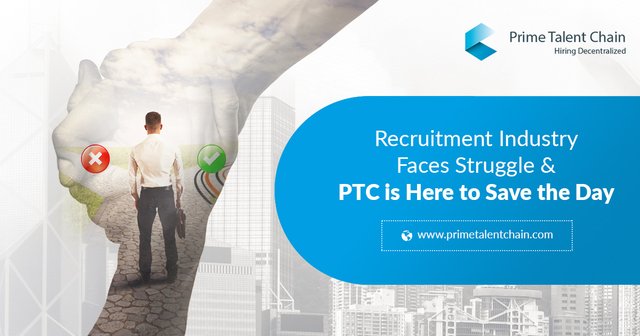 The recruitment industry is fraught with various problems regarding the resumes of potential candidates. This is where Prime Talent Chain comes in. PTC employs Blockchain technology to create what we call a Skill Community. It is a physical chain of blocks, which includes jobseekers' resumes that have the same or a similar set of skills. Every resume is validated and then added to the block as a transaction. The Blockchain will be combined with new resumes that have been verified and added to the existing blocks of the network. This allows the recruitment managers to select a set of resumes for the chosen field. 
These resumes cannot be modified and cannot be altered due to the immutability of the Blockchain. The database of Skill Communities are managed autonomously, so when a hiring manager interacts with a candidate, the interaction between the two parties are recorded and verified. Skill Communities are capable of managing social interactions and also manage reference checks, reviews, ratings, and other things.
Some of the parameters used to build Skill Communities are:
Skill Rating
Educational Qualifications
Location
Experience Level
Feedback from previous employers and interviewers
Domain and other related aspects
Two aspects support the Skill Communities in the Prime Talent Chain's ecosystem.
PrimeParser is a digital assistant that utilizes Machine Learning and matches the resumes to the above-stated parameters with the right skill community. Then they become a part of the famed skill pool.
PrimeScreen rates and ranks every individual resume in a Skill Community. The rankings are based on a set of different variables assigned to the particular skill community. 
Summing-Up
Prime Talent Chain aims to disrupt the traditional recruitment industry by bringing in Blockchain, AI, and Machine-Learning to recreate an ecosystem well-suited to the needs of both hiring managers and job seekers alike.