In Latest US State Department Psy Op "Last Men In Aleppo" Terrorists Meet With Heather Nauert Who Expresses US Direct Support (Images and Video)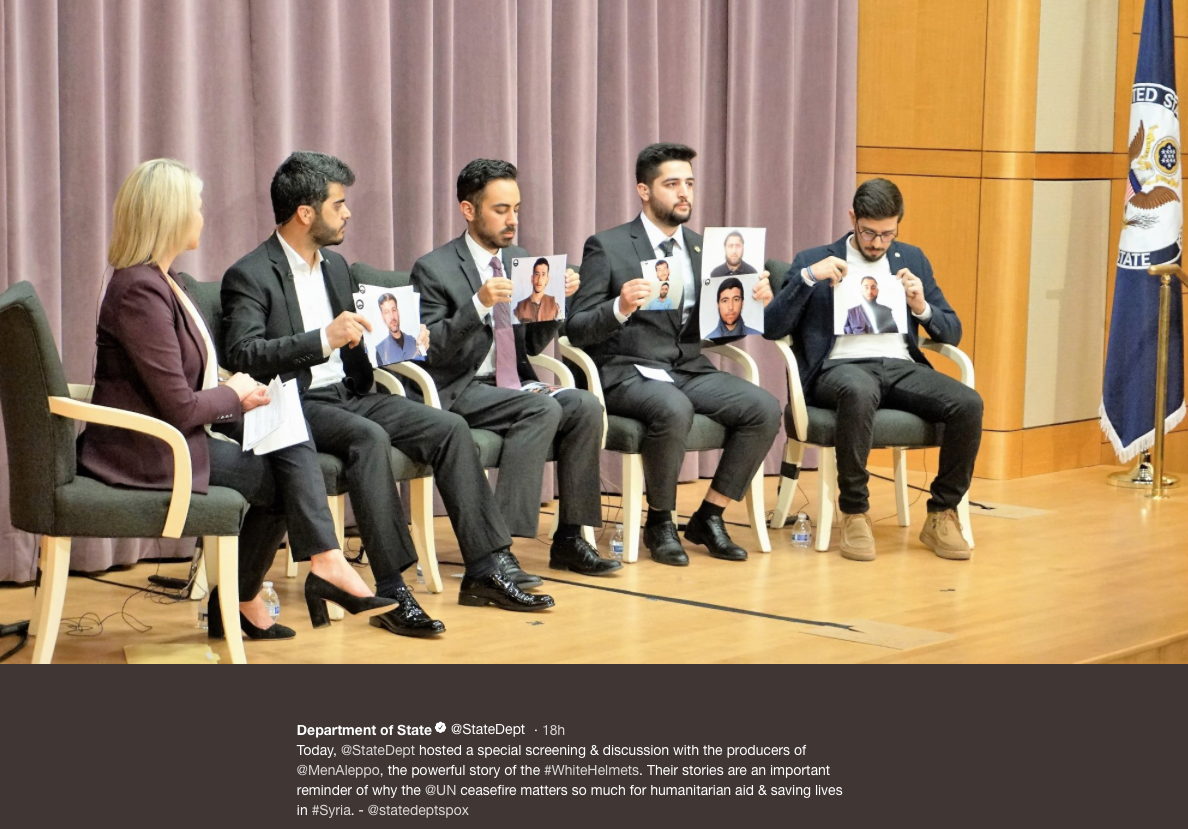 Link to official US State Department Facebook video upload highlighting the meeting and praise reaped on the aforementioned deceptive individuals
https://www.facebook.com/usdos/videos/10155305753546074/?t=1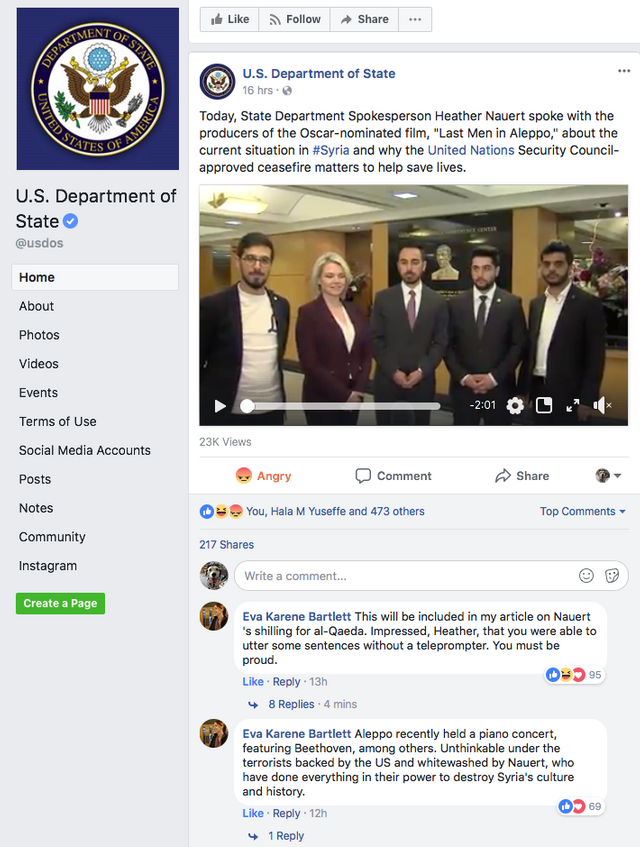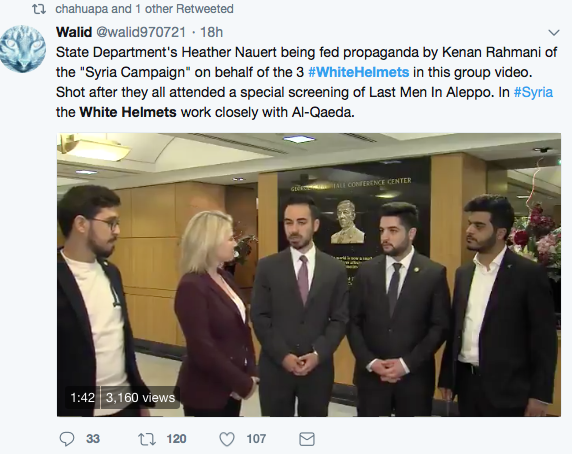 Link to Clarity of Signal post showing dozens of images screen captured from "Last Men in Aleppo" directors Facebook accounts proving they are terrorists linked with al-Nusra Front, al-Qaeda and ISIS, amongst other terror groups.
Exposing "The Last Men in Aleppo" – FSA Terrorist Psyop and Oscar Nominated Propaganda Campaign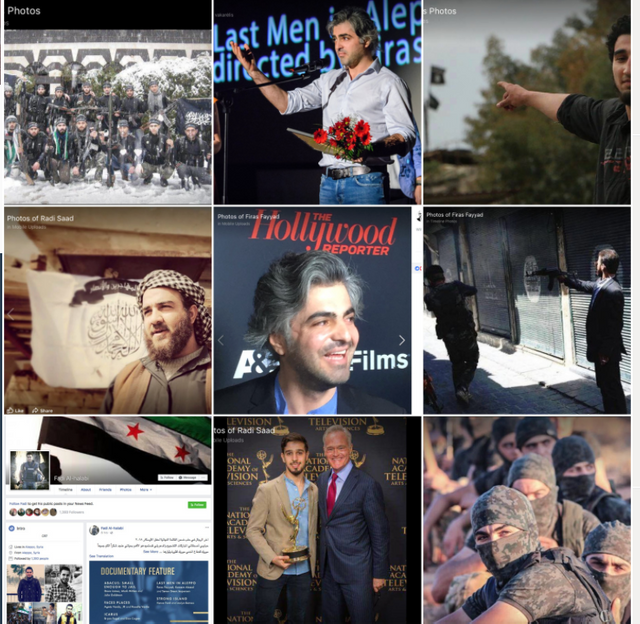 https://clarityofsignal.com/2018/01/24/exposing-the-last-men-in-aleppo-fsa-terrorist-psyop-and-oscar-nominated-propaganda-campaign/
Additional images from US State Department official meetings with Last Men in Aleppo: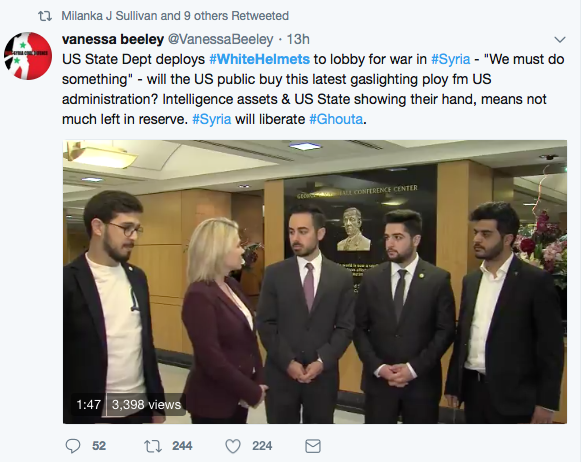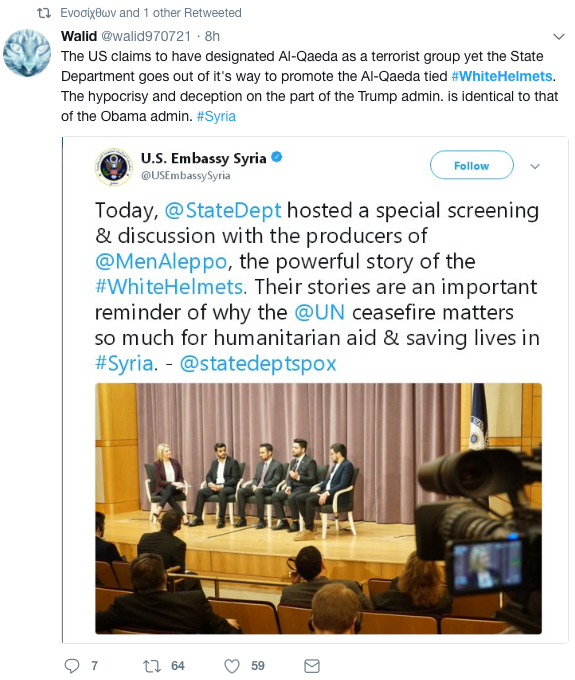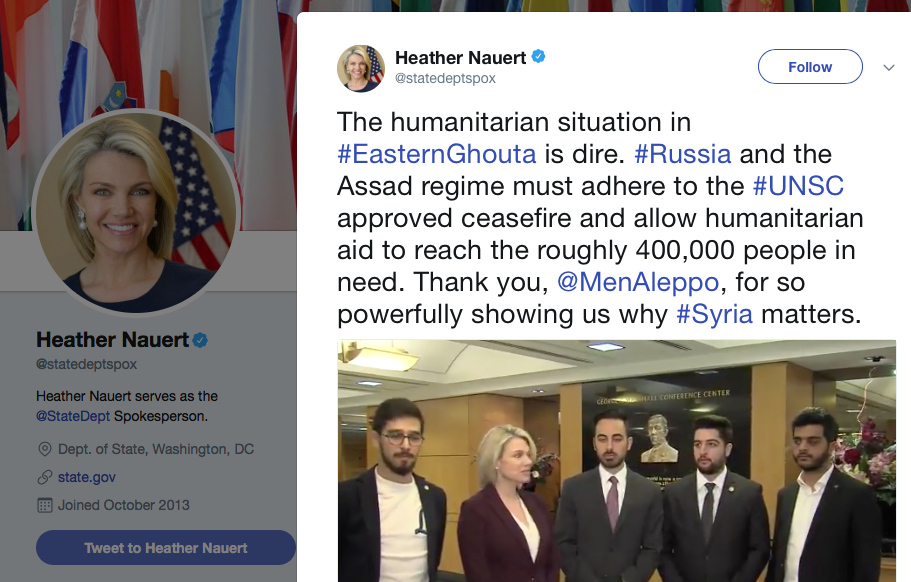 Collage of images below show Kenan Rhamani (Syria Campaign spokesperson) with Hadi Abadallah (ISIS/FSA affiliated), Kenan Rhamani with Hillary Clinton in 2016 during trip to GeorgeTown University and Washington, D.C. Third image shows Hadi Abadallah with Saudi cleric leader of al-Nusra Front (al-Qaeda in Syria) designated terrorist Abdullah al-Muhaysini.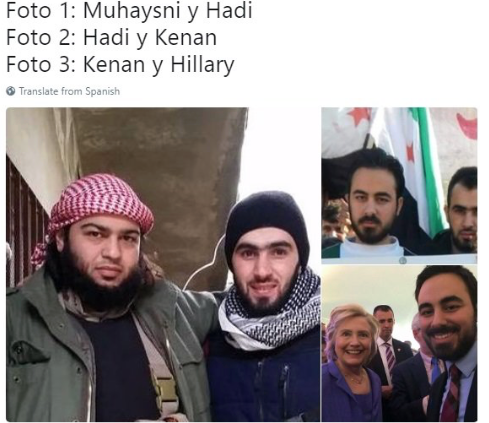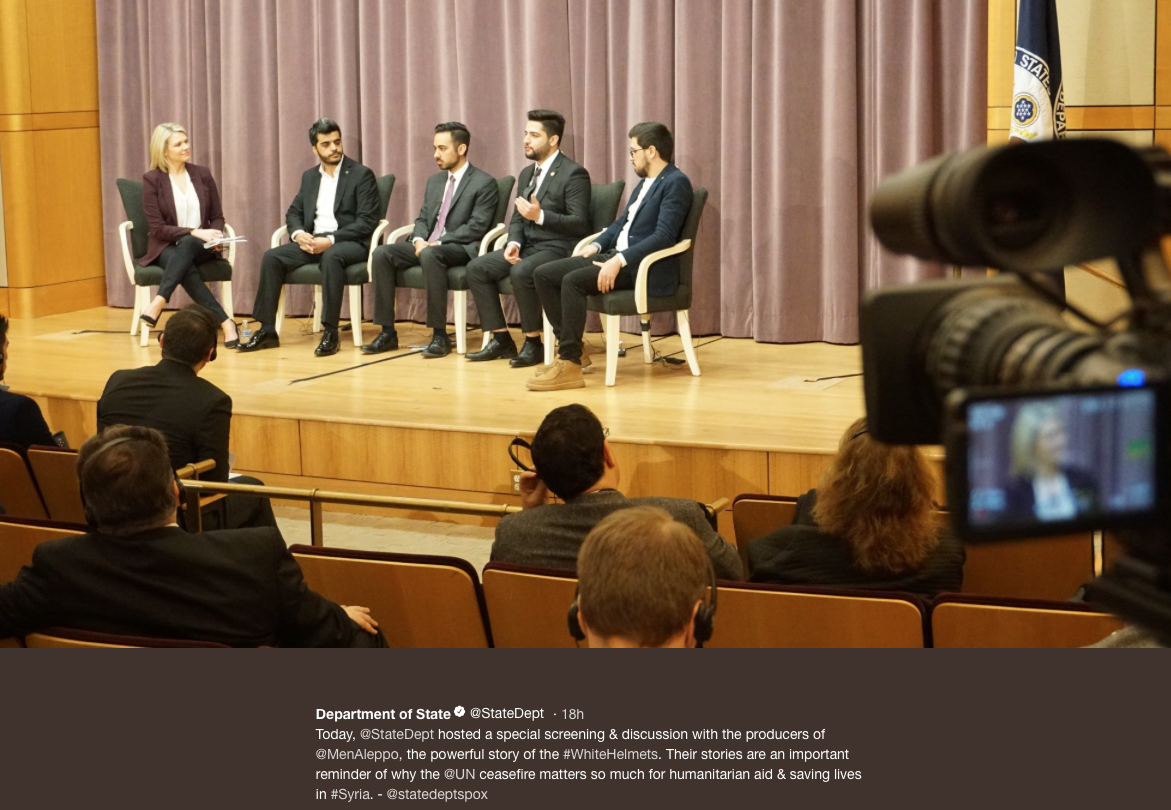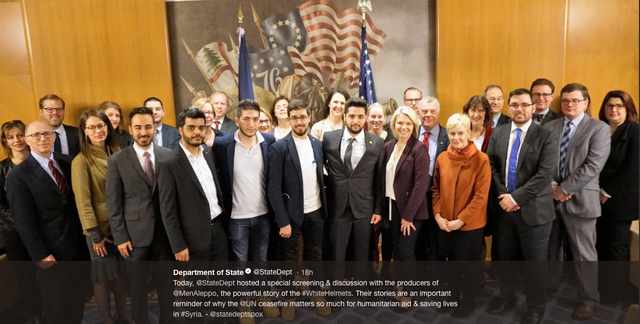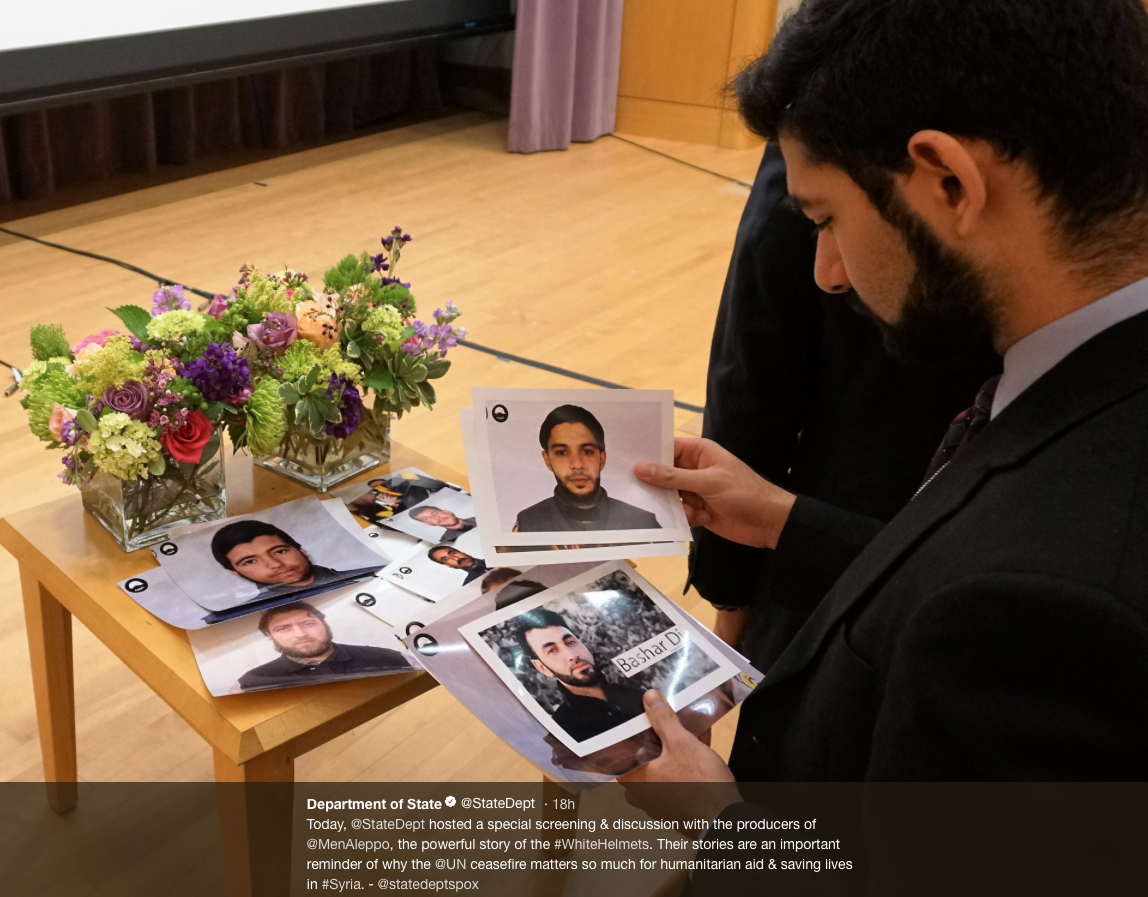 Now lets find out who US State Department spokesperson Heather Nauert is actually meeting with and reaping praise upon.... Alas, they are terrorists and terrorist affiliates and sympathizers, as proven by their own uploaded material and the research of dozens of geopolitical researchers and investigators of the White Helmets terrorist ruse the world over.
Kenan Rahmani, the leader of "The Syria Campiagn" has been filmed and photographed working alongside ISIS/al-Qaeda propaganda disseminator/terrorist Hadi Abadallah on numerous occasions. Hadi Abadallah has, in turn, been photographed on multiple occasions alongside the Saudi cleric leader of al-Nusra Front (al-Qaeda in Syria) Abdullah al-Muhaysini. Hadi Abadallah is also the lead propaganda disseminator of the White Helmets. They are all intertwined, along with ISIS, the White Helmets and other FSA terrorist groups killing Syria citizens.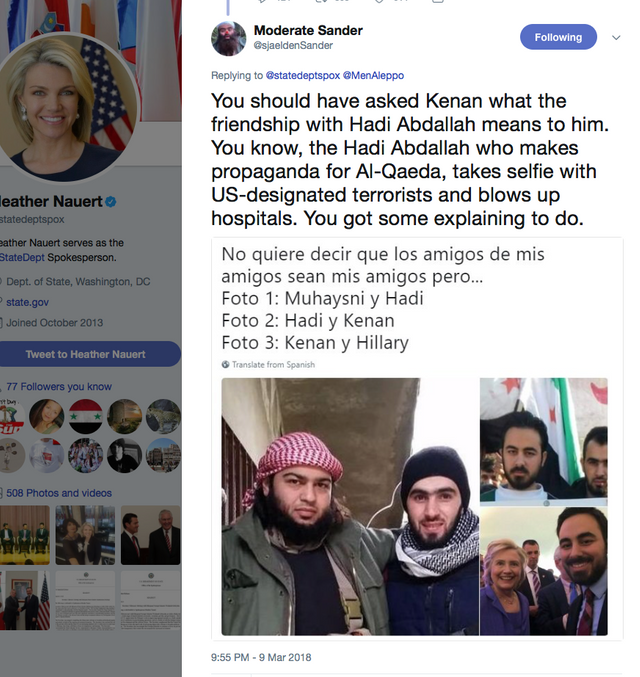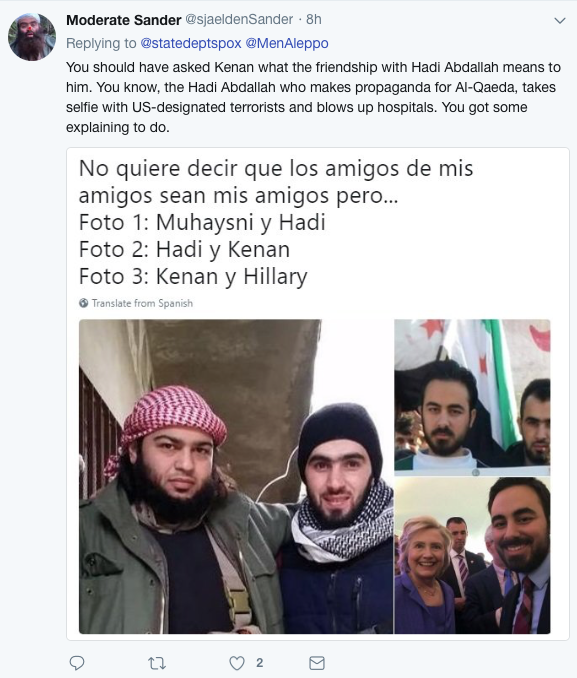 Additional images proving White Helmets are terrorists:
Massive White Helmets Photo Cache Proves Hollywood Gave Oscar to Terrorist Group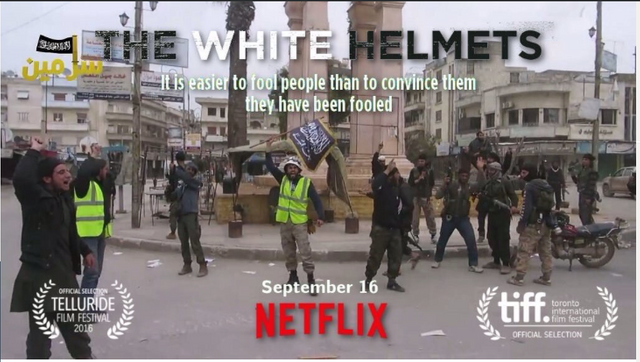 https://clarityofsignal.com/2017/02/27/massive-white-helmets-photo-cache-proves-hollywood-gave-oscar-to-terrorist-group/
Photos at the above post link with terrorist and al-Nusra Front propaganda disseminator Hadi Abadallah who has been filmed on numerous occasions operating alongside US Treasury Department designated terrorist Saudi cleric Abdullah al-Muhaysini.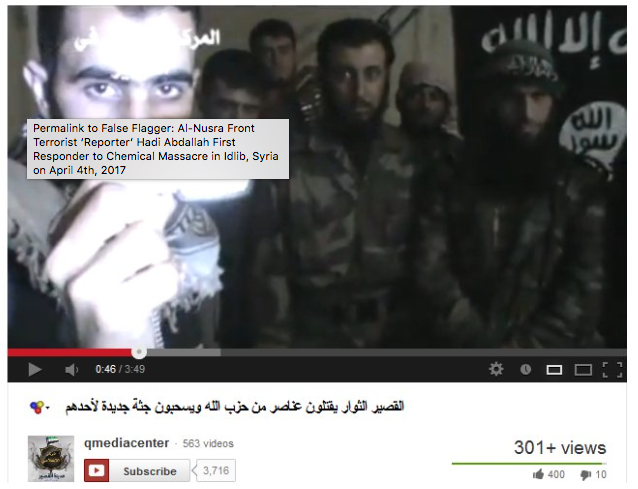 False Flagger: Al-Nusra Front Terrorist 'Reporter' Hadi Abdallah First Responder to Chemical Massacre in Idlib, Syria on April 4th, 2017
https://clarityofsignal.com/2017/04/10/false-flagger-al-nusra-front-terrorist-reporter-hadi-abdallah-first-responder-to-chemical-massacre-in-idlib-syria-on-april-4th-2017/
More on Hadi Abadallah and the White Helmets terrorist deception here:
Hadi and The White Helmets – Hero's by Day, Terrorists by Night. Paid for with US and UK taxpayer money. The al-Qaeda in Syria scam. Hadi Abadallah, the White Helmets PR man.
https://www.youtube.com/watch?time_continue=10&v=HIjne4Rwteo
DTube version should You Tube version be removed by Google censors (Deep State):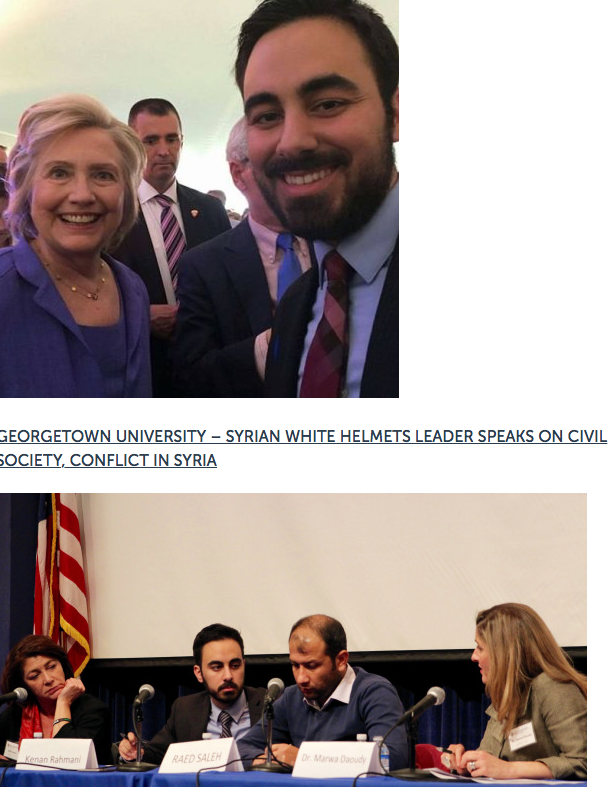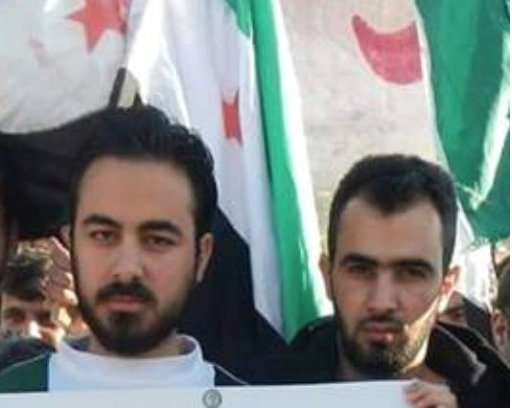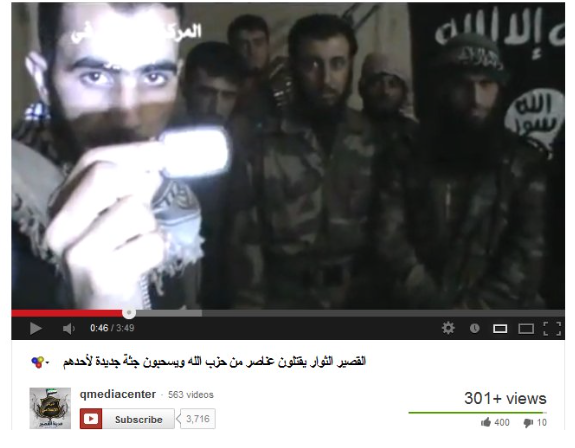 White Helmets and FSA are also linked with ISIS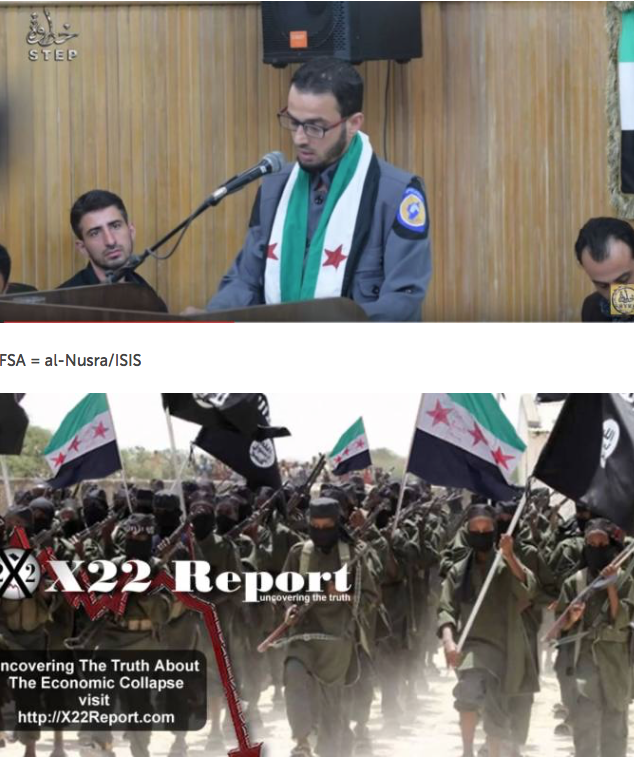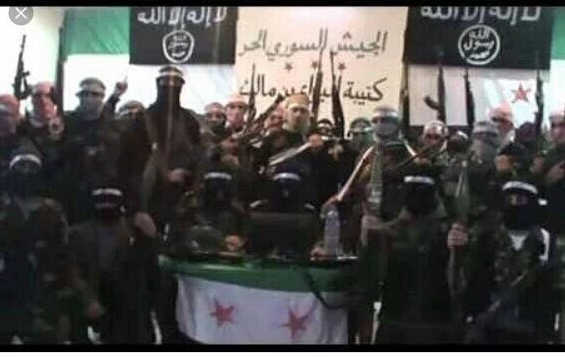 Abdullah al-Muhaysini praises the White Helmets as Mujahideen Islamic jihadists conducting holy war.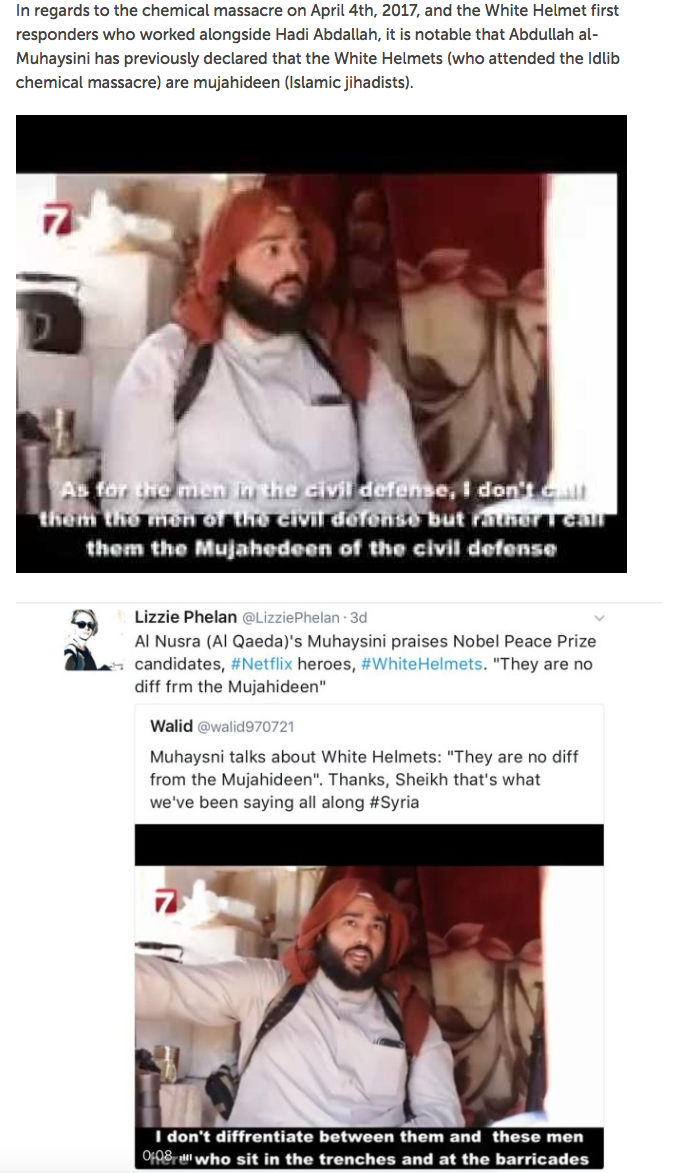 Video: al-Nusra Front Terrorist Leader in Syria States Oscar Winning White Helmets Are Mujahideen Islamic Terrorists
https://www.liveleak.com/view?t=146_1488807209
An In-Depth Look at the Main Saudi Cleric Leading Terrorist Operations in Syria
https://clarityofsignal.com/2017/01/12/a-in-depth-look-at-the-main-saudi-cleric-leading-terrorist-operations-in-syria/
On November 10th, 2016, two days after Donald Trump was decided as President of the United States, the US Treasury Department, finally after 5 years of standing by and letting terrorists ruin over Syria, designated Abdullah al-Muhaysini as the leader of al-Nusra Front (al-Qaeeda in Syria). Thus, US citizens should be very curious as to why now, in February 2018, US State Department spokesperson Heather Nauert is standing side by side smiling and congratulating the "The Last Men in Aleppo" and promoters of the White Helmets who are praised on camera by the Saudi cleric terrorist leader of al-Qaeda in Syria Abdullah al-Muhaysini.
Treasury Designates Key Al-Nusrah Front Leaders
https://www.treasury.gov/press-center/press-releases/Pages/jl0605.aspx?src=ilaw
11/10/2016
Action Targets al-Nusrah Front's Financial Facilitation Networks
WASHINGTON – The U.S. Department of the Treasury's Office of Foreign Assets Control (OFAC) took action today to disrupt al-Nusrah Front's military, recruitment, and financing operations. Specifically, OFAC designated four key al-Nusrah Front leaders – Abdallah Muhammad Bin-Sulayman al-Muhaysini, Jamal Husayn Zayniyah, Abdul Jashari, and Ashraf Ahmad Fari al-Allak – pursuant to Executive Order (E.O.) 13224, which targets terrorists and those providing support to terrorists or acts of terrorism. As a result of today's action, all property and interests in property of these designated individuals subject to U.S. jurisdiction are blocked, and U.S. persons are generally prohibited from engaging in transactions with them.
These designations were taken in coordination with the U.S. Department of State, which today named Jabhat Fath al Sham as an alias of al-Nusrah Front – al-Qa'ida's affiliate in Syria.
"From recruiting fighters to raising funds, these sanctioned individuals are responsible for providing key financial and logistical support to al-Nusrah Front," said John E. Smith, Acting OFAC Director. "Treasury will continue to target al-Nusrah Front's financial networks and choke off their access to the international financial system."
Abdallah Muhammad Bin-Sulayman al-Muhaysini
Abdallah Muhammad Bin-Sulayman al-Muhaysini was designated for acting for or on behalf of, and providing support and services to or in support of, al-Nusrah Front.
As of late 2015, al-Muhaysini was an accepted member of al-Nusrah Front's inner leadership circle. As of July 2015, Abdallah al-Muhaysini served as al-Nusrah Front's religious advisor and represented al-Nusrah Front in an Idlib Province, Syria, military operations room. He has been involved in recruiting fighters to join al-Nusrah Front and helping to form a new al-Nusrah Front "state" in northern Syria. In April 2016, Muhaysini launched a campaign to recruit 3,000 child and teenage soldiers across northern Syria for al-Nusrah Front.
Al-Muhaysini has played a crucial role in providing financial aid to al-Nusrah Front. Between 2013 and 2015, al-Muhaysini raised millions of dollars to support al-Nusrah Front governance efforts in Idlib Province, Syria. As of early October 2015, al-Muhaysini had set up institutions providing financial aid to terrorist groups, including a highly successful campaign that he claimed had secured $5 million in donations to arm fighters.
Link to video shows Saudi cleric leader of al-Nusra Front (al-Qaeda in Syria) giving a speech in which he states that ISIS and his Mujahideen should join forces. Thus, they are all linked.
Saudi Leader of Al-Nusra Front in Syria Asks ISIS To Join His FSA Linked Terror Group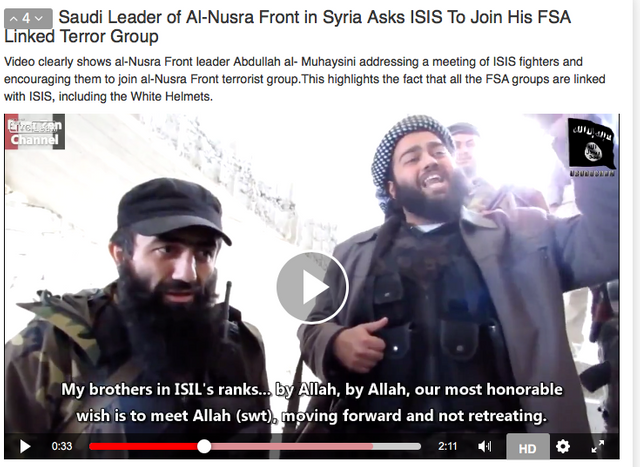 https://www.liveleak.com/view?t=5f1_1490423361
The White Helmets and western and Gulf state media support for these terrorist groups posing as rescuers of children are fully revealed in the following one hour long informative video:
Tapestry of Terror (Highly Graphic) - White Helmets Exposed As FSA Terrorists Linked With ISIS
https://www.liveleak.com/view?i=b5a_1490533325&comments=1
Now for some truth about what is actually going on in East Ghouta Syria: