Social Reality: Violence, Power, and Change
The influencers of Violence -Part One - Culture and Social Context
In the last posts about
Violence
, we talked about the biological and psychological aspects of
aggressive behavior
, how
frustration
influences it, and how it is determined by the social learning models since childhood as well as the situation's triggers present.
In this part 1 post we will enlarge our vision about the influence of Culture and Social Context and in part 2 we will analyze the aspects of Personality, Cognition, and the Environment.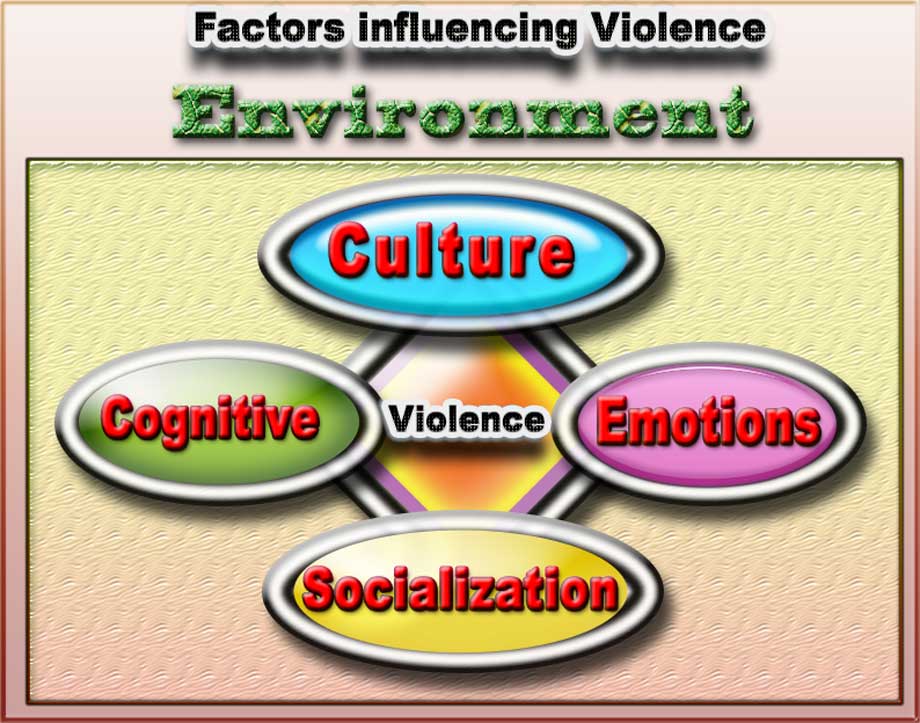 I - Cultural Influencers
1- Is Culture connected to Aggressive behavior?
We will study the cultural aspects of values and social norms that potentate or reduce the emergence of
Aggression
in human social interaction.
But be aware that
aggressive behaviors
can't be suppressed, it will take millions of years in the ascent of humanity to implement social rules to reduce violence because it is inherent in Man and Mankind.
Social acts of Violence
are always a function of how society and the social representations of
aggressive behaviors
that reward or do not support it.
1.1 - Culture and Violence deflectors.
To deflect in psychological terms means to cause something to change direction, or to deviate someone from his/her intended objectives by not rewarding with positive reinforcement or even making people understand the underlying motivations for their behaviors.
Our culture has been increasingly embedded with a social tissue of violence boosters and the symptoms, in reality, are clearly visible.
"Poverty is the worst form of violence". Mahatma Gandhi
Gustave-Nicolas Fischer explains that cultural evolution as the transmission and renewal of
social norms and values
, which are the regulators of
social violence
.
American sociologist Alvin Gouldner in 1960 speaks about the
Norm of Reciprocity
as a social contact stabilizer with the function of avoiding the exploitation of the weak by the strong.
Donald T. Campbell in 1978 studies cultural evolution stating that biological and evolution have the same principles in a way that
"social evolution will act on coded beliefs, moral norms, and rules of social organization".
Biological evolution eventually should be based in the principle that what is good for the group is the best to the individual, but first putting aside all the tendencies for cultural conformism, because culture can resist innovation even if it is good for survival.
"Each one has to find his peace from within. And peace to be real must be unaffected by outside circumstances."- Mahatma Gandhi
Gouldner divided social norms and values in the three of norms of reciprocity, social responsibility, and equity.
1.1.1 - The Reciprocity Norm
Gouldner studied the aspect of reciprocity in most cultures is to help everybody that helped us and never hurt them.
Reciprocity should be a pro-active state of avoiding evil just for the sake of it.
He pointed 4 factors influencing reciprocity: peoples needs, existing resources, motivation, and the pacific (or not) intentions of the intervenients.
1.1.2 - The Social Responsibility Norm
Gouldner found out that Reciprocity does not work when someone is dependent on not being able to repay because they are young or old, and that's where Social Responsibility Norm jumps in.
1.1.3 - The Equity Norms and Justice
Social psychology was always interested in the justice norms, that for me are the foundation of equity, equality, and humanity.
One of the greatest violence of power over people is to conform them to the extinction of their own eco-system, due to unsustainable human activity mainly on the part of the psychopathic insatiability of profit generation, which removes from the equation the planet's sustainability and values humans.
II - Personality Factors
In intention oriented classifications, we can find
instrumental aggression
(orientated towards accomplishing a specific goal),
constructive aggression
(oriented towards construction),
destructive aggression
(orientated towards destruction, harm) and
frustration-aggression
(orientated towards releasing energy or frustration).
"The oldest and strongest emotion of Humanity is fear. and the oldest and strongest type is the fear of the unknown" - H.P. Lovecraft.
1 - Individual history and socialization
The uncertainty of a situation can generate
Violence
, sometimes to compensate shyness, inferiority or social problems like racism, ethnocentrism, or to mask the desire for power preservation and domination.
We see
Aggression
when people try to defend their lives, freedom, reputation or possessions.
Child development is always connected to the family environment and establishes the violent or non-violent character and that it will be seen in the various phases of their lives.
Aggressive behavior in early childhood, will be seen again in adolescence and later as a young adult.
Parents must support effective development to help children to get autonomy for self-control, and supply models and references to orient his/her behavior for socialization.
2- Loss of Control and Identity
The loss of control happens in situations where people feel they can't do anything to dominate it.
Total lack of control can inhibit aggression, but we can have a lot of anger behaviors for the feeling of not controlling the external world.
"Cultural psychosis" is a good example of people coming from other cultures that don't have the capacity to integrate and understand the values of the new society, leading to inappropriate or inadequate behaviors sometimes with aggressive reactions.
The loss of identity increases aggressive reactions, like Festinger, Pepitone e Newcomb showed in experiments where people can't be identified because they use masks and large clothes will always show more verbal aggression against each other.
The Zimbardo experiment of the prison where people were divided between guards and prisoners, showed that aggression was so high that they had to stop the experiment.
The suppression of social inhibitions in the group of guards potentiated their violent behavior, and the prisoners showed aggressive conduct expressing their inability to do something about the situation.
3 - Social Disapproval and Guilt
The fear of social disapproval diminishes aggressive behavior because people that do not fear disapproval tend to show more violent conduct.
On the other way, it was found that the violence of some criminals is related to the absence of guilt and insensibility to the feelings of others, which increases their violence and it is a sign that can be seen in most psychopathic behaviors.
4- Violent Personalities
Studies made of extreme violent individuals with a history of violence have traced some traits of personality common to this group.
The first trait is the violent man that is characterized by a feeling of self-insecurity, a bad opinion and fear of others, always triggers high aggressive behavior at the slightest provocation.
The second type is the "introverted" have child reminiscent behavior of thinking of the others as their own objects of satisfaction and desires. If this does not happen they show strong violent behavior to destroy the one "stopping" their satisfaction.
The next post is part 2 about the influencers of violence of Social, Cognitive and Environmental Factors.
The influencers of Violence -Part One - Culture and Social Context
Last posts in this series:
Introduction:
Social Reality: Violence, Power and Change
Violence:
An Introduction to Violence
The Concepts of Violence, Aggression, and Aggressiveness
The Theories on Violence
The influencers of Violence -Part One - Culture and Social Context - this post

Articles from the next series of posts about Social Reality, Violence, Power and Change:
Violence:
The influencers of Violence -Part Two - Social , Cognitive and Environmental Factors
The rise of Today's Violence
Power:
What is Power?
The Nature of Power
The Dynamics of Power
The Effects and Consequences of Power
Change:
Change and Culture
The Theories and conceptualization of Change
Factors determining Change
The ways of Change
Social Change
References of books consulted:
Les concepts fondamentaux de la psychologie sociale - Gustave-Nicolas Fischer
La psychologie sociale - Gustave-Nicolas Fischer
The social-violence dynamics, power, change - Gustave-Nicolas Fischer Planeta / ISPA, 1980
Gustave-Nicolas Fischer is Professor of Psychology and Director of the Psychology Laboratory at the University of Metz.
French, J. R. P., & Raven, B.H. (1959). The bases of social power. In D. Cartwright (Ed.), Studies in social power. Ann Arbor, MI: Institute of Social Research
Castel, R. The metamorphoses of the social question. Voices, 1998.
Moscovici, S. (1976). Social influence and social change. London: Academic Press
Michel Foucault, Discipline and Punish: The Birth of the Prison