Earlier this year my sister (@tigerrkg) sent me a talk by Tara Brach entitled "Radical Self Acceptance" (Audible link - sorry couldn't find a free version but the 'sample' on Audible covers some of this post's content). Total listening time was a little over three hours and I absorbed it over 3-4 sessions in as many days. At one point I was took some notes. This post is based on those notes.
The topic is 'SHAME'.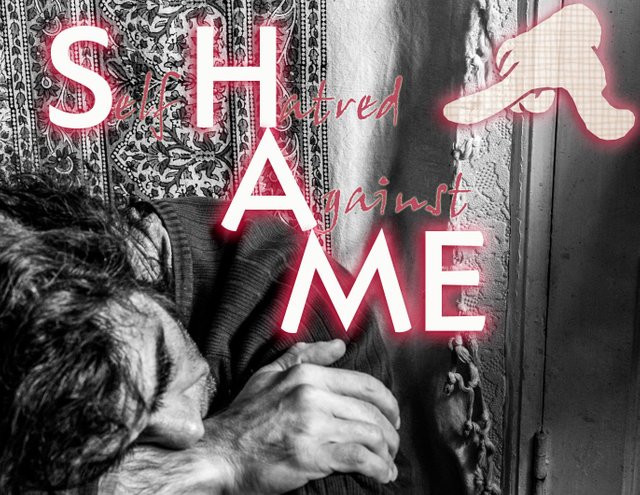 The Feeling of Shame:
something is basically or fundamentally WRONG with me
a sense of deficiency, of lacking something - of being NOT OK
Shame = the self-aversion that comes when my 'NOT OK-ness' is exposed (to the world or to myself)
"Shame or Self-Aversion is the most pervasive type of contemporary suffering"

"Paying attention to "Shame/Self-Aversion is a necessary gateway to awakening"
(Tara Brach)
Etymology/Root of Shame:
to cover or hide deficiency, even from myself
subtle - concealed under anxieties, anger and other feelings of discomfort and dis-ease.
Fear of being exposed. Being exposed as defective is intolerable, therefore strategies are developed. We are conditioned to play out these strategies from a young age. Psychologically this can appear as a 'life or death' issue of survival.

Three strategies for 'dealing with' Shame:
Avoiding shameful feelings ('Flight')

suppressing, repressing, denying, numbing ie getting away from the source(s) of dis-Ease
addiction (to something that numbs)
depression:

'depress' the acuteness of feelings
immersed in 'depressive thoughts' around the feelings being avoided/covered/hidden
sense of deficiency: "I'm not good enough"
gap between who I think I am and who I think I ought to be

denial (pretending to be OK; to admit is weakness/defeat).

Pushing away Shame and Shameful Feelings

these are intolerable, therefore impetus to attack or defend from anything and anyone that triggers them (internal or external)
judging (self and others)
pushing away or attacking the triggers (especially those one is 'close' to, ie feels 'comfortable' enough with to 'act out')

Conforming & Pleasing

constantly trying to meet (impossible) internal and external 'standards'
the sense that something is WRONG and needs to be different (non-acceptance of present)
trying to improve, be 'better' - notion of 'hard-work' to make up for not being OK
constantly trying to become what/who I am not
afraid to take risks; afraid to fail; afraid to be hurt or to make oneself vulnerable
Each of these strategies adds to a sense of deficiency, thus adding further layers of toxic Shame and accentuating the experience of being trapped in a substitute life.
Suffering comes from those parts of the psyche that are ignored and not felt; the parts which are calling out for attention.
Breaking the cycle of Shame
What is true NOW?
What is asking for Attention?
What is asking for Acceptance?
Observe what comes up - Mindfulness
Hold what is observed unconditionally - Love
The deep NEED is to be Seen and to be Accepted (both parts required); to feel Understood and to feel Loved (both parts required). These are unmet needs and yearnings from childhood. Most parents were/are unable to meet these needs of children as their own were never met. Without the Experience of this 'fulfillment' the cycles/patterns get passed on unconsciously.
We (YOU) can understand (Y)ourselves and meet (Y)our own needs, thereby breaking these cycle(s) of Shame.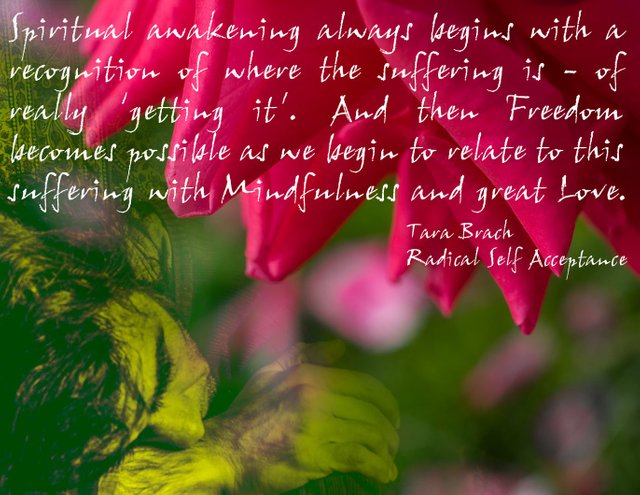 Resources:

A second audiobook I would like to share is Wherever You Go There You Are, by Jon Kabat-Zinn. This is almost exactly as long as Radical Self Acceptance and I find the two to be compatible and complementary.
An effective way to understand and release Shame is through Mindfulness/Meditation. If you have wondered about these concepts or feel you have not had much 'success' at it, it is possible that JKZ will cut through that sense of inadequacy with this sharply intuitive and intelligent, gentle and extremely powerful layout in simple, compassionate, inspirational and no-bullshit lingo.