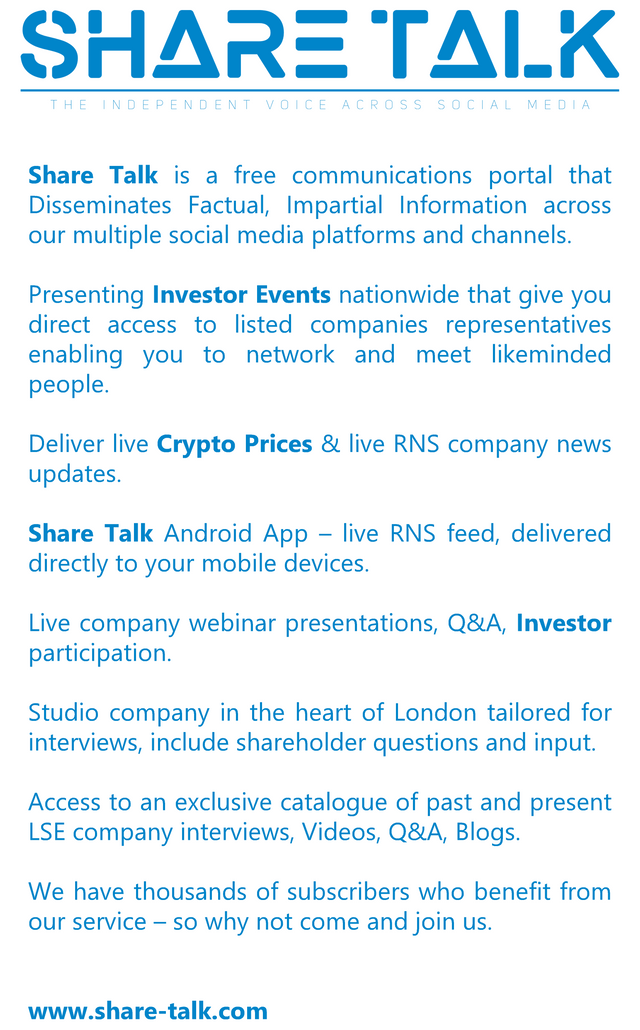 Marketing and Promoting #Steem as a Media Partner
It gives me great pleasure to introduce #ShareTalk to the #Steem Community.
Please join me in giving #ShareTalk a warm welcome to #Steem.
#ShareTalk is a free communications portal that disseminates factual, impartial information across multiple social media platforms and channels.
Presenting Investor Events nationwide that gives direct access to listed companies representatives enabling you to network and meet like minded people.
Delivering live Crypto Prices and live RNS company news updates.
#ShareTalk Android App – live RNS feed, delivered directly to your mobile devices.
Live company webinar presentations, Q&A and Investor participation.
Studio company in the heart of London tailored for interviews, including Investor questions and input.
Access to an exclusive catalogue of past and present LSE company interviews, Videos, Q&A, Blogs.
Thousands of subscribers that already benefit from their service and a growing network of Investors..!!
For more details about #ShareTalk please visit https://www.share-talk.com/.
Thanks again for reading.
Stephen