Taking a Product to Market is not Rocket Science..!!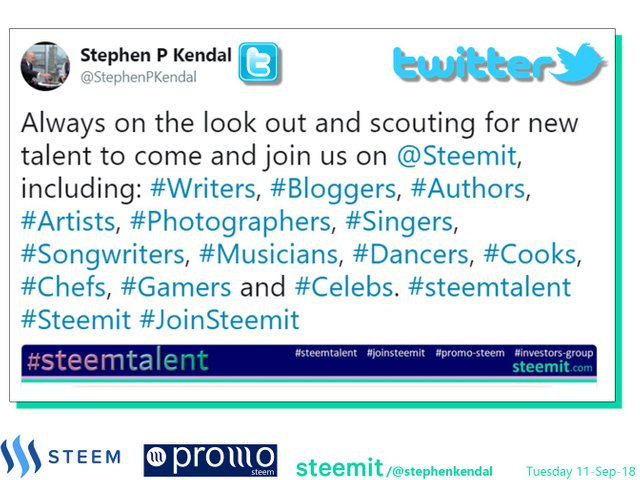 Taking a Product to Market is not rocket science, it simply needs: a Strategy, a Plan, Persistence and more importantly, Time..!!
From a standing start, if anyone thinks they are going to get a Product to Market overnight with little or no effort, they are sadly mistaken.
Promotion Campaign on Twitter
Since changing my Twitter Profile to #steemtalent on 19th June 2018, only now after +80 days am I starting to see the green-shoots of the Campaign beginning to show signs of life and this is simply by repeating the same story.
As with any Marketing and Promotional Campaign, you have to keep repeating the story over a long period of time and this is why I am given #steemtalent 3 years to grow.
No one said it was going to be easy, but from what I have witnessed over the last <3 months, the Plan to continue this process for another +2 years is about right.
My initial reaction is that #steemtalent has got off to a great start.
I guess it then leaves a simply question..... "....has it been a complete success?"
I will tell you in the summer of 2021..!!
The lastest tweet reads....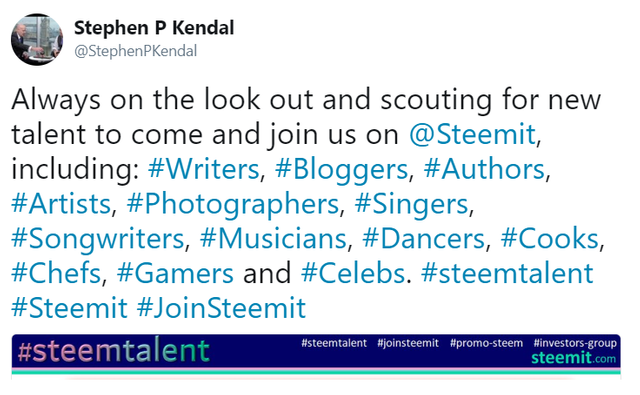 Always on the look out and scouting for new talent to come and join us on @Steemit, including: #Writers, #Bloggers, #Authors, #Artists, #Photographers, #Singers, #Songwriters, #Musicians, #Dancers, #Cooks, #Chefs, #Gamers and #Celebs. #steemtalent #Steemit #JoinSteemit
Accompanying the tweet was the following slide....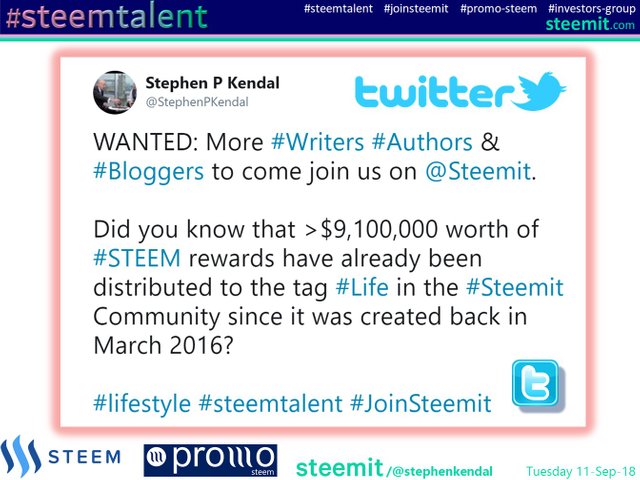 Please feel free to retweet the tweet if you support the promotion and growth of #Steemit.
Thanks for reading and once again thank you to everyone around the World that has supported the #Promo-Steem #steemtalent Project.
Stephen