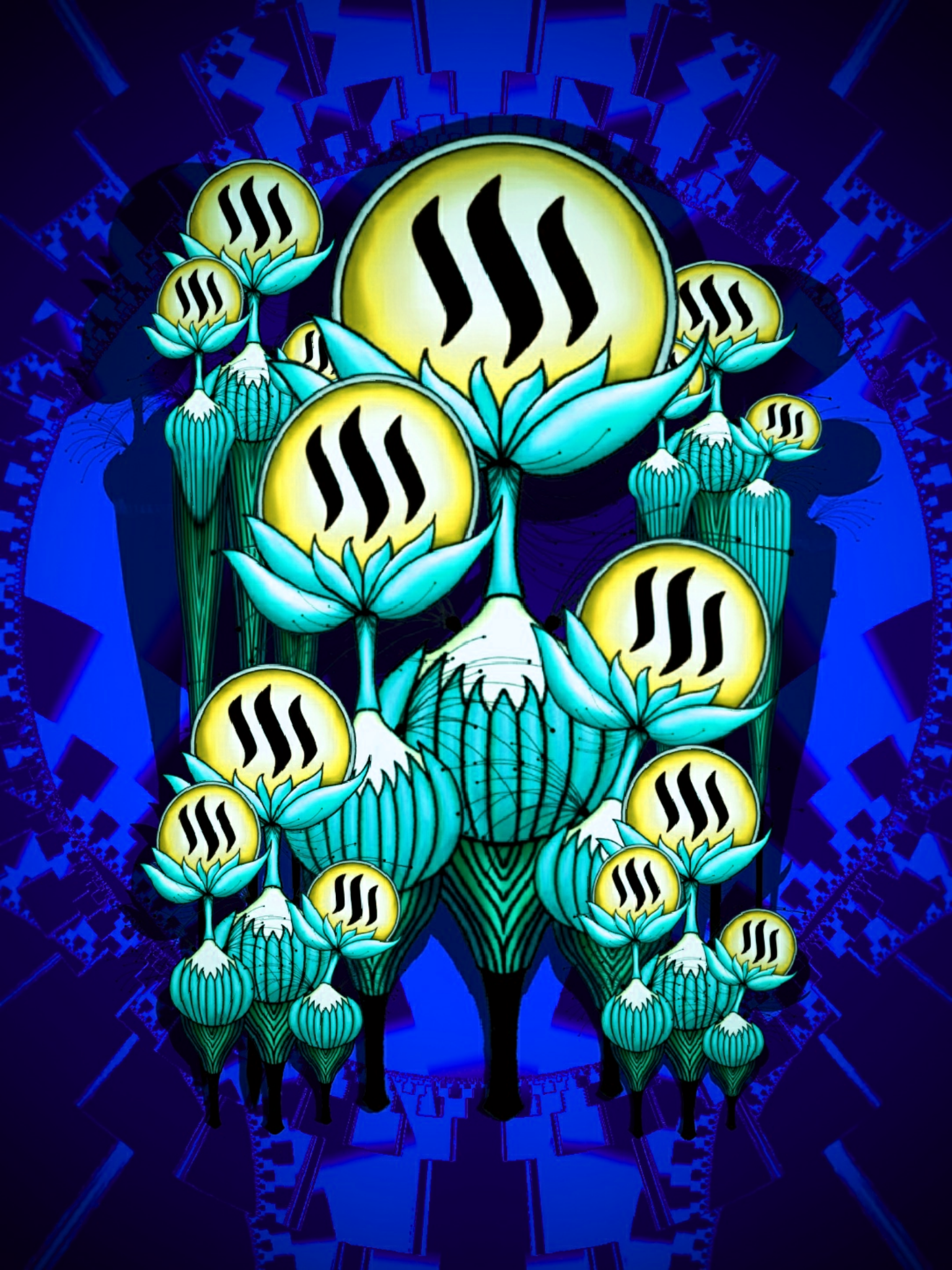 Creative Commons art by @juliakponsford
The Thunderclap social media campaign will happen on Feb. 13, so sign up today to join the party, and spread the news about STEEM on Twitter and other social media sites. So far we have a reach of 298,000. We can do better!
@fitzgibbon is the mastermind behind this campaign, but we still need your participation in order to make this uber successful! Here is the awesome GIF made by @overkillcoin that will be shared in the campaign: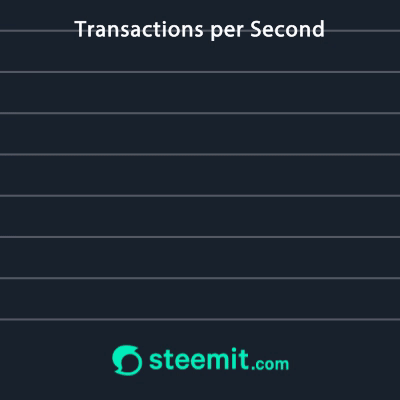 Here is the Thunderclap as it appears on the @planetsteem Twitter profile: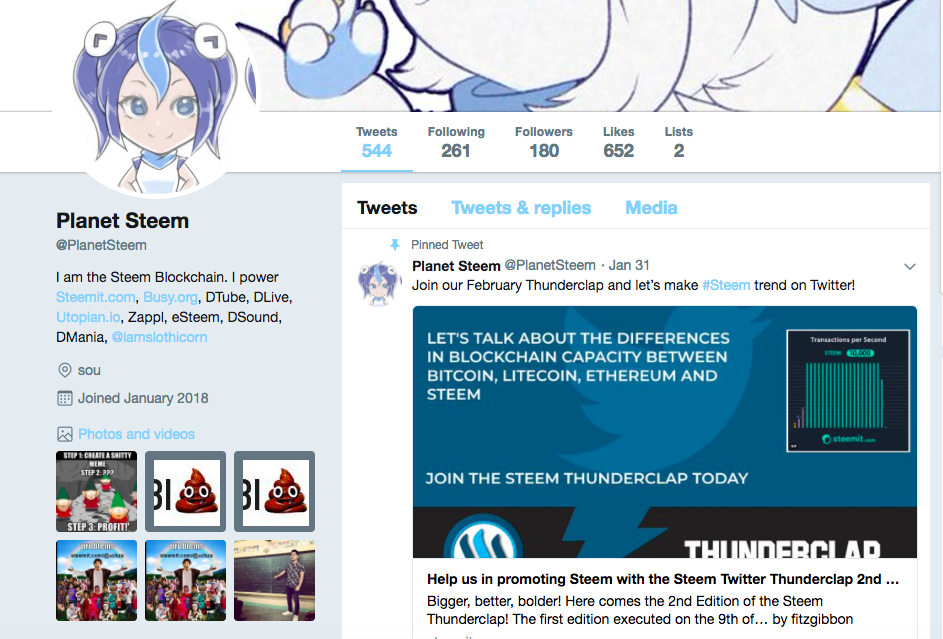 If youre on Twitter and you're not following @planetsteem there, please start today. We are a community-run Twitter account, tweeting out the best from all over the Steem blockchain, including from Utopian, DTube, Steemit, Busy, dMania, DSound, Slothicorn and other new developments as they occur. @ashleykalila has a background in social media community managing, and she is the main person running the account. There's a diverse team of about 5 people from all over the globe and we believe that diversity of people is our main strength. We also act as a helping hand to new users who run into unsolvable problems like bandwidth issues, etc. Follow us today: https://twitter.com/planetsteem?lang=en
And here are some screenshots showing you what the Thunderclap promo looks like: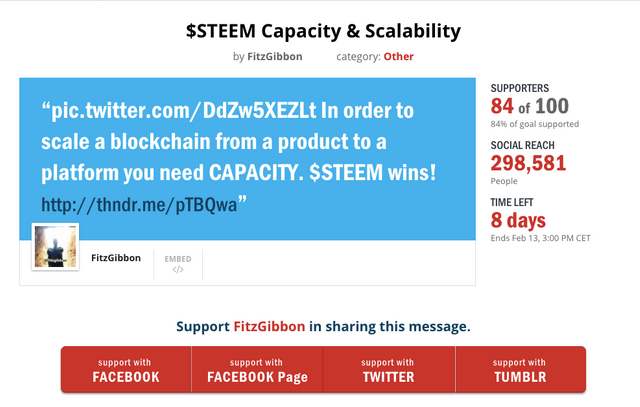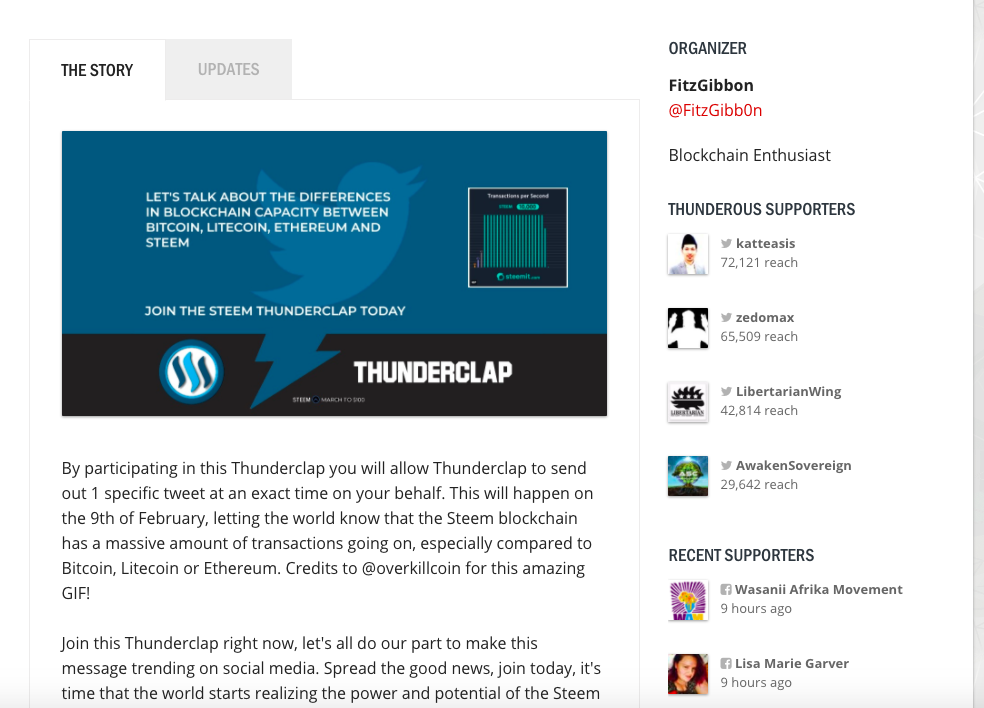 A special shoutout goes to @katteasis, who is our biggest supporter so far, with a social media reach of 72,121. @jerrybanfield and all other prominent social media people, please add your names to our supporters and join the Thunderclap today!
WE WANT TO SEE STEEM TRENDING ON TWITTER!
Joining the Thunderclap is easy and simple. It only takes like a minute to do this!
Here's @fitzgibbon's original post about this: https://steemit.com/promo-steem/@fitzgibbon/help-us-in-promoting-steem-with-the-steem-twitter-thunderclap-2nd-edition-join-now
Shoutout to @fitzgibbon who took on this initiative! Shoutout also to all my peeps running the @planetsteem community-run Twitter account. You all rock!
And a special shoutout to all the slothys who are rocking the Creative Commons movement! Our Slothicorn Discord channel has over 200 members and growing fast!
And lastly, shoutout to my boy @inquiringtimes who keeps the Slothicorn Discord channel in order. Without him, it would be a mess. Shoutout to my new creative partner, @stevenalexander, who is as you know, co-creating the Steve and Stella Show on DTube. Follow the madness: https://steemit.com/@steveandstellas
Here's a recent blooper video from the Steve and Stella show in case you missed this:

Cheers,
Stellabelle
ps- I heard something about someone impersonating me in Discord. On Discord, I am STELLA.