We have a #twitterstorm in less than nine hours and one ten hours later
As announced earlier we are heading to twitter in less than 9 hours. My hope is for some collective Steemian activity all tweeting about "Voting For Steem in the Netcoins Competition" with focused bit of twitter activity all happening in these two particular one hour slots:
Oh look the timing might actually coincide with STEEM taking the top spot in the competition – who would have guessed it!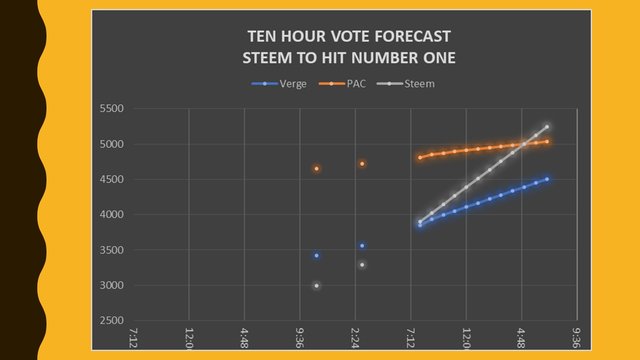 THE TIMES
18 OCTOBER 2018 UTC 7AM - 8AM
18 OCTOBER 2018 UTC 5PM - 6PM
We have overtaken VERGE and are now in pursuit of PAC Coin.
We are accumulating votes faster than both these coins.
In some hours VERGE nearly casts as many votes as STEEM. So this is no time to be complacent.
GUIDELINES & IDEAS FOR ANY TWEETS
Like, Resteem, Comment on this tweet from the twitter handle "@Oracle_D_com".
https://twitter.com/Oracle_D_com/status/1052776773451169792
Publish tweets which direct people towards Voting for Steem.
Encourage people to vote for Steem on this website: http://contest.gonetcoins.com/
Use the following hash tags in your tweet: #LoveSteemVoteSteem and #Steem
Perhaps include a relevant high-quality image.
Demonstrate a high standard of spelling, grammar and be polite and professional.
Like, comment and retweet all other tweets which serve this mission especially if they include the #LoveSteemVoteSteem and #steem tag
Some ideas for the tweets might be to speak about what you love about Steem and why you voted!
Have a think about what you want to say in your tweets – and try and get it into the permitted number of characters - I might do some tweets like this, so maybe do something similar: these should all fit into a tweet with a bit of personalisation and modification:
Example Tweets:

I voted for #Steem in the @netcoins listing competition because I would love to see the wider use of, and awareness of, #Steem. You can cast one vote every day in this competition. Vote for #Steem. It's quick and easy: http://contest.gonetcoins.com/ #LoveSteemVoteSteem

I love the #Steem Blockchain. This technology has so much potential to do good in the world. We have a great community and loads of Use Cases for Steem: Would you like to vote for #Steem too? It's quick and easy: http://contest.gonetcoins.com/ #LoveSteemVoteSteem

The #Steem Blockchain is phenomenal and I would like to see Steem more readily used as a currency for everyday goods and services. We can make positive change in the world. Vote for #Steem in this competition: it is quick & easy: http://contest.gonetcoins.com/ #LoveSteemVoteSteem

I am a fan of the #Steem Blockchain, a phenomenal community and an undervalued currency, we can change the world one step at a time. Will u help raise the Use & Awareness of #Steem by voting for Steem in this comp: it is quick and easy: http://contest.gonetcoins.com/ #LoveSteemVoteSteem

I love being on the @steemnetwork - we have a #decentralized social media platform with a really interesting dynamic community. I just voted for Steem in this competition to be listed on this exchange: Want to add your vote? it's easy: http://contest.gonetcoins.com/ #LoveSteemVoteSteem

@oracle_d_com is a newco building amazing communities on the #Steem Blockchain. I'm joining them & the #steemit community in casting a vote for #Steem to win a free listing on @netcoins. Please join in - it's interesting quick and easy: http://contest.gonetcoins.com/ #LoveSteemVoteSteem

See you on the twittersphere – have fun!
You can express interest in joining this voluntary mission by dropping into the Oracle-d discord channel- we have a separate channel for #twitterstorm notices and you can join in the chat in the General Room.
Discord: https://discord.me/oracle-d
We don't know how many people will engage in the "twitter-storm" – it might be more like a "light wind" – but I bet we still generate some awareness of STEEM and a few more votes!

If you are coming across this for the first time: simple: please:
Follow the link Netcoins.
Choose STEEM.
Enter Email – follow instructions.
Press Vote.
Do this every 24 Hours until we win!

Please encourage everyone to join us in voting for STEEM – this is not a breeze in the park – there is serious competition for a serious prize and every vote counts!