Prime Talent Coin- A New Approach Towards Hiring Right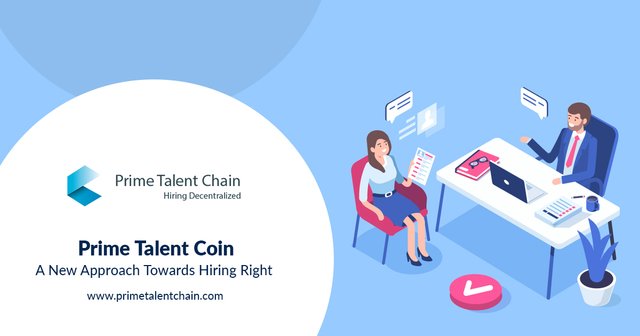 Cryptocurrency, Initial Coin Offering and Blockchain aren't buzzwords anymore as they are implemented in a lot of industries, and the latest being the recruitment industry. Cryptocurrency ensures safe and transparent transactions between the parties involved. This characteristic was the major reason for the momentum it gained. At Prime Talent Chain, we have developed Prime Talent Coin on our own blockchain. The motive is to provide a fair trading opportunity for all the stakeholders.
The PTC Coin is created on our own blockchain that is accompanied by a multi-signature wallet with Elliptic Curve Cryptography. The ecosystem consists of two wallets; PTC Coin Wallet and Fiat Wallet with an Internal Exchange. So if any recruiter wants to access a particular skill community, he/she may have to pay a fee. This payment can be made by the recruiter by buying the PT coins with money. If the recruiter has PTCoins already then he/she can make the payments using them. 
The PT coins are known for the following functionalities.
Fast: Rapid transactions and confirmations with 2.5 minute block times
Cheap: Minimal Transaction Costs
Scalable: Support and fast blocks provide ample transaction bandwidth
Future-proof: Lightning network support provides instant transactions and future scalability
 
What are the benefits of buying PT coins?
Utility tokens
Payments in the PTC ecosystem
Exchange
Apart from the above, PT Coins can be used in the referral programs of investors and candidates. Smart contracts are employed and PT coins are given as a reward for every hire made successfully through a reference.
 
PTC wants to guarantee a secure platform for exchanges, payments and offer transparency with regards to funds. PrimeTalent Chain is all set to start its ICO very soon. Stay updated by joining our team at Telegram
 Follow Us:
Telegram : https://t.me/joinchat/Ij6yrkU2EnWDDQ1GgL83YA
Twitter: https://twitter.com/primetalentcoin
FaceBook: https://www.facebook.com/PTCprimetalentchain/
Instagram: https://www.instagram.com/primetalentchain/
Linkedin: https://www.linkedin.com/company/prime-talent-coin/