November 17th was World Prematurity Day. I have so many friends that worked or still work in the Neonatal Intensive Care Unit (NICU) that I was able to read a lot of thoughts on this day. A NICU career is not for the faint at heart. NICU nurses tend to be a "special breed", just ask our spouses. I spent 15 years of my career in NICU. That's a significant amount of time for someone who is 37 years old. I admit, I miss parts of it.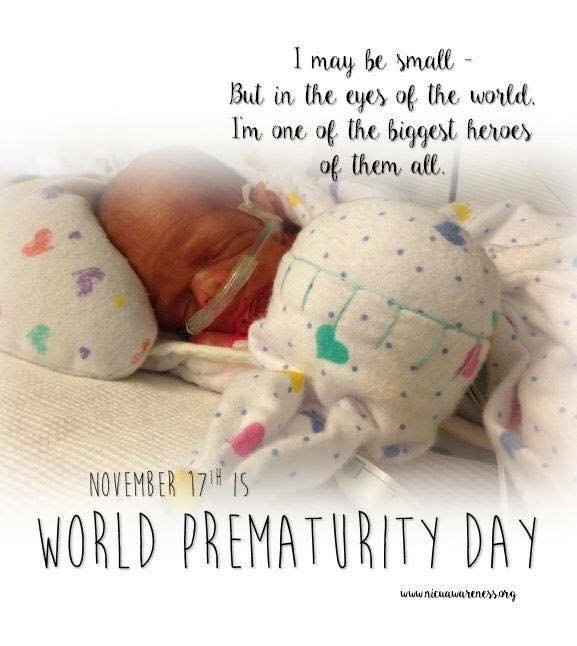 There are times I miss flying in helicopters. I can be a bit of an adrenaline junky, so flying out to an outlying hospital to stabilize and bring back a sick or premature infant was right up my alley. I'm good at procedures. I got a deep level of satisfaction at intubating (placing breathing tubes), putting in different types of central lines, placing arterial lines of different types, needling chests in emergencies, and placing chest tubes. I really did. Most people probably think that's a bit nuts. Going to all those deliveries of infants could be wearing if you're going in to your 10th or 15th of the day, but over all they are exciting. I really enjoyed guiding care for neonates at birth and during the acute period of their lives. My brain did well with needing to constantly tweak things, or doing math that was do or die if you got it wrong for a 450 gram infant. It was always exciting to successfully remove one support at a time and watch the babies thrive.
However there were parts I really had a hard time with. Of course, by now, if you know me, you know I could not STAND for neonates to receive vaccinations in the NICU. There were so many infants reacting badly to them that it literally became something that you expected and planned for... it also became something that was joked about. You can see some of my commentary about that in this video:
Vaccines aside, there was a part of NICU care for the patients and families that just really could send me over the edge, and that was "convalescent care". You see, for the amount of time that a baby in the NICU spends with a lot of change and support going on, the amount of time that they are just hanging out "feeding and growing" is infinitely longer. This is where someone like me begins to get extremely frustrated. Many, even a lot of nurses in NICU, do NOT realize that the MOST important thing we do in the NICU is NUTRITION!! While as a whole, NICU's have become so adamant about how important providing breastmilk is, it's also treated as inferior at the same time. It is true that during the last trimester of pregnancy, the nutrition density gradient afforded to the infant through the placenta is quite dense, so typically plain breastmilk isn't going to provide that same kind of infusion of nutrients. Babies grow better and have much better outcomes per research if they are provided with high calorie and protein intake during this time in NICU as well as a different calcium/ phosphorus ratio. This is widely agreed upon. The problem with that is the absolute junk provided to us as breast milk fortifier from companies like Enfamil and Similac. Made mostly of corn and soy, these supplements also tend to cause a lot of problems. Fast forward to getting ready for discharge, and all of these infants are sent home on fortified breastmilk with either an Enfamil or Similac premature infant powder to fortify mom's breastmilk. Right now there is a group in the DFW metroplex sending infants home on half breastmilk and half formula, which just down right pisses me off. Mom has a full supply! Why are we only using half of it and feeding these poor babies literal junk food for the other half of their feedings? There is literally NO regard for parent choices, parent's wishes to provide whole food diets for their children, or the fact that the products we have to choose from are complete crap. Just none.
What I've discovered as a holistic Neonatal Nurse Practitioner who is taking care of these infants after discharge, is that about 2 weeks after going home, they tend to perk up and start to act like real newborns. Their bodies also mature to be able to tell us when it doesn't like things. Almost NONE of these infants tolerate these corn and soy ridden, genetically modified, overly processed, and destroyed food like substances going in to their tender bellies. Added to the disgusting nature of what they are being fed, most of these infants have also been exposed very early and sometimes regularly to gut destroying antibiotics and medications. Every other provider out there doesn't care, doesn't see the connection to symptoms of screaming, spitting, faint rashes, or stools changes as intolerance to food, gut dysbiosis, or leaky gut syndrome. They simply put the infant on a medication to "shut them up" and move on. It's a mess. It's just an absolute mess.
I recently had a former premature infant discharged on half breastmilk/ half 30 calorie per ounce formula as her feeding. She was in so much pain within a few weeks that she went on a eating strike and was readmitted to the hospital. Their plan? They put her on three medications so that she could tolerate her feeding by NICU protocol and sent back home. So now she eats, but she's screaming, has a faint rash on her abdomen, and continues to spit up like crazy. Now I have to figure out how to get this baby to grow and be happy with a gut that is just literally destroyed, imbalanced, and on fire. I'l l do it, but it's not going to be easy.
The reason I'm explaining this to you is that, while I do miss being the NICU, these babies NEED more care like mine. They need someone who's going to look at them and say- this is not ok. I can get you to grow appropriately on something better. I'm going to give you a chance to grow on just mom's milk and monitor you closely. I'm going to make sure mom is eating a high fat diet since breastmilk is 56% cholesterol. I'm going to tell mom to stop eating dairy because it's probably really upsetting you. You need some probiotics and some gut healing. Maybe you need some enzymes to digest your food better. I have some pretty good ideas about what you need to thrive and be healthy and happy, and I'm going to keep plucking away at this until we get it 100% figured out. THAT is what these babies need.
These babies need to be taken care of by parents that have choice, say, and control over how their child is raised. These parents need to be HEARD when they are telling you that their babies are having a problem or unhappy. These babies need someone to say something like- Mom, Dad, do you see this fine red rash with white halos around them on the abdomen under this terrible glaring light? Your baby doesn't like something he's eating. Let's figure it out. Or Mom- have you noticed this eye is starting to get lazy?? Or the eyes still aren't converging to focus like they should? Let's have my neuro-chiropractor work on this and get it taken care of.
My point is, that while we have a day to focus on the realities of prematurity in the world, everyone is focusing on what is happening IN the hospital. And basically everyone is ignoring what happens to them AFTER they are discharged. These babies are left to flail. They have been saved by a miraculous system, an incredibly caring group of people, technology, and advancement in research, but they have been HARMED by this exact same system too, and literally everyone is ignoring this fact. The NICU crew has no clue what goes on for them after discharge, and the follow up specialists are too busy living in their box of western medicine to listen to what these babies and parents are telling us and asking from us.
I'm a NICU person over here celebrating World Prematurity Day and reflecting on my unique career like all of my colleagues. I'm proud of what I've done and accomplished, but I'm also ashamed for what has NOT been accomplished too. There is SO much to do. So , so much.