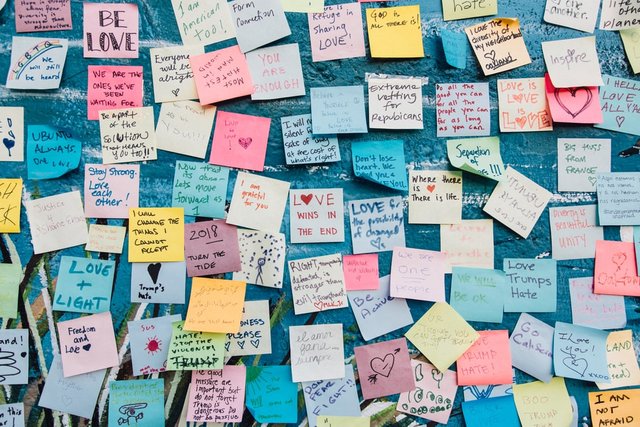 Img Source

Lynne and Nikki stood at the wall. They were reading all of the notes left on the wall from previous visitors. They had heard that about people leaving notes of encouragement, love, strength in what they felt was a dark time for them. It had not been that many years before when it was acceptable for them to get married. They actually thought something might come and take it all away, again.
Like so many other couples, when the laws were passed allowing same sex marriage they ran down to the courthouse to get married as quickly as they could. Not the wedding they dreamed of as little girls, but the wedding they dreamed of as adults. To share their lives together. They knew they had to act quickly, because the last time it had been taken away as soon as it was given and they were not taking chances this time. They both hoped that things would stay intact this time and the order not be reversed.
They held hands as they stood at the wall reading the notes left behind. Some simply had hearts drawn on them, some had messages, they all had 2 things in common. They were all expressions of love. Love for each other, love of country, love of their neighborhood, love of their state, love of oneself. The other was they were all against one person who was trying to tear lives apart. Yet, there were no hate messages despite the rage, anger, hurt, frustration, and fear. It all was just reactions of love. It was very overwhelming for both of them. People felt the same way they did. They could feel all the emotions that others had left there.
Lynne couldn't help but think 'When will it end? Will there ever be a time when people will accept them? Better yet, just not care what they do or who they love?' She turned to Nikki, 'We should be free to love who we want, right? We should be able to live in a world without fear, without hate. Right? Weren't things supposed to be better?' Nikki hugged her and spoke softly 'It doesn't matter to me. I have everything I want right now. If we have to fight, we will fight. If I have to sleep on the steps of the White House, I will. For now we are going to do exactly what everyone else is doing.' She took the note she had prepared and attached it to the wall and started walking back to the car. Lynne stood there for a moment, staring at Nikki's note then she placed hers on the wall. She kissed her palm and pressed it against the wall. 'We will fight' and followed Nikki.

---

Pay It Forward Contests
---

---


Brought to you by @quochuy (steem witness)
---


Steemitcentral
---

---
Thank you for your continued support!
Love,