First Photos with New Canon EOS M50 Camera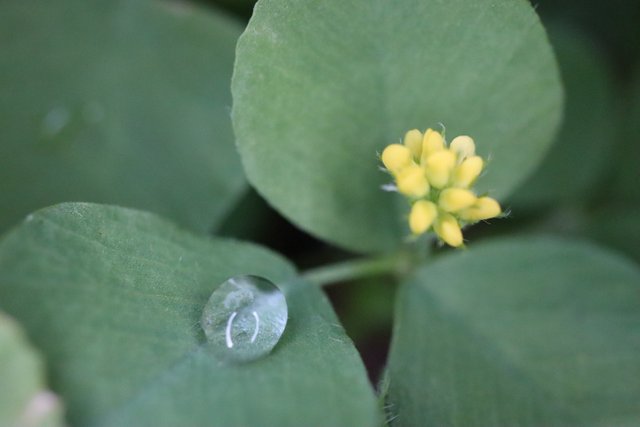 These are some of the first photos taken with our new Canon EOS M50 mirrorless camera. We bought this to replace an old Canon Digital Rebel (the very first model they produced) that had died long ago. We were getting tired of the limitations of mobile phone cameras, so I did my usual research and narrowed the choices down to this and the Sony Alpha a6000 series. The deciding factor for purchasing the Canon over the Sony were the widespread reports of the dreadful user interface on Sony. I do user interface evaluation and design in my work (but for medical devices and clinical information systems). As a result, I know the problems caused by bad user interface design, as well as the fact that there is absolutely no excuse for bad interface design. People have been getting Masters and PhD degrees in interface design for decades. I expect companies to hire them and then get the marketing folks out of their way.
Once decided, I shopped for best prices. Turns out Abe's of Maine had by far the best price on the body with kit zoom lens and the 22mm prime lens. I orded those two items and ordered the macro lens through Amazon. Amazon was, of course, no problem, but I noticed that night an email from Abe's of Maine asking me to call in to "confirm" my order. That seemed odd so I searched the internet for information. In short order, I discovered that Abe's of Maine used to be reputable, but has now become a major bait and switch operation. In addition, they often sell international models in the US without telling the buyer (not even in the fine print), which means many manufacturers will not honor the warranty. When you call, they will try to upsell you. A favorite is to tell you that you ordered an international model, but you can get the US model for just a bit more. Another is tell you that the camera doesn't come with a battery or charger, but you can get one that does for a bit more. They do the latter just to raise the price--you are getting the same camera. If they can't raise the price on you, they will often tell you the camera is out of stock.
So buyer beware: Do Not Order a Camera from Abe's of Maine!
I called the number the next day and cancelled after getting the upgrade to US model pitch. Fortunately, they had not charged my card yet. I think they have gotten so many complaints online and formal better business bureau complaints that they know that they are cutting it close to fraudulent behavior (bait and switch is fraud in the US).
Now I had to find another place to order. Amazon's price was ok, but I was not sure of their third party dealer. I could find only one camera in stock locally (odd for a big city like Houston). This was at a Fry's about 22 miles from me, but with free same day local delivery. I ordered online and waited. About an hour later I got a call: they only had one in stock and it was a return. They said it looked unused with everything still sealed and that they would drop the price by around $50 and deliver that night. Seemed like a good deal, but by 8 that night they had not yet delivered. I call them: because of the open box issue the delivery was delayed. No problem... they delivered the next day.
All in all, this was not a smooth purchase process, but I do give high marks to Fry's for their local delivery and discount. Camera manufacturers are losing big time to mobile phone cameras, so I think it is odd that it is so hard to get a specific model camera.
Enough of the purchasing process... how about the photos?
The photo used the macro lens on a very tiny cluster of flowers growing on a plant in our kettle pond. You can see just how tiny by comparing them to the drop of water. This was handheld and manually focused, so the photo is a bit blurry.
The next is a photo of an asp's cocoon bedded down near our front door. An asp is a caterpillar that turns into a moth. For some reason we had 50 or 60 asps coming to our front door to find a place to set their cocoon. We usually won't disturb beneficial insects, but the asp caterpillar has dangerous venomous spines, which, if touched, cause extreme pain as if you have a broken bone. It can even cause other effects, such as chest pain, or difficulty breathing. Since they were all over our front door area we had to keep spraying them off. One of our daughters accidently stepped on an area where one HAD BEEN and got quite a painful sensation from it.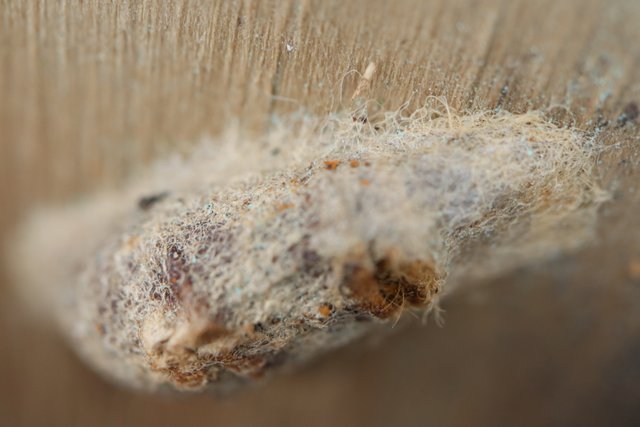 One our daughters took the camera out with the macro lens to explore. I think the two shots below are the best ones she took. The first is of our cat Roman. The second looks through a rose planter at the playset.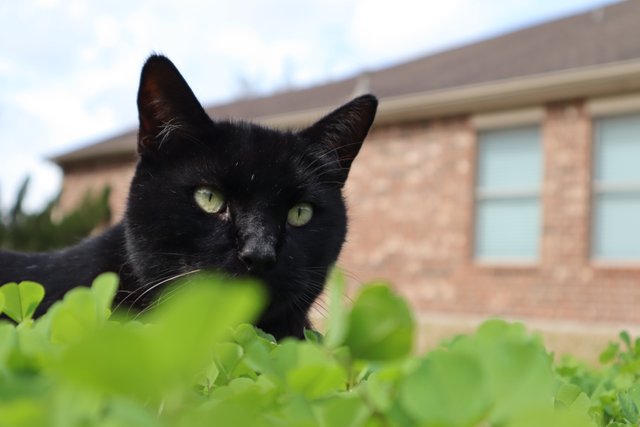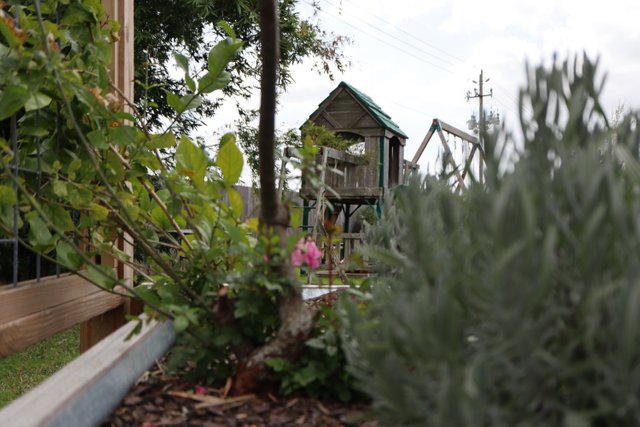 Proud member of