Tomatoes are probably the favourite vegetable that gardeners love to grow - actually, the tomato is actually a fruit - but that is another story.
We love to grow them because they are easy to grow and reward us with good harvests.
However, there are a few things about tomatoes that not everyone is aware of so I thought that I would share this with you all.
Back in the day, I thought that there were cherry tomatoes - the very small ones, -and big tomatoes that we love to slice and put on a sandwich.
It was only when I got serious about growing my own that I became educated.
Tomatoes can be divide into two catagories -determinate and indeterminate.
Determinate means that the tomato plant grows to a certain size and then stops, whereas indeterminate plants just keep on growing and can get quite untidy if not staked well.
If you do not have a great deal of space, then the determinate tomato is the one to grow.
However, both varieties produce suckers.
What is a sucker? -well, if you look at the main stem of the plant, you will see that where there is a stem branching out from the main stem, there will be another stem forming between the side stem and main stem - this is a sucker.
Now many gardeners will remove the suckers in order for the plant to concentrate on forming good sized tomatoes.
If the sucker is left on, it will carry on growing as another branch and produce tomatoes but this can take a lot of energy from the plant.
To remove the suckers or not, is your choice.
However, should you decide to remove the suckers, gently cut them off when they are about the size of a seedling plant and immediately plant into a container, water and in next to no time you will have a new tomato plant that has rooted and of the same variety as the plant that it came from.
This is a wonderful way of increasing the number of plants for your garden.
Should you not want to do this, then as soon as you see a small sucker forming, just pull it off immediately and throw away.
If you are growing a very special variety of tomato , using the suckers is a quick way of increasing the plants.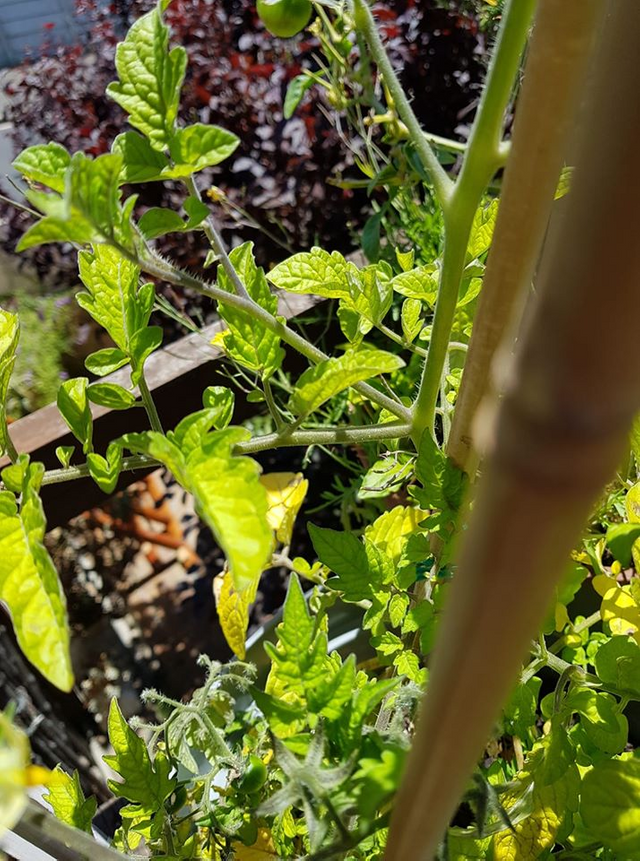 Here you can see quite clearly the sucker that has formed in the axis between the main stem and branch which can be removed and planted out.