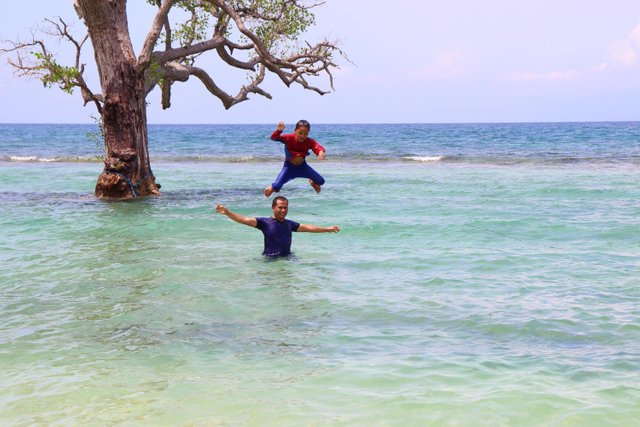 English Version
The bird cannot fly before it tries to flap its wings. We too, if we want to be able to do something, we must try. Today we are a father and have tried repeatedly and always try to flap our wings to try something for next. There are failure and success. The things that were once felt impossible to achieve and implement, today may have passed even maybe in future will comes again.
Then what about our child? Will they want to try? Will they succeed? That question will be in the minds of parents, including myself as a father. Indeed, nobody knows, because of everyone's life and how the process will be very different. is it true? But talking about the success in the future is talking about how we prepare all things to deal with it.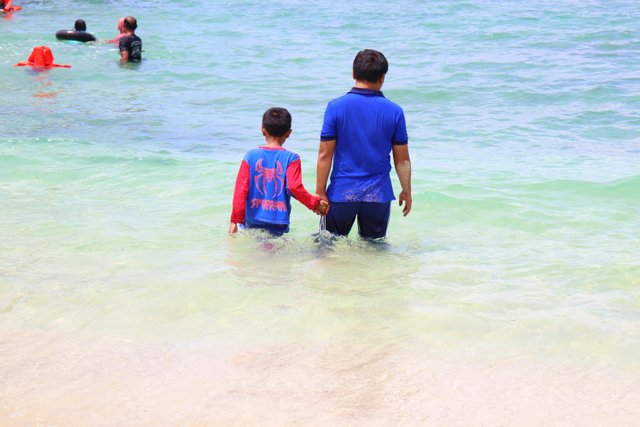 That's what I want to tell you in this photo when playing in the sea with my boy. I want to challenge him to play a little deeper in the sea, without equipment but still under my supervision. His desire was to be able to plunge from the tree, but I did not allow it because the surroundings were not safe after I surveyed. He jumped from my shoulder and plunged while screamed. He was very happy, even though a few sips of salt water were drunk by him and his eyes were red because of the salt water. We really enjoyed that moment.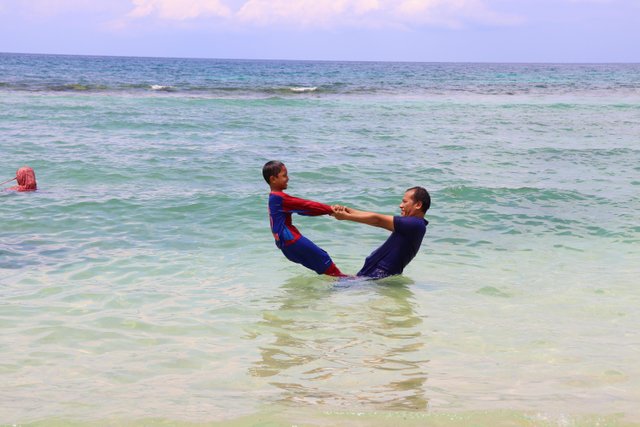 Yes, I want to teach how he must face his fears and he must be able to feel that the depth of the water is not to be avoided, but to face it. he must fight and swim to more close to me. I teach him to understand, maybe when he runs his life from today until later, he will understand to living life is not always going well, there will be some problems and challenges, but he knows what to do. I told him about this when we go back home.
Yup, this is also positive for me because our relationship will be even closer, he also understands that as a father he is able to be a friend for him, a positive supporter for him in living his days with full love. One thing, I learned to hear about his desires and I was able to realize one of his desires to learn about courage, natural exploration, trying everything, but all must be a goal and he succeeded well when he was so happy to have jumped off my shoulder. Congratulation my boy.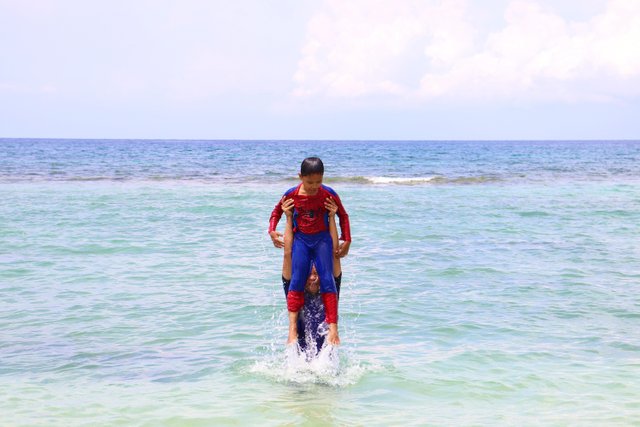 For Honorable mention : @kus-knee @r2cornell @slowwalker @introvert-dime, @chorock @altooq @cityofstars @raj808 @ocd @acidyo @blocktrades @brittandjosie @wolfhart
Regards
All Pictures taken original by me, using my Canon EOS 800D, Location : Lamme Village, Mesjid Raya, Aceh Besar, Indonesia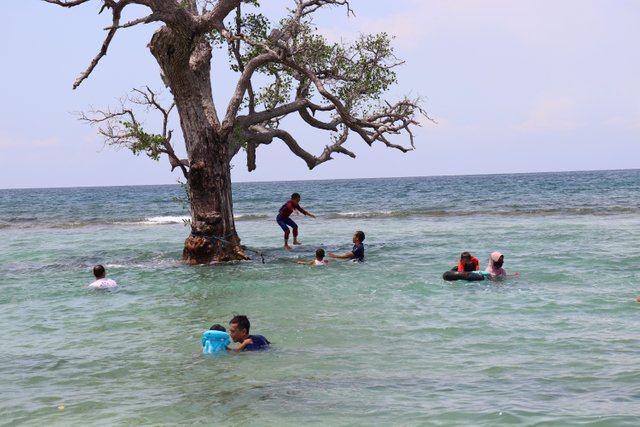 Bahasa Indonesia
Burung tidak akan bisa terbang sebelum ia mencoba mengepakkan sayap. Kita pun begitu, jika ingin bisa melakukan sesuatu, kita harus mencoba. Saat ini kita adalah seorang ayah dan telah berulang kali dan akan selalu mencoba mengepakkan sayap untuk mencoba sesuatu. Ada kegagalan dan ada keberhasilan. Hal yang dahulu dirasakan tidak mungkin untuk digapai dan dijalankan, hari ini mungkin telah melaluinya.
Lalu bagaimana dengan anak kita ? Akankah mereka mau mencoba ? Berhasilkah mereka nanti ? Pertanyaan itu akan akan di benak orang tua, termasuk diriku. Memang tidak ada yang tahu, karena kehidupan dan proses setiap orang akan sangat berbeda. itu benar ? Namun bicara tentang keberhasilan di masa akan datang adalah bicara tentang bagaimana mempersiapkan semua hal untuk menghadapi itu.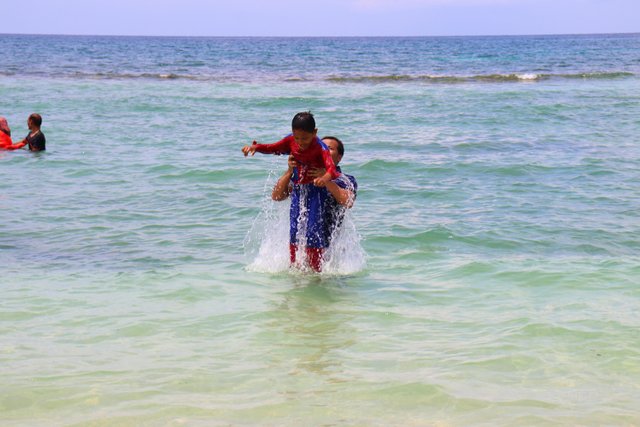 Itulah yang aku inginkan dalam foto ini, bermain di laut bersama my boy. Aku ingin memberikan tantangan kepadanya untuk bermain sedikit lebih dalam di laut, tanpa peralatan namun tetap dalam pengawasanku. Keinginannya adalah untuk bisa terjun dari atas pohon itu, tapi aku tidak mengizinkan karena di sekitarnya tidak nyaman setelah aku survey. Dia melompat dari atas bahuku, dan terjun. Dia sangat senang sekali, meski beberapa teguk air asin terminum olehnya dan matanya perih karena air itu. Kami sangat menikmati moment itu.
Ya, aku ingin mengajarkan bagaimana dia harus menghadapi ketakutannya dan dia harus bisa merasakan bahwa dalamnya air itu bukanlah untuk dihindari, tetapi untuk dihadapi. Begitu pula nanti saat dia menjalankan kehidupannya sejak hari ini sampai nanti, dia akan paham tentang menjalani kehidupan tidak selamanya berjalan dengan baik, akan ada beberapa masalah dan tantangan, tapi dia tahu harus bagaimana.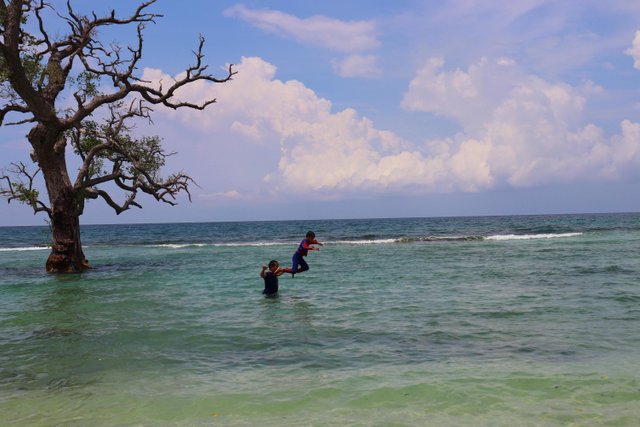 Ya, ini juga positif untukku karena hubungan kami akan makin lebih dekat, dia juga mengerti kalau sebagai ayah mampu untuk menjadi teman untuknya, pendukung positif untuknya dalam menjalani hari-harinya. Satu hal lain adalah, aku belajar mendengar tentang keinginannya dan aku mampu mewujudkan salah satu keinginannya untuk belajar tentang keberanian, eskplorasi alam, mencoba dan dia berhasil dengan baik saat dia begitu bahagia telah berhasil melompat dari pundakku. Congratulation my boy.
Terimakasih dan salam hangat
Posted Using eSteem Surfer
esteem surfer


Meet the eSteem Family | Blog, Vote, Share and Get Paid. info@esteem.app
| ‍GitHub | YouTube
✍ Telegram | Discord
---