Recently I added a few new wooden kitchen utensils to my collection on the homestead, but before I actually used them for cooking, I needed to season them good with oil.
From what I have known, used and read about, you can use any food safe oil (ie. coconut, walnut, almond and even mineral oil) to seal the wood.
Extended water and moisture from cooking that stays on the wood spoons can eventually cause the edges to start to split, retain odors and finally make you have to replace a favorite spoon.
I first learned about sealing, or seasoning, wood kitchen utensils and spoons from my maternal grandmother. Every few months she'd sit down with an oil (she usually used mineral oil) and would clean the spoons first, dry immediately and then start rubbing on the oil using a clean cloth. I can remember sitting at her kitchen table as she rubbed and scoured the wood as if it were the family's heritage china or silver. Grandma took great pride in her cooking, kitchen and food.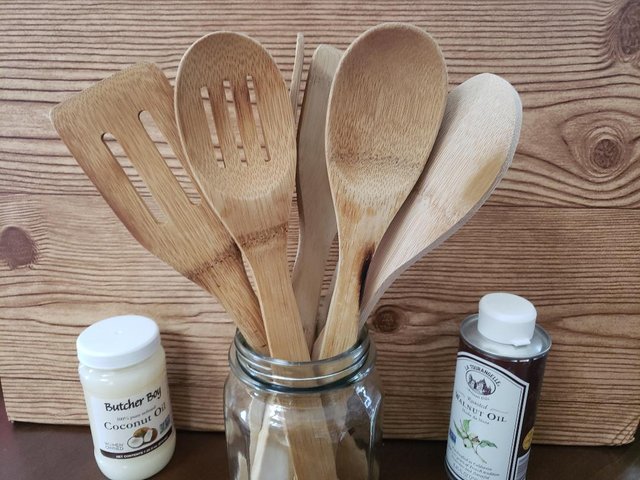 One time I asked her why she was oiling up the spoons and she said "it made them last longer and made her food taste better". She even had said her mother and grandmother used bacon fat to polish up their kitchen utensils. That was how she learned the value of this task.
So when I started my own family and used wooden mixing spoons, I always seasoned them up as she had. After all... my grandma was a very smart lady with frugal values (growing up during the depression era and wanting to make the spoons last longer) and I took her teachings as gospel.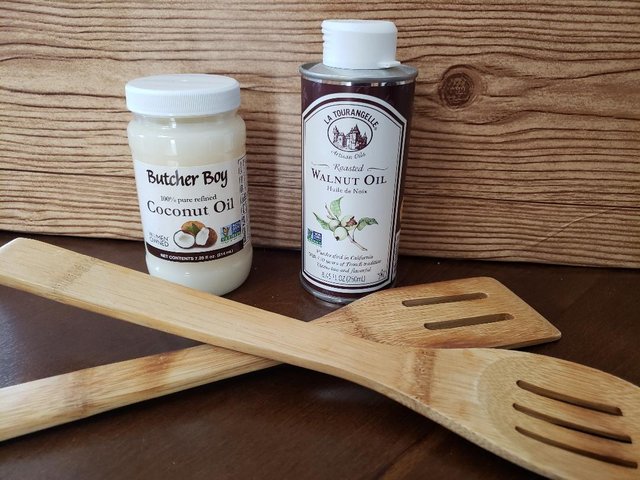 I will admit I have never used mineral oil to season and seal my spoons; I prefer coconut or walnut oil for this task. I just envision mineral oil as something to polish up shoes and leather; not my spoons.
So the other day when I sat down to clean, check for rough splintered areas and to seal up the new spoons, I gathered up my current spoons and spent an hour doing this simple chore.
It's not really too time consuming and I was actually watching/listening to some YouTube videos about gardening, so I had some time to polish these babies up. It's a mindless task... almost relaxing some days.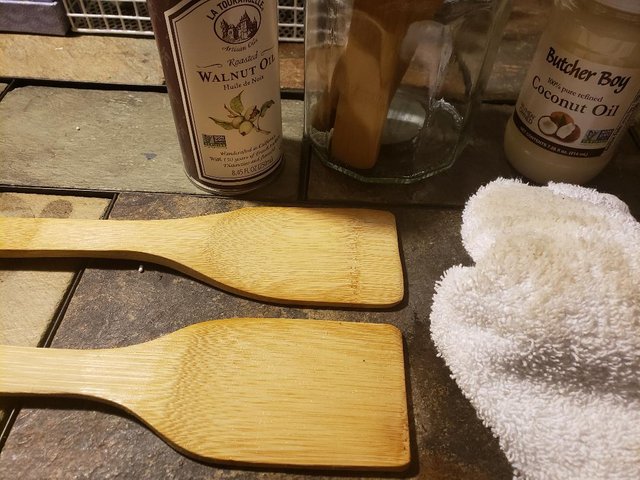 Check for splintered areas or spots that may need a little sanding down. I prefer to use a medium grit sandpaper (I had #60 on hand) and I smoothed out the possible places that needed it. Then wash the wooden utensils with warm soapy water, rinse and dry immediately to keep the water from soaking in.

Allow the wood to dry completely

If using coconut oil, make sure to warm slightly so it is in the liquid form; and if using other oils just use straight from the bottle or container. Use a clean cloth to rub oil in.

Rubs a generous amount of oil all over the spoon or utensil saturating the wood.

Let sit for about 30 minutes then using another clean cloth and wipe away any excess oil.

Let sit for about 24-hours to cure and season. Then you can use. Depending on your own personal use of the wood utensil will determine the frequency that you would have to re-season them. I use mine on a daily basis and generally do this task every four to six weeks.

While I do have an automatic dishwasher, I do NOT wash any wooden utensils in there.I hand wash ALL of them (and hand dry immediately). The water and heat from the dishwasher can cause the oil to break down faster and ruin it.