Poloniex- A Future ready Exchange . What Makes it Legendary Crypto Asset Exchange
Hello Everyone
When it comes to crypto then an exchange is a must to perform trading and exchanges thats are built on high-end technology and offer seamless and secure experience is always the best. Poloniex is a next-generation crypto exchange that has everything needed for any user to enter in crypto space. I had created my account in the year 2017 and the first coin I purchased was Sia Coin. At that time I did not know about steem but got to know about the Poloniex exchange through youtube and did register myself.
Today in this post I am going to talk about a few points that make it a Legendary exchange in today's competitive market. We have so many exchanges today but poloniex has its valuable presence in the crypto space because this is way ahead in terms of serving the need of users.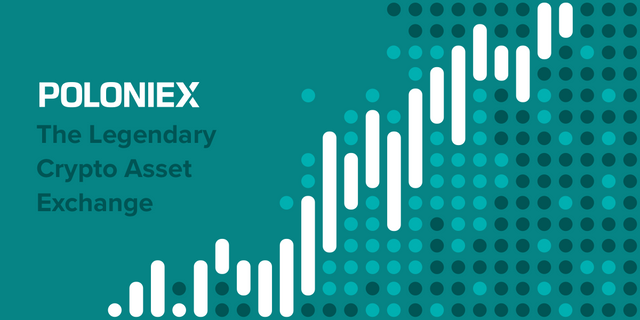 src
Easy to Use UI (User Interface) and First Impression of Home Page
When you visit the website https://poloniex.com/ then the first thing that you notice is the color of the webpage and its so smooth for eyes. Its dark green color that not so shiny and that why users can work on the same page for long hours without getting pain in the eyes.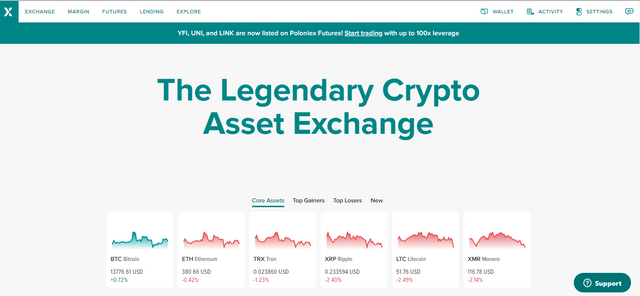 This is how the home page opens and they have managed to keep it neat and clean along with the required option for easy access.
Most popular coins are visible on the home page so that we get a glimpse of in seconds. Other daily usable options like top gainers and losers coin also available to see what's happening in the market.

Easy to find newly listed coins on the exchange.

Support is given on the right side of the homepage and it stays the same even while scrolling the page. In case of any support, no need to look around and this is available all the time.

Notification for all the updates so that users know what is going on with the account and even in the exchange.
Easy Trading Window
When you go on the exchange then this type of page opens and I have selected STEEM coin. This page is so easy that even a new person can understand what options to use for buying or selling. Although the chart is easy to read some users prefer to view in tradingview chart so they have given this option as well. Just check the price for Buy/sell and enter the amount and pay to buy STEEM as shown in this window.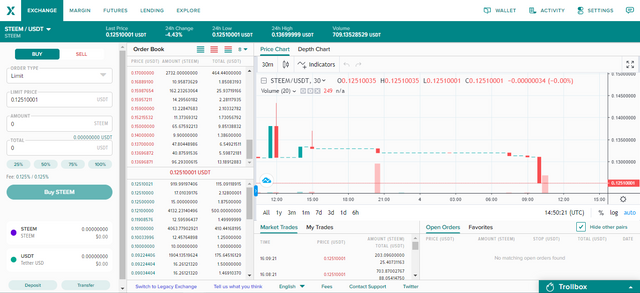 Lower Fee and even Discounted with TRX
These days many exchanges have launched their own tokens and if users choose to pay trading through their coins then they offer discounts. BNB, WRX, and CRO tokens are the biggest example of this type of discounted trading fee.
Poloniex charges 0.125% trading fee and they also have the option for users to save 25% on the fee if its paid by TRX coin. TRX is a highly popular and leading coin so most of the users have this coin and through this, they can get a flat 25% saving on the fee which is huge.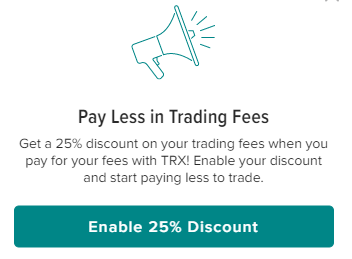 Lending
Lending is a new concept and many of the big exchanges are still not having it on their platform but Poloniex has it already. With this users can either get loans and even can offer loans to earn some returns on their holding. Its a good option because there is no risk of price fluctuation and for HODL tokens we can earn returns.
No KYC for common Traders
Many people hate to go for KYC since it required id documents and photograph verification. because of some restrictions in countries many people don't like to go for KYC and Poloniex has taken care of it already. They offer level 1 verification that is just done by email and they offer a limit of 10,000 USD daily which more than enough for normal traders. Its like create an account and start trading without any complex verification. They provide the limit of $1,000,000/day for level 2 verification that needed ID verification.
Crypto Buy through debit or credit card
We all use credit or debit cards for various stuff and any buying through a card is so easy because we need not deposit fiat first and buy. I have checked out many exchnages but the INR currency option is not available with them however Poloniex is the next level in this as they have the option to buy using INR.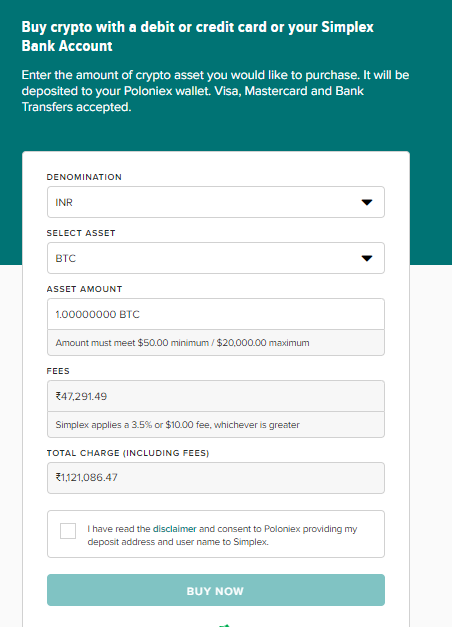 Poloniex supports VISA and Mastercard both so its not a problem because most of us carry either one of them. With this card option, the crypto purchase seems like a child play that is a few minutes through a hassle-free process.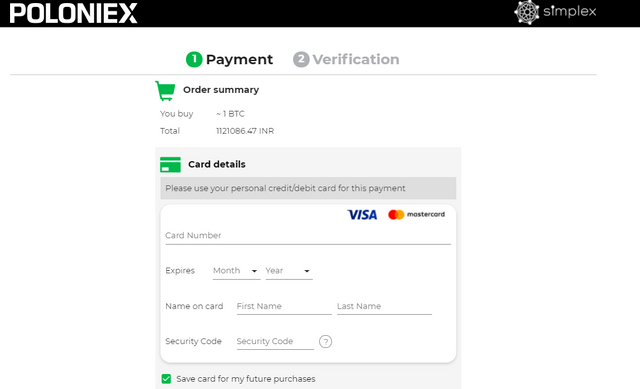 Support
This is a very important part in any exchange as you never known when you might need any support from the exchange. They have already provided the solution to many of the problems in their support section however if still, the user wants more assistance then he can submit the query and the team will respond ASAP.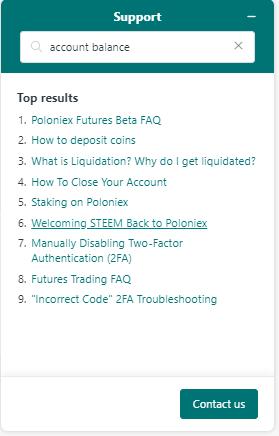 I had one instance to connect with the support team when I lost my 2FA code and I must mention that they sorted out my issue with few hours. I am impressed with their swift response.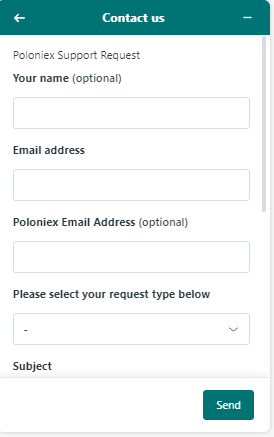 ---
---
Poloniex is undoubtedly a great exchange in terms of pairs, options, and overall trading. It may not as popular as Binance but I had created my account first on Poloniex. I never had any issue with deposits/withdrawal and even crypto buying. They have also updated the platform recently and this makes the user experience even better. Nowadays we keep the account in multiple exchanges for more volume but I would highly recommend having an account in Poloniex.
Focus on user's needs and adding future-oriented options makes the Poloniex Legendary Crypto Asset Exchange.
---
---
This post is set to post with 100% power up
Images are screenshot from https://poloniex.com for this post purpose only