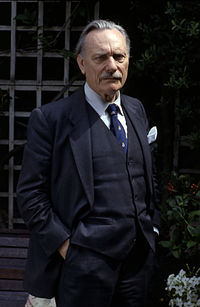 Enoch Powell (1912–1998)
A full professor of ancient Greek at just 25, wow!!! That's Enoch Powell, who served in staff and intelligence during World War II and rose to the rank of brigadier in his early thirties. He worked as a politician, classical scholar, philologist and poet. Certainly multi-talented. He's born on 16 June 1912 and died on 8 February 1998.
On April 20, 1968, Enoch Powell gave a speech known as The Rivers of Blood, at the Conservative Political Centre, Birmingham, the United Kingdom.
The Rivers of Blood:
The speech criticised mass migration and the Race Relations Act 1968, which made it illegal to deny housing, employment, or public services on the basis of race, ethnic or national origins. Only one person voiced a sign of annoyance at the speech – other than that, no hostility emerged from the audience.
On 5 August 1976, visibly intoxicated Eric Clapton provoked an uproar when he voiced his support for the speech. Clapton said "Keep Britain white!" and expressed his fear that Britain was in danger of becoming a "black colony". According to actor and comedian of Indian origin, Sanjeev Bhaskar, Enoch Powell instilled fear in Britons of Indian origin.
REFERENCES
Enoch Powell
Rivers of Blood speech