The Kurds have long been used by the US as a proxy force in their push for regime change in Syria. But the US has faced a roadblock early on since Russia allied with Syria in the effort to stop the so-called "rebels" that were backed by the US, which included ISIS and Al Qaeda.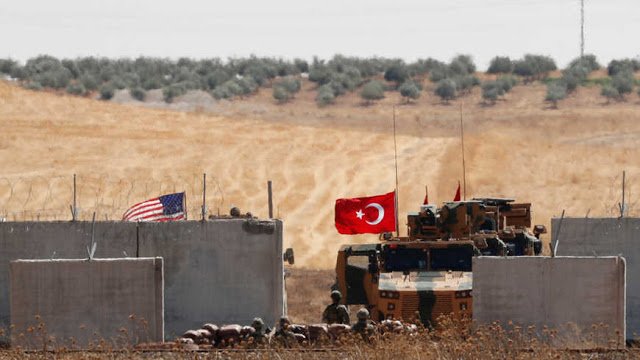 Source
Now the US has left the Kurds to their own fate as Turkey invades Eastern Syria, which is where the Kurds are mostly located. Turkey seems to be taking up the mantle of attacking Syria, but Russia remains a sturdy wall to prevent Syria from falling.
In the face of the threat from Turkey, as attacks from Turkey began, the Kurds have struck a deal with Syria and Russia. It turns out a common enemy in Turkey, and a will to survive, is a powerful motivator to stop petty political fighting and bloodshed in order to face a more serious threat from the outside.
The Kurds and the Syrian and Russian government will now work together to repel Turkeys invasion into Syria. A recent attack from Turkey led to 750 ISIS inmates escaping a detention center. The Syrian government and allies have done more to stop terrorism in the region, while the US and allies have armed and aided them.
The US gave the green light to Turkey, not by official means, but by withdrawing troops from the northern region.
If you look at the names of the invader campaigns by Western allied nations, such as the US itself and Israel, it's laughable and Orwellian the words they include. "Freedom" and "peace" are used when invaders go to war. They play mind games with the masses, hoping many are so gullible as to accept the phrases as truthful.
In the case of Turkey, their operation to invade and attack Syria has the "peace" keyword: Operation Peace Spring. For the Kurds, the choice was to compromise on their agenda in Syria by allying with their Syrian foes, or face possible extinction from Turkey. Mazloum Abdi, the SDF's commander-in-chief, said:
"... if we have to choose between compromises and the genocide of our people, we will surely choose life for our people."
---