Can jobs be guaranteed? Some people think so, especially in the democratic party. Many are focused on socialist dreamy "ideals" that involve ignoring principles of non-aggression, like wanting more taxes (confiscation of wealth through coercion) to be paid to support their lofty dreams.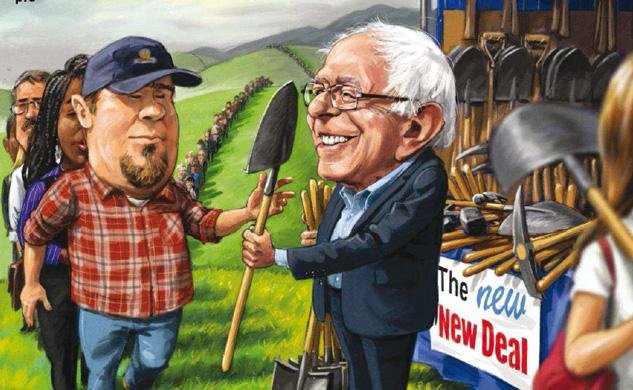 Credit: The Week
The idea is a new "New Deal" fashioned after President Franklin D. Roosevelt's New Deal program of the 1930s to initiate government funded work projects. They want to revive this concept, so that the government will hire every American who wants a job, paid at $15/hour including health care benefits.
This idea or reviving the New Deal was also covered int he Netflix TV show "House of Cards", where the sociopathic/psychopathic President Frank Underwood tried to win his re-election based on this same type of scheme. It ended up failing in the show.
The estimated cost of this new effort at federally employing Americans would cost about $543 billion each year. How to pay for people who can't get jobs in a failing economy, or are too lazy to be good workers and keep a real job? Tax the working people who already have jobs that are sustainable according to the cause and effects of economics and the free market.
Of course none of the realities of how jobs are based on demand and economics matter to many people who just like the ideal dream of everyone being able to work and survive. Apparently 52% of voters polled are in favor oft his plan, with 29% against it. Who will win in that democratic outcome of the majority deciding?
It doesn't matter how it's being done, the ends justify the means. Forget about the coercive taxation and theft to pay for other people to work, regardless of their skill or productivity to merit holding a job. Some people deserve a chance to prove their abilities, for sure, but many people will just profit from a federally funded socialist work program that subsidizes lazy workers. You can't guarantee a job for everyone, it's not realistic. It's built on a house of cards, a fantasy.
Real businesses that aren't subsidized and have to play by the laws of the free market and economic supply and demand won't be so fortunate as to have a guaranteed job and pay. Real businesses will have to compete with federally tax-funded jobs that offer salary and benefits that are guaranteed and funded by taxes of others. Those same businesses that have to work to survive will also be supporting the cheat of federally subsidized work forces that directly compete with their own business survival.
How can you ensure 25 million people will have something to do anyways? Create new jobs for the skillset of each person? Some basic jobs could be filled in, but many jobs require actual knowledge and skills to be applied to accomplish, which people don't have. Paying people to do useless jobs might be the norm, just so they have a job and salary. Meanwhile little is actually being added to society except an economic drain on the actual workers that are being taxed to pay for jobs that don't need to be done, jobs that only exist because money is being taken from people to pay for them.
Some will view it as a good replacement for handouts to the unemployed, instead making people work for a living. This plan is good for politics and gaining voter support, but it's a half-baked bad plan and policy to engage in. Not that it matters though, as the hope and dream sells with people buying into it. The Democrats are selling some potent shit for the masses to smoke up.
---
---
Thank you for your time and attention. Peace.
---
If you appreciate and value the content, please consider: Upvoting, Sharing or Reblogging below.


me for more content to come!
---
My goal is to share knowledge, truth and moral understanding in order to help change the world for the better. If you appreciate and value what I do, please consider supporting me as a Steem Witness by voting for me at the bottom of the Witness page.