The terrible attack from last week is a tragedy for Chistchurch, New Zealand and the world to experience. Madmen going around shooting people is not a joke. But the response from New Zealanders is somewhat laughable.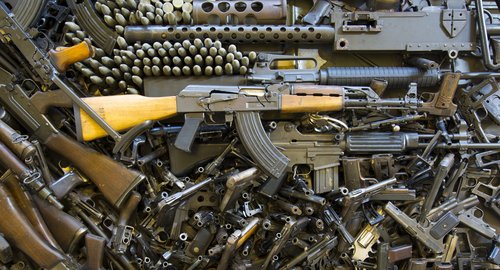 Source
Anyone can voluntarily give up their legally owned fire arms, but when a shooting happens, people feel compelled to give up their guns. Many in New Zealand are "surrendering" their semi-automatic weapons after the attack.
This is before any legal obligation to do so has been put into effect. On Monday, NZ Prime Minister Jacinda Ardern announced there would be new reforms for gun control coming out as "principle decisions" have been made by cabinet ministers. Those who are already turning in their semi-autos are being praised by many, including the PM.
"Within 10 days of this horrific act of terrorism we will have announced reforms that I think will make New Zealanders safer."
Why are people doing this? Well, they seem to think that by having a semi-automatic fire arm, they are somehow responsible for others doing wrong with similar weapons in their country. In a report by NZ's Stuff, one mad is described thus:
John Hart, who has been a sheep and beef farmer for 15 years, said he took his semi-automatic weapon into Masterton police station on Monday as he "couldn't in all conscience" keep the rifle after seeing the loss of life in Christchurch.
Couldn't in all conscience?
He tweeted:
"Until today I was one of the New Zealanders who owned a semi-automatic rifle. On the farm they are a useful tool in some circumstances, but my convenience doesn't outweigh the risk of misuse."
"We don't need these in our country."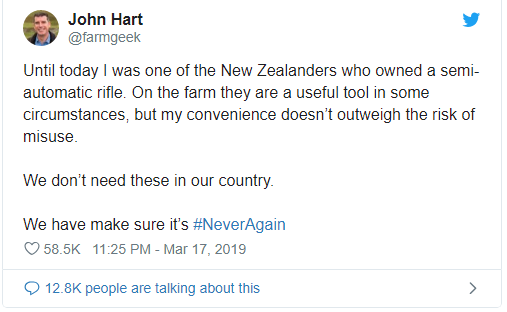 Source
So, the logic is, that because someone did something wrong and used something to do it, like say a car, a knife, a handgun, or in this case a semi-automatic gun, that means others who also have that device pose a "risk of misuse"?
The last three words are key to understand: "risk of misuse". Everything can be misused! From a car to a knife. Does that mean we need to bring more control on who can buy those items, or even ban them?
Hart further said:
"Since the events on Friday I had been thinking a lot about the firearms we have here on the farm... They [semi-automatic weapons] are not critical, not if the trade off is loss of life."
THe trade off of responsible people owning semi-autos is a loss of human life? Really? Did you go and kill people with your gun? No. So where is the loss of human life in your gun ownership?
I don't care about the farm use of the semi-auto. My understanding is for the use of such weapons when they are needed to protect the life of the innocent, such as from threats of those who also have those weapons and often blindly follow orders from the masters who have their own agenda to control a populace.
Some may think there is never a time when the would be required. Apparently, for them, we live in such great magically fairy dust rainbow times that no government we live under in our so-called "democracies" would do anything to harm us (despite evidence to the contrary that exists). We're not in the "barbaric" past of the 18th century fighting against the monarchic masters. Maybe not monarchic, but archonic, yes. There are still rulers and masters that are pushing humanity onto a pathway that benefits their agenda.
Of course, police love it when everyone else gives up their fire arms, leaving them as the only ones who can use or abuse them:
"As per existing processes we are happy for people to surrender their firearms to Police."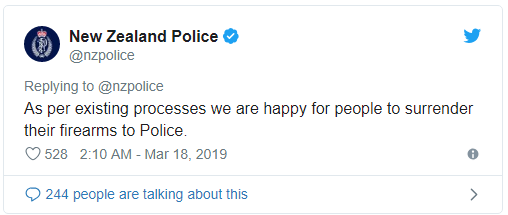 Source
I'd lvoe to see a world without guns or other weapons. It's my ideal. But so long as criminals can get them, responsible lawful and non-harmful people should be allowed to have them as well for defense. And as long as we have a class of people who are giving more rights and special treatment under the law, i.e. the "boys in blue", blue code, then everyone else should be allowed to have fire arms to protect themselves should this group follow orders by their masters to further oppress and subjugate everyone else.
To see why having a gun is life-saving as long as there are guns out there, watch this:
Suzanna Gratia Hupp explains meaning of 2nd Amendment!
There is a global agenda to disposes the populace from being able to defend themselves, being completely dependent on the state to provide all measures of security and defense. Self-defense is a dangerous thing to the creeping tyranny that hopes to disarm everyone and prevent a revolt. Many are blind-sided and only see weapons as a threat to some imaginary peaceful world they think they live in thanks to the wonders of central government power and authority. But it's a fantasy.
When fire arms stop being manufactured on earth, then everyone, it;'s time to give it up and live in peace.
---
Thank you for your time and attention. Peace.
---
If you appreciate and value the content, please consider: Upvoting, Sharing or Reblogging below.


me for more content to come!
---
Like what I do? Then consider giving me a vote on the Witness page :) Thanks!

My goal is to share knowledge, truth and moral understanding in order to help change the world for the better. If you appreciate and value what I do, please consider supporting me as a Steem Witness by voting for me at the bottom of the Witness page.