A hard hitting study has come out to smash the ignorance and denials of many who refused to acknowledge the fact that fire could not have caused WTC7 to burn and collapse into it's own footprint in 7 seconds.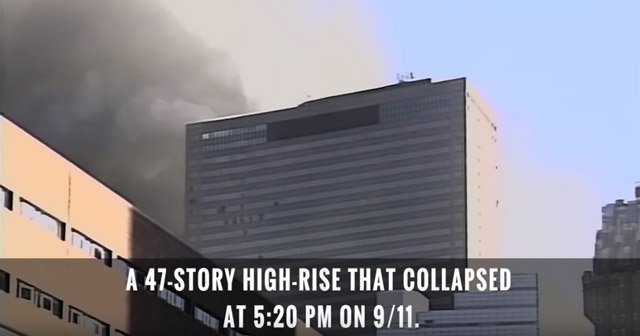 Source
The University of Alaska Fairbanks (UAF) partnered with the serious researchers at Architects & Engineers for 9/11 Truth to put a nail in the coffin of the "official" story about 9/11, at least with respect to WTC7.
A report has been released of the four-year computer modeling study that proves fire could not have possibly caused the building to collapse. Rather, it was due to a "near-simultaneous failure of every column in the building". i.e. it was controlled demolition, which was obvious to anyone with a free thinking mind to conclude when watching the video.
Plus, there was zionist owner Larry Silverstein who blundered the words "pulled it" when talking about the building's destruction. This is a key term used in controlled demolition. In addition, the BBC reported the collapse of the building some 20 minutes before it happened, while it was still standing in the camera shot background of the reporter. They failed to pull their scripted deception of the it's demolition off.
A proper analysis of the building was never possible, because the conspiracy involved destroying evidence of the traumatic event. New York City officials were quick to ship out or destroy the remains of 9/11. This is a red flag for anyone who looks closer at the events on 9/11 and afterwards. The only reason to get rid of it and not allow investigations to be done with real evidence, is to cover up what really happened.
9/11 was a criminal conspiracy carried out with authorization of owners like Silverstein, likely Israeli operatives as has been documented, and members of the U.S. government. Will justice ever be served to these heinous villains? Not likely, as the "noble lie" white-wash coverup is a modus operandi that pervades the political spectrum.