The yellow vests have become such a pain to the French government that they are going to probably enact a new "law" that bans protests unless authorization is given by the government. Some are shocked at this move, comparing it to a dictatorship law. Maybe so, but it's already a "law" in Canada. This is the "free world" now.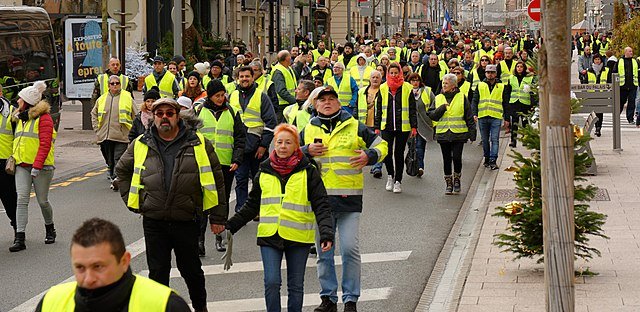 wikimedia, CC BY 4.0
French Prime Minister Edouard Philippe presented this new goal for the government in order to stem the violence that protesters bring forth. The expectation is that the law, by making unsanctioned protest illegal, will end the unrest that has spread through France in recent months. The new law will also ban the use of wearing masks, putting an end to anonymity for the protesters who attend legal protests. He said the government would support a
"...new law punishing those who do not respect the requirement to declare [protests], those who take part in unauthorized demonstrations and those who arrive at demonstrations wearing face masks."
if protests would turn violent and cause property damage, the taxpayers wouldn't foot the bill for repairs anymore. Instead, the "troublemakers" would have to pay themselves. That seems to surely act as a determent for many to think twice before doing damage to property. Who wants to end up owing thousands of dollars?
But will this squash protests if their deemed unlawful? The Yellow Vests aren't liking the recent police crackdown. People who simply wear a yellow vest, but not doing any protesting, are being arrested now. If protests are banned, this could fuel a greater revolt and rebellion, and more violence, rather than less.
Yellow vest protests have spread across Europe, and some don't protest but simply wear a yellow vest in solidarity with the movement. This is enough to get them arrested, in France of Europe abroad. One recent incident is of a woman in the Netherlands pushing her baby in a carriage wearing a yellow vest being arrested.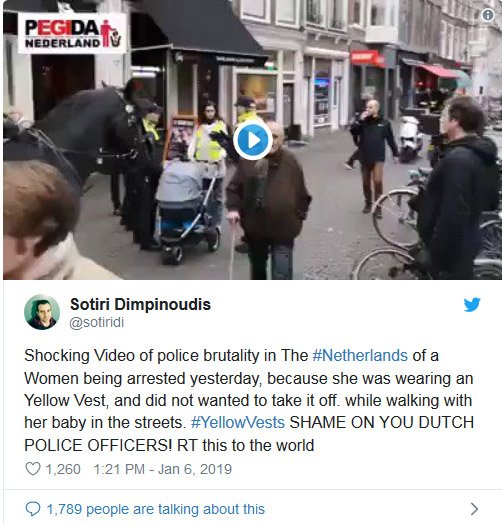 Source
Journalists photographed police in Netherlands arresting the innocent mother, forcing her to abandon her baby when she did absolutely nothing wrong but wear something.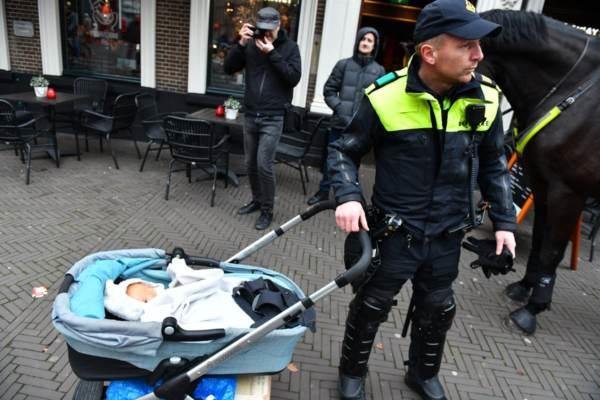 Source
Are these measures to ban protests without prior government authorization draconian? I think in the U.S., the constitution may agree with the new "laws". One has the freedom and right to peacefully protest. When protesters begin to damage the property of others, that violates the non-aggression principle. These acts of violence then force the government to impose laws that further punish the wrong behavior in order to protect the rights of others (property rights).
In the case of banning protests without approval from government, everyone is paying the price to freely assemble and protest because some people can't control themselves. This is why government will remain in our lives for a very long time. Until people learn to control themselves and do wrongs, there will be others who will beg for external control from a centralized authority, rather than handle things as a community of united people.
The history of humanity seems to be a tale of a lack of self-control, self-mastery, sovereignty and enlightenment to know how to behave. The behavior of some lead to greater control being imposed on the many, like a few rotten apples spoiling the whole bunch.
To be truly free, we must raise the consciousness of our fellow humans to live morally. Otherwise centralized authority that abuses it's power and legally steals form us will continue to be the norm for a long time. Maybe one day we can have true moral anarchy where we have no rulers or masters above us contronlling our lives. It's up to us.
---
References:
---
Thank you for your time and attention. Peace.
---
If you appreciate and value the content, please consider: Upvoting, Sharing or Reblogging below.


me for more content to come!
---
My goal is to share knowledge, truth and moral understanding in order to help change the world for the better. If you appreciate and value what I do, please consider supporting me as a Steem Witness by voting for me at the bottom of the Witness page.