U.S. government officials and President Trump have been warning Syria to not take back control of it's own territory from the hands of al-Qaeda. They've been getting away with this ploy thanks to their cleverly worded deception to pawn off their agenda to overthrow Syria's government as concern for the Syrian citizens. Ron Paul knows what's up, and urged the Secretary of State and National Security Advisor to stop protecting al-Qaeda in Syria last week.
These officials don't really care about Syria's citizens, otherwise they wouldn't want the government overthrown for regime change that only increases the amount of terrorists the U.S. claims to want to get rid of. These terrorists are the ones hurting civilians, not the Syria government. The U.S. government keeps partnering up with the bad guys they claim to be against, like al-Qaeda, all because they have political and economic foreign policies to uphold in the Middle East.
The Trump administration may not directly support al-Qaeda or ISIS, but there are people running things that make it look like it. They want Assad gone, and have been trying to get that done for the past six years. Regime change in the Middle East has been a major goal of neo-cons and Israel since the Bush administration set forth a domino of invasions after 9/11, 2001. Afghanistan, Iraq, Syria, maybe Lebanon and Pakistan, but most importantly Iran.
Contrary to the plant o get rid of terrorists in the Middle-East, the U.S. has been helping them grow. al-Qaeda numbers have grown where U.S. intervention helps states collapse, like in Iraq, Libya, Yemen, Somalia and now Syria, as Twitter user @RaniaKhalek has pointed out: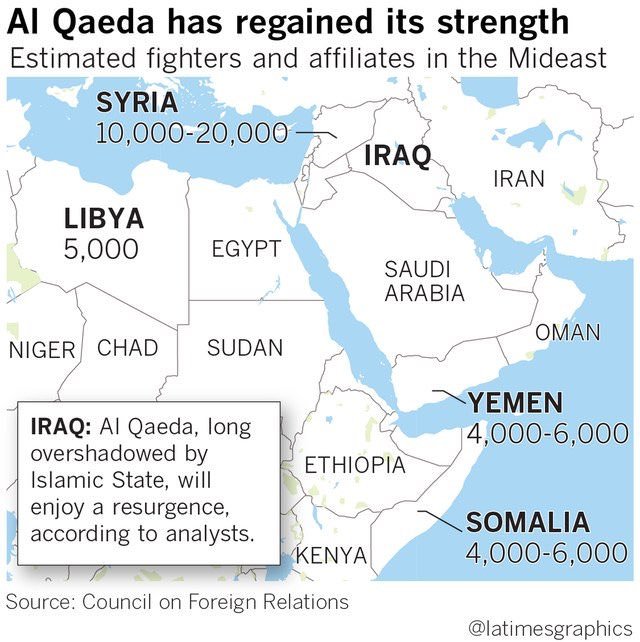 Source
This hard on for Iran has U.S. policy makers turn a blind eye. Idlib, Syria is a refuge for al-Qaeda, and the Syrian government want to get rid of them. Even Trump's Special Envoy in the region admitted the Syrian province was an al-Qaeda "safe haven" last year.
Yet, they aren't too concerned with helping, let alone letting the Syrian government get rid of them. That's because the opposition to Assad is viewed as a "good" factor for them and their diabolical plans to reshape the Middle East. With Idlib freed from terrorists, Assad has a lot of opposition off his back. The U.S. then has less pressure being applied to over throw him.
Instead of letting Syria deal with it's problems, the U.S. has funded "moderate rebels" (i.e. terrorists) to try to take down the Syrian government. Iran and Russia have been trying to help Syria get rid of ISIS. Warning of a false flag attack by the terrorists was ignored in Western media. Russia warned that it was going to help Syria get rid of ISIS last week, and the U.S. responded by sending 100 more Marines in a live-fire exercise a a warning to not get close to U.S. bases, rather than help them.
While the U.S. turns a blidn eye to ISIS and al-Qaeda, alleged enemies of the U.S., plans leave Iraq are reversed as Trump says soldiers are going to stay in the region. They want to be in a better position to go after Iran close by. Yemen is also an important front against Iran from the south, which is why the U.S./Saudi coalition against the Houthis in Yemen is benefiting al-Qaeda.
As Ron Paul put it:
So we are aiding al-Qaeda, which did attack us, because we want to "regime change" Iran, which hasn't attacked us. How does that make sense?

We all remember the old saying, attributed to Benjamin Franklin's Poor Richard's Almanack, that "if you lie down with dogs, you wake up with fleas." The "experts" would like us to think they are pursuing a brilliant foreign policy that will provide a great victory for America at the end of the day.
Allying with the enemy you have been and still are publicly claiming to be fighting to stop (al-Qaeda, ISIS), while doing the opposite and trying to engineer regional instability in order to go after other targets is quite a grand deception. The U.S. isn't winning any war, because that's not the goal.
The power players in Washington want to feed chaos in the region to destabilize the government and knock down the established order. Then they can come in with their fake "hero" mentality to "save" people. But they just want to be able to do what they want and control resources like oil in order for their cronies in business to profit, and they get a cut of the pie too.
Getting rid of the non-conformist Middle-Eastern rulers/governments is also great for globalism and the plans for an authoritarian New World Order centralized government to run the whole planet.
---
Thank you for your time and attention. Peace.
---
If you appreciate and value the content, please consider: Upvoting, Sharing or Reblogging below.


me for more content to come!
---
My goal is to share knowledge, truth and moral understanding in order to help change the world for the better. If you appreciate and value what I do, please consider supporting me as a Steem Witness by voting for me at the bottom of the Witness page.