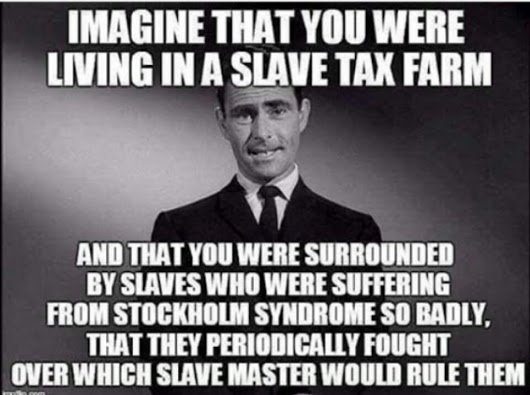 When I hopped onto FedBook yesterday morning to check my messages, this big old banner took up most of the page, telling me that it's apparently "National Voter Registration Day!" I quickly clicked the little menu button to hide the ad, and maybe report it if it would let me. I was happy to see the report post button, and to see that one of the options was "This doesn't work", which just seemed too perfect.
Since we're circling back around to voting time in the US, Inc. in the coming months, I figured it was worth a revisiting of the foundational idea of voting & democracy, the reality of it in the United States, Inc., and the importance of moving towards anarchy & self-responsibility.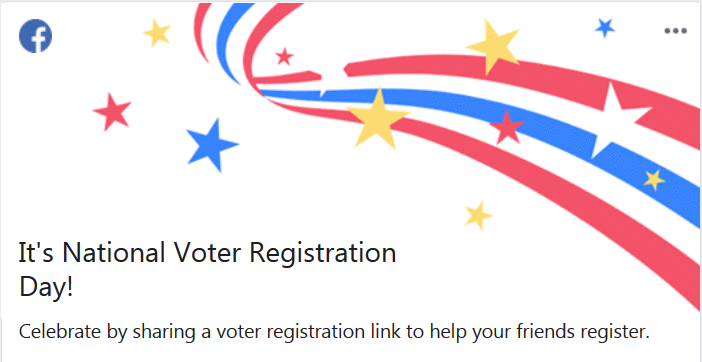 ---
---
Introduction
I have never voted. I never registered to vote. I never even paid attention to who was running for any office, or who won them. Hell, I didn't even hear the name Ron Paul until I started listening to Stefan Molyneux in mid-2013.
When I was young, I immediately saw some major issues in the way that "society" is "organized", one of the big ones being the idea of voting for a "leader", and noticing that every time that happened about half the adults around seemed to be pissed off by the new leader.
By the time I turned 18, I was pretty completely sure that voting didn't matter since the folks in charge were all politicians, and all lied about everything. That was just my intuition and some really basic observation, but I certainly hadn't researched the system at all, and I certainly hadn't started building my philosophical grounding yet.
That was quite some time ago now, and at this point I am firmly rooted in my principles (respect for individual sovereignty, absolute non-violence, interdependence), and I have done quite a bit of research into the structure, history, and intentions of the state, "democracy", and the US system of government specifically.
Today I'd like to run through a few things:
In the U.S., right now, your vote doesn't matter 99% of the time
That's how it was designed, because this is specifically NOT a democracy
Democracy (and government in general) is violent & immoral
---
--- ---
---
Your vote doesn't matter
The idea that you can get out once every couple of years and check boxes, and that means that you've now had a say in how society is run... is just silly. For the moment though, let's assume that voting is an effective or morally acceptable way of making decisions for the more than 300 million humans who live in the land claimed by the United States, Inc.
Running with that assumption (which the average American obviously does), let's take a look at why voting doesn't matter:
---
The 2-Party System:
The false dichotomy of left-right keeps people trapped in a mental box, thinking that the world can be broken down into a simple A or B choice.

The parties create the illusion of a difference between them by focusing the debate on topics like gay marriage, abortion, religion, and other things that are 100% personal choice, and should have nothing AT ALL to do with government.
The parties completely agree and strive towards the same major goals: keeping the 2-party system, continuing the flow of tax revenue, expanding government power, and using that power to accomplish the desires of the pharmaceutical-agricultural-military-industrial complex.

The 2 parties control the debates, keeping anyone else from even appearing before most voters.
Both parties are funded (thus effectively owned) by the same corporations & investors, including the 6 media companies, ensuring that they will have the money to overwhelm any outsider's campaign.
The parties "gerrymander" to create the districts in a state, manipulating things to control the number of representatives per state.
Justin Raimondo, of antiwar.com:
The War Party has two wings: the Democrats and the Republicans. All others are outsiders, whose ability to storm the gates is 'legally' restricted by a nearly impassable series of bureaucratic obstacles designed to keep them out while still maintaining the 'democratic' illusion, i.e. the phony two-party system, which is in reality a single entity.
---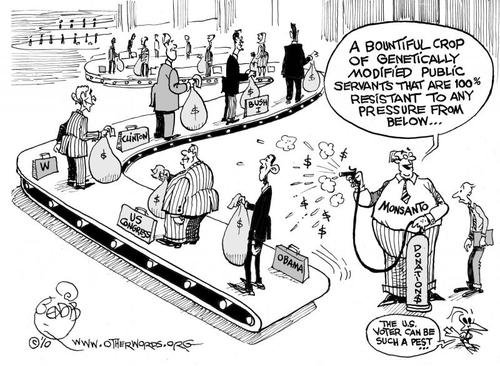 ---
Washington's "Revolving Door"
You've probably heard this term before, the idea of the revolving door in Washington DC. It is overwhelmingly common for government officials (executive, legislative, AND judicial) to be former employees of extremely powerful corporations & lobbying groups, and to switch right back to those high-paying private sector jobs when their government gigs end. OpenSecrets has a wonderful database of these folks, constantly updated, and breaks it down by agency, corporation, and person.
Here's a few examples:
Henry Paulson: Secretary of the Treasury 2006-2009, previously CEO of Goldman Sachs
Donald Rumsfeld: Secretary of Defense (twice), Chief of Staff, and many more... CEO, president, chairman of G. D. Searle & Company (Monsanto) for a decade
Mary Jo White: Chair of the SEC (2013-2017), 2 time District Attorney... formerly a defense lawyer with Debervoise & Plimpton, representing Bank of America & JP Morgan Chase executives
Eric Holder: Attorney General (2009-2015), formerly attorney at Covington & Burling, representing Merck, the NFL, et al.
Dick Cheney: Vice President (2001-2009), Secretary of Defense (1989-1993)... director of the CFR, and CEO of Halliburton
Michael Taylor: Deputy Commissioner for Foods at the FDA (2010-2016)... formerly Vice President for Public Policy at Monsanto
Like I said, these are just a couple of examples that jump to the forefront of my mind. I could easily write a 50,000 word post just on the revolving door and the thousands of government officials who bounce back and forth between the state and the largest corporations it is supposed to regulate, but is actually run by.
---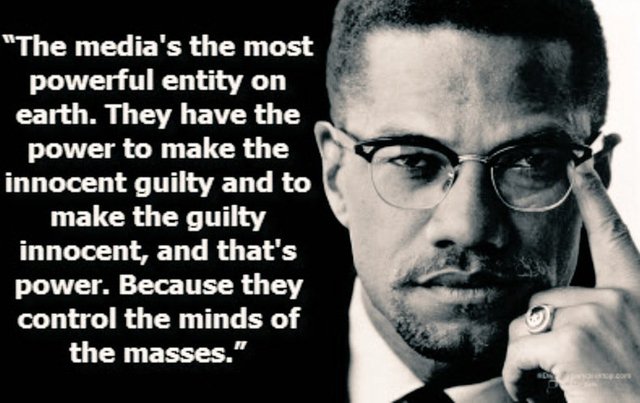 ---
The Power of the Media:
Most people learn everything that they know about candidates, laws, and everything else government-related from the media. As mentioned above, the media in the US is highly centralized, and there is effectively a feedback loop of vested interests & financial opportunities.
This means the average American's opinion on Trump, Sanders, Clinton, etc. is based almost exclusively on what they have heard from that person's (or their opponent's) advertising campaign.
Groups like the Grocery Manufacturers Association spend millions of dollars on campaigns to convince people to vote a certain way. In California in 2012, Washington in 2013, and Oregon & Colorado in 2014, the GMA spent millions of dollars on widespread radio, TV, newspaper, and billboard ads over the week(s) before voting day in order to trick everyone who wasn't aware of the truth, that GMO labeling would mean terrible things for them personally.
---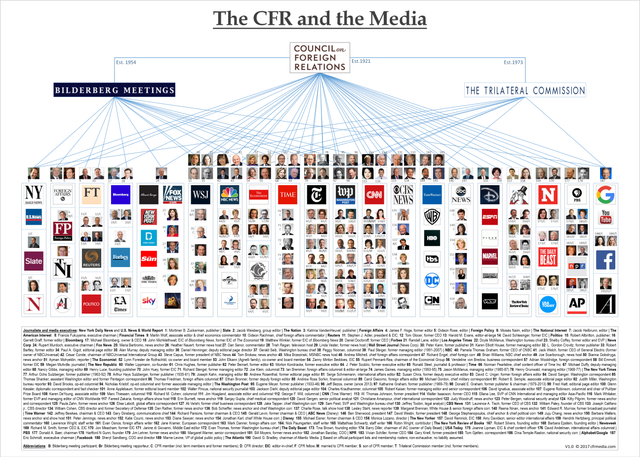 click for the full-size image
---
The Council on Foreign Relations, The Trilateral Commission, et al.
You may have heard the names Zbigniew Brzezinski, Henry Kissinger, David Rockefeller... These and others have long been the ones pulling the strings behind just about everything that the US government does, through "think tanks" and "policy groups" like the Trilateral Commission, the CFR, the Project for a New American Century, the Bilderberg Group, and more.
Generally speaking, these organizations don't strive for secrecy, preferring to operate in that realm of being open about most of what they're doing, but never being mentioned or questioned by the media.
Membership in these groups overlaps quite a lot, and include an absolutely ridiculous number of high-ranking officials, bankers, and corporate executives. Political party makes no difference here, and looking back through history we find that most every cabinet has quite a few CFR members in it, thus ensuring that no matter who gets "elected", the same policies are being enacted. This is exceptionally clear if you look at the Bush-Obama-Trump presidencies, where the same drone strikes are happening, the same wars, the same forced insurance program, etc.
Winston Lord, Assistant Secretary of State, the U. S. State Department (W Magazine, August 1978):
"The Trilateral Commission doesn't run the world, the Council on Foreign Relations does that!"
Milton William Cooper, in Behold a Pale Horse, said:
The Council on Foreign Relations controls our government. Through the years its members have infiltrated the entire executive branch, State Department, Justice Department, CIA, and top ranks of the military. Every director of the Central Intelligence Agency has been a member of the CFR. Most U.S. Presidents since Roosevelt have been members. The members of the CFR dominate ownership of the press and most, if not all, of America's top journalists are members. The CFR does not conform to government policy. The government conforms to CFR policy.
---
---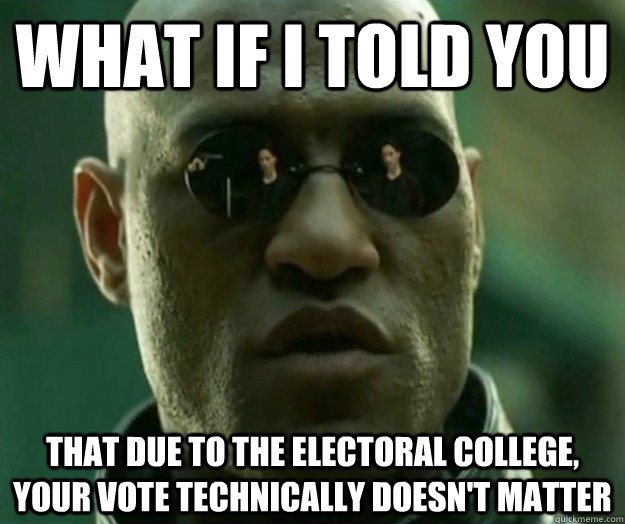 ---
---
The US is not (and never was) a democracy... your vote was never supposed to matter
People often seem to forget that the United States was created by slave-owning, rent-seeking, misogynist protestants, who wanted to secure control over their newly "freed" country. There was no interest in equality, fairness, or the will of the people (as can be seen by the extremely shady means by which the constitution was passed or the The Alien and Sedition Acts passed shortly thereafter, and signed by many of the same people)
Ever heard of the electoral college? These are the ~500 people who actually have a vote that matters in ANY way for the president of the United States. If they wanted to, they could be the only people to vote for someone, and that person would be the new president.
How the electoral college works:
Each state is given a number of representatives based on its VAP (Voting Age Population), meaning the number of representatives a state has comes from the number of people over 18 who live there, regardless of citizenship, eligibility to vote, or whether or not they have ever registered to vote.
When someone casts a presidential ballot, they are not actually voting for a candidate, they are voting for a party, and specifically for that party's elector. The electors have no obligation to vote for the person people picked on their ballot either.
When votes are counted, each state tallies up theirs and has a "winner", the person who will receive all of that state's electoral votes, even if they only got a portion of the population's vote.

California has 55 electoral votes (more than 10% of the total), and if someone receives more votes than any other candidate in California, they receive those 55 electors. Even if they didn't even receive a majority of the actual votes (35% Candidate A, 30% Candidate B, 25% Candidate C, 10% Others = 100% of electoral votes go to candidate A).
Only Nebraska & Maine actually allocate electoral votes based on the popular vote instead of "winner-take-all".
Just as an example, if someone got the most votes (remembering that it doesn't even have to be a majority, and this never takes into account all the people who voted for nobody), in just 11 states, they would have the electoral votes needed to win the election, even if they got zero votes in the other 39 states. (The 11 being California, Texas, Florida, New York, Illinois, Pennsylvania, Ohio, Michigan, Georgia, North Carolina, New Jersey.)
Because of the way that electoral votes are decided, the higher the population in the state in which live, the less your vote matters. It takes almost 4 times as many people in California to get 1 electoral vote as it does in Wyoming.
---
---

---
---
At best, democracy is mob rule
So, now that we've take a brief look at the ways in which the US is not a democracy, let's take a look at democracy itself. The idea of a democracy is essentially that if there are 10 of us in a room, and 6 decide something, that the other 4 should be forced to go along with it.
Based on the way that democracy functions, every time someone has ever been robbed, killed or raped by two or more people, all that those aggressors had to do was hold a vote, and it would somehow magically become moral.
Does it really matter how many other people agree that you should be kidnapped for growing a plant? Or that 40% of your income should be stolen and used to imprison those kidnapped people and drone strike families around the world?
---
---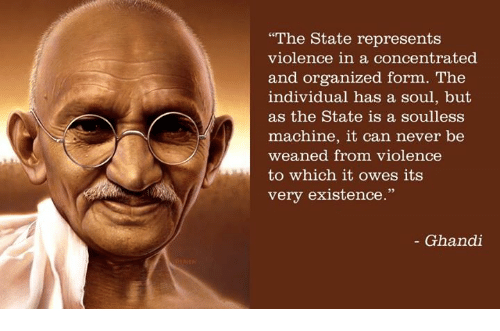 ---
---
Government is simply institutionalized violence
Let's say that all the corruption & inherent controls in the USA & its voting system are gone, and just look at what the state actually is...
What gives someone the right to say, "I believe people should (or should not) do this thing, therefore I believe that a group of people should use violence and the threat of violence to force others to do (or not do) this thing"? If you think the state does not use violence and the threat of violence to accomplish everything it does, just ask yourself how it responds to something as harmless as smoking cannabis (in most places), not getting the proper "permit" or "license" to do or sell something, or not paying "property taxes" on land that you already bought and now inhabit & care for.
As put by Yale law professor Stephen L. Carter:
Law professors and lawyers instinctively shy away from considering the problem of law's violence. Every law is violent. We try not to think about this, but we should. On the first day of law school, I tell my Contracts students never to argue for invoking the power of law except in a cause for which they are willing to kill. They are suitably astonished, and often annoyed. But I point out that even a breach of contract requires a judicial remedy; and if the breacher will not pay damages, the sheriff will sequester his house and goods; and if he resists the forced sale of his property, the sheriff might have to shoot him.
I guess what I find most terrifying is that there are people who have this awareness, that acknowledge the inherent violence of the state... and yet still go along with it, and even argue for the "necessity" of it (kind of like this professor). I guess I just find it easier to empathize with someone who is ignorant than someone who has chosen to go along when they do have the knowledge.
---
This is basically what all interaction with the state looks like:
Contact you: "Hi there, we've decided that you owe us money for something you did (or did not do)."
Contact you again: "Hey, us again. We're going to need that money soon, or bad things may start happening. We'd really hate if you made us do bad things."
Contact you again: "Hi. Bad things are starting now."
Do any number of minor bad things to you, including revoking your "driver's license", charging you "fines", "garnishing your income" (read: forcing your employer to steal money from you, for the state), etc.
Contact you again: "So that was a little taste of the bad things we can do, how about you just give us our money and we can all move on with our lives in peace… because if we can't all move on, things are going to get much worse for you."
Do any number of major bad things to you, generally involving some combination of: sending men with guns to your house, having those men violently kidnap you and keep you in a concrete box, going through all your personal belongings (and phone records, texts, and emails), stealing your property, convicting you of a "crime" (thus limiting your ability to obtain work, housing, or financing).
---
---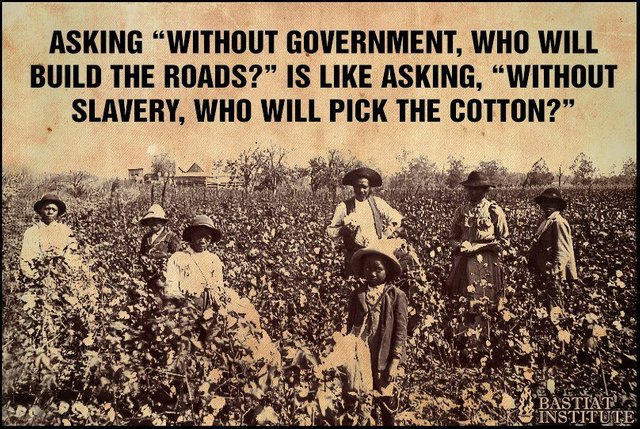 ---
---
Conclusion
If I give you the $5000 you need for an important surgery, that's a good thing. If I stole that $5000 from someone else in order to give to you, is it still a good thing? "There is no ends but the means" sums up my feelings about this pretty well; I don't see how we could possibly use violence to get a peaceful outcome.
The basic principles that I live by, and which I (and many others) believe to be inherent to humans (requiring 25,000 hours of indoctrination as well as physical & emotional abuse to override) are:
You own yourself
It is wrong to use force, or the threat of force, except in self-defense
All agreements between humans should be voluntary
No group can have rights greater than the rights of the people who make it up
If you want the world to be more peaceful, then start meditating, practice unitive & restorative justice models, stop giving your money to the most violent people on the planet, stop taking in propaganda that makes you think someone else deserves to die because they're different from you, go vegan, use non-violent communication, and practice peaceful parenting (because all violence stems from childhood trauma).
If you want children to receive the best education, take it out of the hands of government (who have purposefully established a system based on the Prussian schools in order to manufacture obedient factory workers), look into schools like Montessori & Sudbury, new technology-based systems like Khan Academy, and the philosophy of unschooling.
If you want corporations to have less power, then stop giving them your money, stop giving them your time, stop using brand names instead of the actual name of an item (it's not Kleenex, it's tissue; it's not a Band-Aid, it's an adhesive bandage), and stop taking in their PROGRAMMING (television, radio, newspapers, magazines).
If you want the Earth to be healthier, to stop "Climate Change", use transportation not derived from petroleum, stop buying packaged foods, stop giving money to the US government (the #1 polluter on the planet), eat a vegan diet, buy your clothes from the second-hand store (or make them yourself), grow food instead of grass, use alternative energy sources like wind, solar, and bike generators.
If you want there to be less houseless, hungry, or other not-having-their-needs-met people, start giving people food, clothing, and bedding that you don't need, grow your own food (you'll always end up with more than you need), give (time, money, etc.) to groups/organizations doing outreach work, start dumpster-diving and giving the food away, support projects like Food Not Bombs & Urban Gleaners, and stop giving money to the government so they can bomb more places into subsistence living.
Each of these issues the State will try to convince you they can "fix" for you, while generally being the greatest cause of the issue itself. Ever heard the quote "be the change you want to see in the world"? It doesn't mean "ask someone else to be the change you want to see in the world", it's up to each of us to change our own lives, and thus the entire world. If it seems like a lot of weight on your shoulders, just remember: every single thing you do changes the world.
---
---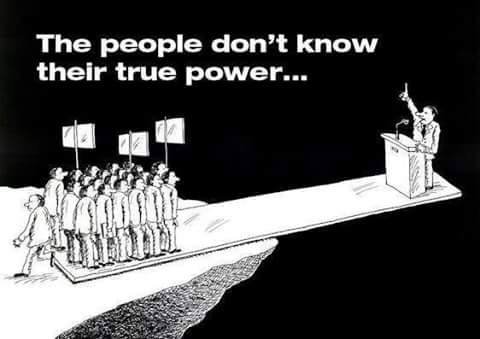 ---
---
Image Sources
Imagine
March of Tyranny
Monsanto
Malcolm X
CFR & Media
Morpheus
2 Wolves
Gandhi
Slavery
True Power
---
---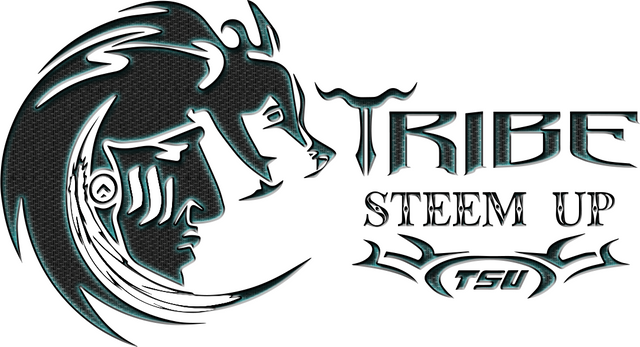 ---
---
If you enjoyed this, you may enjoy some of these highlights of my blog:
"Greatest Hits/Table of Contents" of my first 2 years on Steemit
You've Created Your Steemit Account and You're Ready to Get Started... What Now? [New Steemians Start-Up Guide]
The 8 Pillars of @TribeSteemUp: Clarification, Refinement, and Re-Casting the Spell
The Status, Vision, and Needs of Real Life: The Role-Playing Game
---
---