As you all know I try as much as possible not to write political articles not because I do not have an opinion to portray on the contrary but because politics is so messed up and I do not know the direction it's taking. So therefore I cannot write without a focus (Nigerian Politics I mean)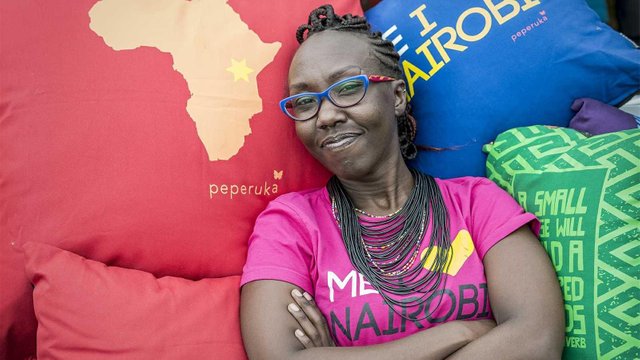 source
Talking to my friend recently we discussed about who to vote for come 2019 general elections and she suggested to revote the present government "President Mohammed Buhari" and trust me my response was Hell NO!
Most people would think this is because I have a personal vindeta against him but I actually don't and to his credit I feel he has done more than previous government has as regards security and in other areas too. But the reason I cannot vote for a second term for him is because the man is physically sick and he's leading a sick Nation too, how does that work? one would kill the other.
Well that's outside what I actually want to write about. Yes now speaking of President Buhari he made a statement during his visit to Germany in 2016, he said
"I don't know the party my wife belongs to, but she belongs to my kitchen and my living room and the other room"
Because he could claim superior knowledge over her" his statement sparked international outrage. Well when people began to talk about women in power its not that laughable but when the power they talk about is the highest level available in government in Nigeria it becomes laughably. Don't call me a sexist its beyond that. I'm one of the few people who think women in power is a great idea thus I have my reservations about some other concerns I wouldn't concern you with.
It will take a century for a woman to attain power in Nigeria and this is simply because Nigeria doesn't have a structure that allows women a say in power, most Nigerian people are guided by a belief system that a woman has the power to influence but not to make decisions and that a woman in power will upend power relations in the country in her favor. Personally I am compelled to believe this not because I want to but because previous women in little power have not made be believe otherwise.
When Patricia Etteh was elected the speaker of Nigeria's House of Representatives in 2017 many thought this was a breakthrough and that we were soon to see Africa's Largest country have a female president but before we knew what was happening that same year she was forced to resign after being accused of spending N628 million on her official residence and cars for herself and deputy. Thus rumor has it that she was eased out of the position because she is a woman.
Nigerian wouldn't see a woman as president in the next decade. A country with this much ideological difference, religious baldadash and cultural manipulation will take a miracle to see a woman rule.
---
A bill sponsored by Senator Abiodun Olujimi seeking equal opportunities for all genders was rejected by the Nigerian senate on March 15, 2016 after only the first reading ( can you imagine) saying it neglected religious dogmas.
---
Politics in Nigeria is too dirty for a woman to soil her hands in or which woman will have times for the Night meetings, Fights, assassinations of opponents? Except there is a reformation then we can see that miracle happen.
Conclusion
Closing the gender gap In Nigeria will take time but is not impossible as 5 women have indicated interest in Presidency come 2019 but we all know it won't happen in a country who's policies and politics do not respect the gender policy and INEC do not identify with the policy too. However we are getting there the margin has grown and we hope it continues. Reading this you may not know my stand well let's just say I like being liberal with taking sides. Truth be told, closing the gender gap may be more auduous in a country where the president said publicly that his wife belongs to his kitchen.
@JosefPius handwriting