Dzień dobry Kochani w sobotę! Mam nadzieję, że miło zaczęliście weekend. Mam dziś dla Was propozycję bardzo fajnego dania, które można zaserwować na obiad lub kolację. Robi się go ekspresowo, a smakuje wybornie. Oczywiście jest to zasługa ciasta francuskiego, które jest zawsze świetną bazą pod różnego rodzaju farsze. U mnie dziś za farsz posłużyły podsmażone warzywa z szynką parmeńską. Pieczarki smażyłem osobno, w dość grubych kawałkach po to, by były one mocno wyczuwalane. Całość podałem w towarzystwie sosu majonezowo-jogurtowego z dodatkiem kiszonego ogórka. Mam nadzieję, że spróbujecie tego przepisu, bo choć składniki wydają się banalne, to efekt końcowy jest naprawdę zaskakujący. 😃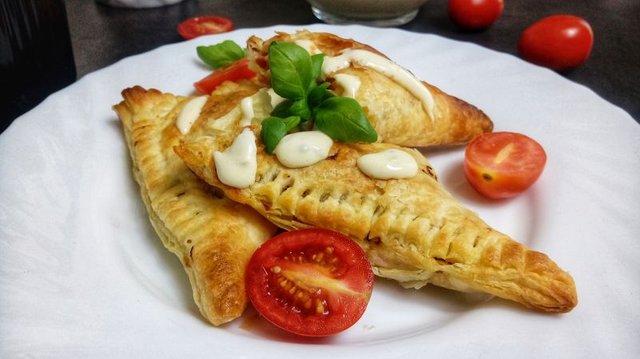 Składniki:
1 arkusz ciasta francuskiego
2 czerwone cebule
20 dag pieczarek
1 marchewka
1 seler
10 dag szynki parmeńskiej
10-15 dag sera cheddar
1 łyżeczka masła klarowanego
Sos:
2 łyżki majonezu
3 łyżki jogurtu naturalnego
1 ogórek kiszony - tarty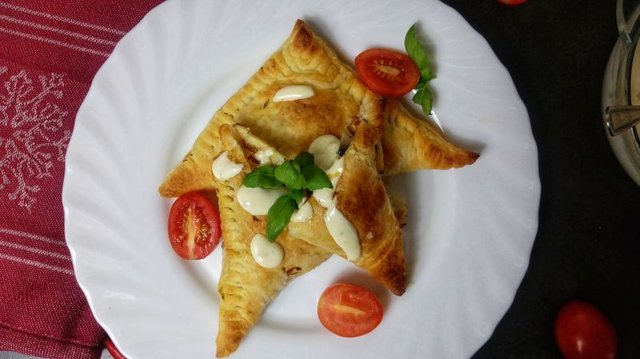 Przygotowanie:
Cebulę i szynkę pokroić. Marchewkę oraz seler zetrzeć na tarce. Pieczarki pokroić w grubsze plasterki. 
Cebulę zeszklić, dodać szynkę, chwilę podsmażać. Następnie dodać marchewkę i seler. Jeszcze chwilę dusić. Przyprawić solą oraz pieprzem.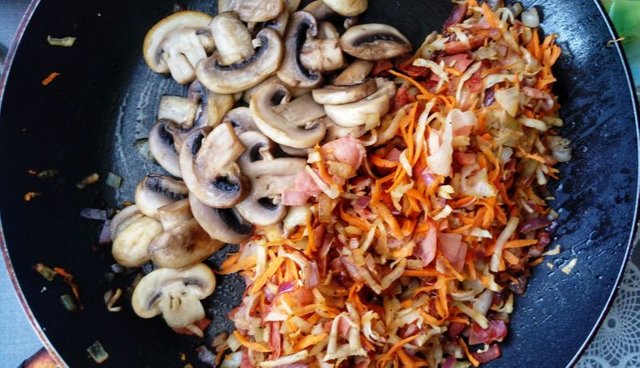 3.  Na osobnej patelni zesmażyć pieczarki na maśle klarowanym. 
         4.  Ciasto francuskie kroimy na duże kwadraty. Na każdy kwadrat wykładamy farsz, pieczarki, ser cheddar. Sklejamy krawędzie tak, aby powstał pierożek.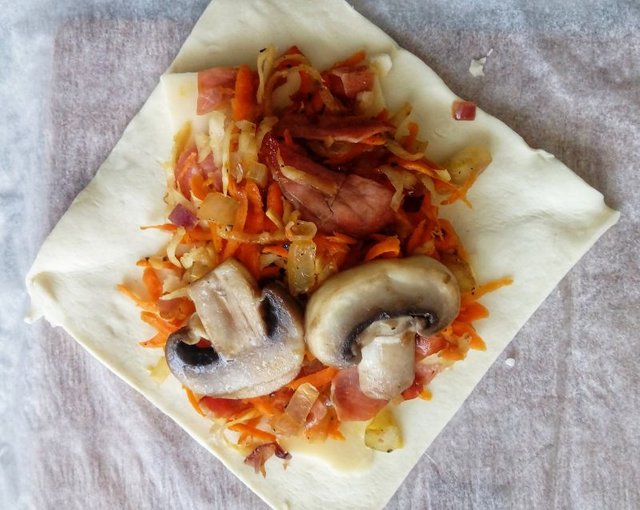 5.   Gotowe pierożki wykładamy na blachę wyłożoną papierem do pieczenia. Pieczemy w temp. 200 stopni przez 10-12 min (w zależności od piekarnika).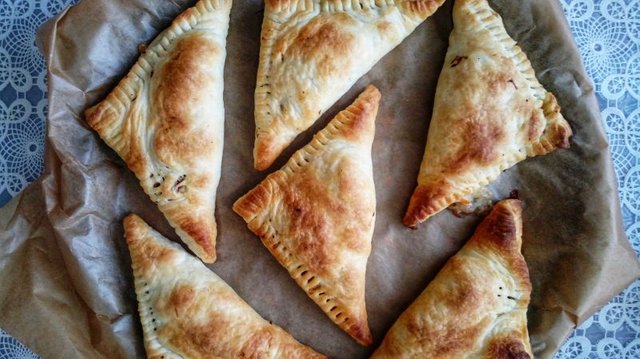 6.    Serwujemy z sosem.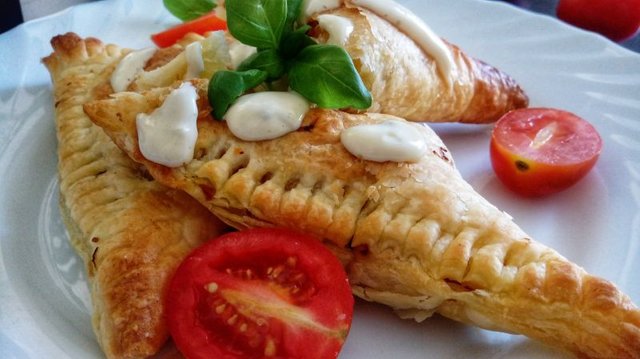 Smacznego! 😊