Sezon grillowy trwa w najlepsze dlatego na pewno przyda Wam się przepis na najlepszy sos do grillowanego mięsa. Legendarne chimichurri wymyślili Argentyńczycy, którzy uchodzą za najlepszych w dziedzinie przyrządzania mięsa na ruszcie. Asado to argentyńskie danie narodowe, które przyrządza się z wołowiny lub innych rodzajów mięs poprzez opiekanie na grillu. Asado można również rozumieć jako wydarzenie społeczne, biesiadę, spotkanie z rodziną i przyjaciółmi. Jest to bardzo ważny element argentyńskiej kultury, z której Argentyńczycy są bardzo dumni.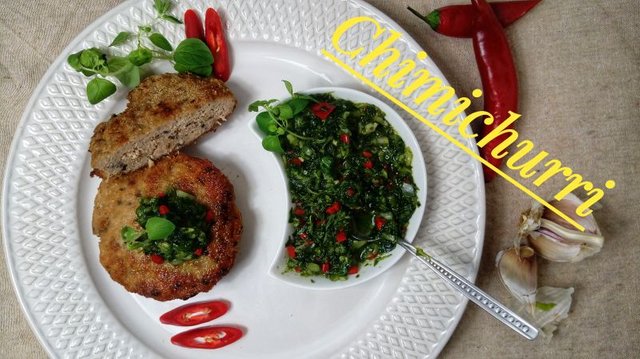 Z asado nierozerwalnie łączy się właśnie chimichurri, które jest nieodzownym elementem grillowanych potraw. Sos na bazie pietruszki ucieranej w moździerzu z dodatkiem czosnku, oregano, papryczki chilli świetnie podkreśli smak grillowanego mięsa. W tym miejscu podaję przepis podstawowy na chmichurri, ale jeśli tylko macie ochotę, to możecie dodać do niego swoje własne ulubione składniki. Może to być kolendra, sok z limonki czy też inne przyprawy.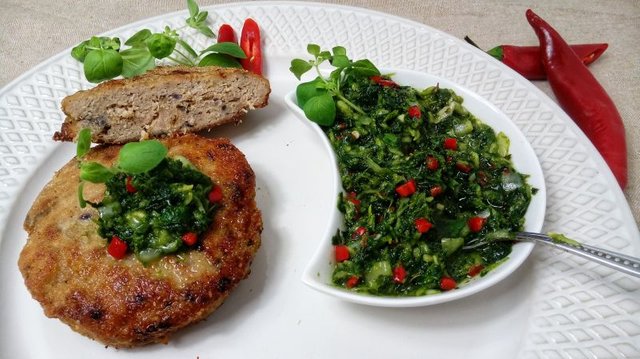 Składniki:
1 pęczek pietruszki bez łodyg
2 ząbki czosnku
1 cebula szalotka
2 łyżki octu winnego
100 ml oliwy z oliwek
1 papryczka chili
1 łyżeczka świeżego oregano
sól 
           Przygotowanie jest banalnie proste i zajmuję dosłownie chwilę. Warto sos przygotować dzień wcześniej, wtedy wszystkie smaki dobrze się przegryzą.
           Umyte zioła osuszamy i kroimy wraz z cebulą, czosnkiem i papryczką chili, następnie przenosimy do moździerza dodajemy sól, pieprz, ocet i oliwę i ucieramy na pastę tak aby kawałeczki listków i chili były nadal widoczne.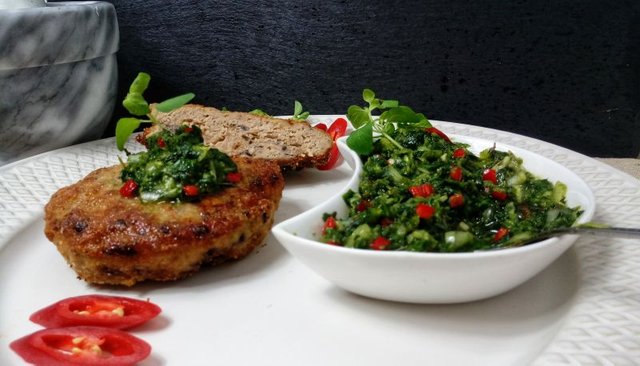 Smacznego!!!   😊