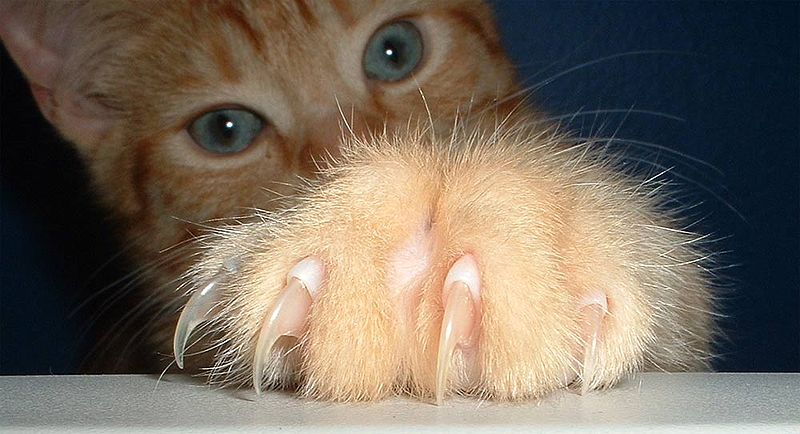 Zacznijmy od teorii. Koty, to drapieżcy, a pazurków i zębów zawsze będą bronić. Nigdy im sie to nie podoba, by je przycinać. Swoją drogą, gdybyś chciał swojej babie obciąć nowiutkie hybrydy, to też by darła ryja i drapała. Jest kilka patentów, ale też trzeba o pewnych rzeczach pamietać.
Używamy wyłącznie cążków, nie nożyczek, kombinerek, czy piły łańcuchowej.

Pazurki kota są poniekąd podobne do człowieczych. Obcinamy tylko tą przezroczystą część na końcach, nie cały pazurek, bo są tam nerwy i naczynia krwionośne. Kto się jebnął siekierą w paznokieć, to wie, że troszkę boli i nieco krwi poleci... No dobra, napierdala w chuj, a krwi, jak po uboju świni.

Najlepiej kota dopaść na śnie. Nie będzie się spodziewał ataku na jego broń. Jednak według zasady: najpierw przednie łapki, przerwa, potem tylne (choć są ludzie, którzy mają problemy z kotem i czasem jest po jednym pazurku na dzień)

Głaskając, pamiętamy o łapkach. Tak, jakbyśmy się witali, głaszczemy poduszeczki od spodu, by nie czuł dyskomfortu podczas dotykania (zwykle nie lubią). Oczywiście podczas pieszczot, będzie wystawiał komplet pazurków, ale nie powinien drapać, chyba, że jest wkurwiony, wtedy drapie do krwi.

Jeśli powyższe nie pomaga wkręcić kota w imadło..... Wróć....

Jeśli nie pomaga, owinąć bestię w ręcznik, założyć zbroję płytową i kombinować.

Nie, to nie pomoże, podobnie, jak i cyganka z kastanietami dla odwrócenia uwagi. To chuje, więc nawet jak coś, to i tak się im nie płaci. Szkoda tylko, że obrzucają gównem potem drzwi i okna... No tak mają....

Tak, jestem rasistą i toleruję tylko trzy rasy: Białą - Aryjską, Maine Coony i Dachowce.

Można owinąć kota folią bąbelkową, ale to też nic nie da...

Wiem, że będzie hejt...
Pozdrawiam z malowniczego dużego pokoju, a dokładnie z łóżka sprzed TV.
Silver