Od jakiegoś czasu planowałem przygotować wpis, w którym opiszę jak to powinno być. Odpowiedź nie jest tak prosta jakby mogło się wydawać i nawet jak jest to na oficjalnej stronie z podpowiedzią FB.
Na początku to co jest dość oczywiste, z oficjalnej strony FB:
820 x 312 pikseli, taka grafika będzie prezentowana na komputerach
640 x 460 pikseli, taka grafika będzie na urządzeniach mobilnych
Teraz warto zobaczyć, że proporcje tych zdjęć nie są takie same. Czyli coś musi być przycinane.
Dlatego optymalnie jest dodać grafikę o wymiarach:
820 x 462, tylko trzeba mieć na uwadze, że góra i dół na komputerach będzie z niej przycięta. Dlatego warto nie umieszczać w tych obszarach kluczowych elemenów.
Jak na zdjęciu: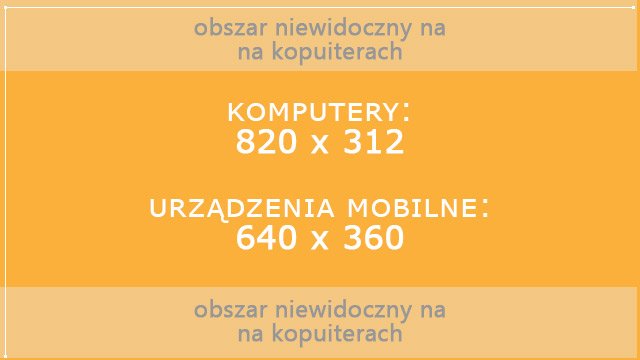 Co może być poza zdjęciem w tle naszego FanPage?
możemy dać pokaz slajdów (do 5 sztuk)
możemy dać film, zalecane od 20-90 sekund
Jeżeli chcecie przeczytać rozszerzone informację tego co znajduje się tu, zapraszam na bloga:
https://www.s90.pl/wymiary-zdjecia-w-tle-fb-dobor-zdjecia-tla-na-facebooku-fanpage/