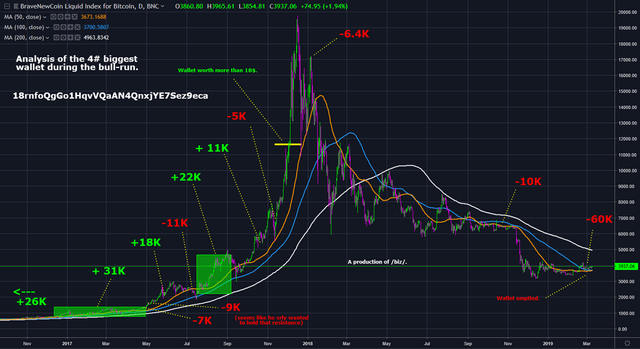 Jeden z największych portfeli BTC świeci pustkami. Ruch 60000 BTC nie umyka oczom analityków rynku. 4 po względem wielkości portfel został opróżniony. Czy to oznacza wielką sprzedaż?
Osoba/Osoby, odpowiadająca za ten portfel, jest jednym z najwcześniejszych inwestorów w BTC. Zakupy i zapełnianie portfela rozpoczęły się pod koniec 2016 roku. Po kilku zakupach coiny były sprzedawane i dokupowane ponownie (widać to na wykresie). Około grudnia portfel był warty 1 mld USD. Co ciekawe, po bańce nastąpiła drobna sprzedaż (-6400 BTC) i kolejna w okolicach 6500 USD (-10 000 BTC). W chwili obecnej portfel został całkowicie opróżniony.
Oczywiście nie oznacza to, że natychmiast rozpocznie się sprzedaż. Właściciel może reorganizować portfel, poprzez rozproszenie portfela na mniejsze, ze względów bezpieczeństwa lub sprzedać BTC po za giełdą (OTC). Informacje tą, należy potraktować jako ciekawostkę, jednak należy również pamiętać, że może to oznaczać wielkie wyjście z BTC i prawdopodobną inwestycję w coś innego lub zwykłe odpuszczenie rynku i emeryturę??? :) Czas pokaże, ale warto z czystej ciekawości się tym zainteresować.
Poniżej pozostawiam link do artykułu, który może być dla Was ciekawy.
https://www.trustnodes.com/2019/03/10/bitcoin-whale-may-have-finished-selling-after-230-million-move