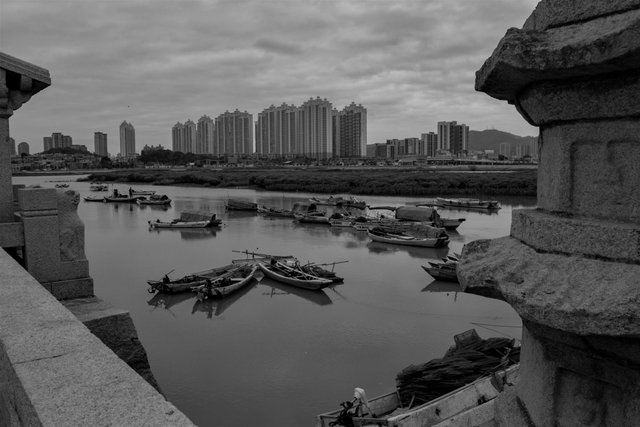 Far away from home, one thousand milles... lecą jakieś smęty z radia w samochodzie i w sumie to się zgadza, tyle tylko, że tym razem jest bardzo far far away bo jakieś 7000 km. Za szybą w oddali, blisko i ogólnie rzecz biorąc wszędzie wyrastają 30 piętrowe blokowiska. Większe wrażenie robią jednak te w oddali, bo przypominają mi coś z obrazów Beksińskiego. Szary beton na tle szarego krajobrazu, jakiś niepokój i pustkę niknącą na ostatnich piętrach prawie w samych chmurach. To wszystko przypomina trochę ule, stojące jeden przy drugim w niezliczonych szeregach zasłaniających dostęp do krajobrazu, światła a może i jakieś nadziei.
W Chinach nikt się nie szczypie i nie bawi w budowanie jednego bloku, bo na jednym osiedlu będzie mieszkało przynajmniej z 10 tysięcy osób.
Ciężko oderwać od nich wzrok i nie do końca wiadomo dlaczego robią takie wrażenie. Chociaż tak samo brzydkie jak te nasze w Polsce, nie mają w sobie tego specyficznego uroku, gdzie czuć woń schabowego w niedzielę, wędrujące po klatkach plotki, kłótnie i krzyk matki z dziesiątego, że już obiad, chociaż chciało się jeszcze pograć 5 minut z kolegami w piłkę.
place : China.
by Canon EOS 1200 D, 55 mm f/3.5-5.6
You can also follow me on Instagram: @malgorzataef