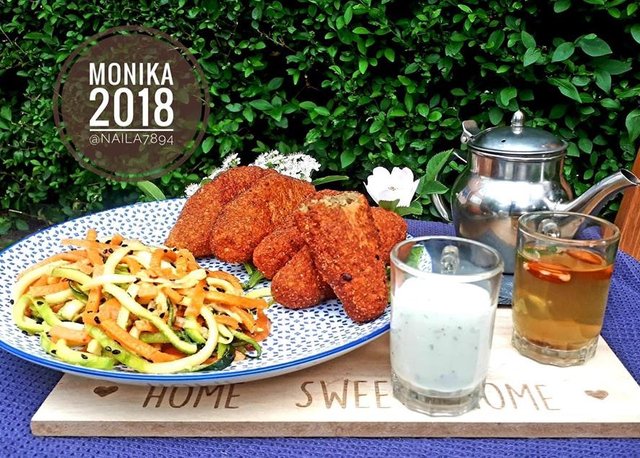 Jak już wspominałam przy baklava - fascynuje mnie kuchnia Arabska dlatego postanowiłam przygotować to danie. Mozna je robic albo z kaszy bulgur albo z ziemniaków - ze względu na konkurs wybrałam opcję z kaszą. Oczywiście przerobiłam to na wersje wegańską :) Mam nadzieję , że się wam spodoba :P
Podałam z makaronem z cukini i marchewki oraz sosem miętowym.
(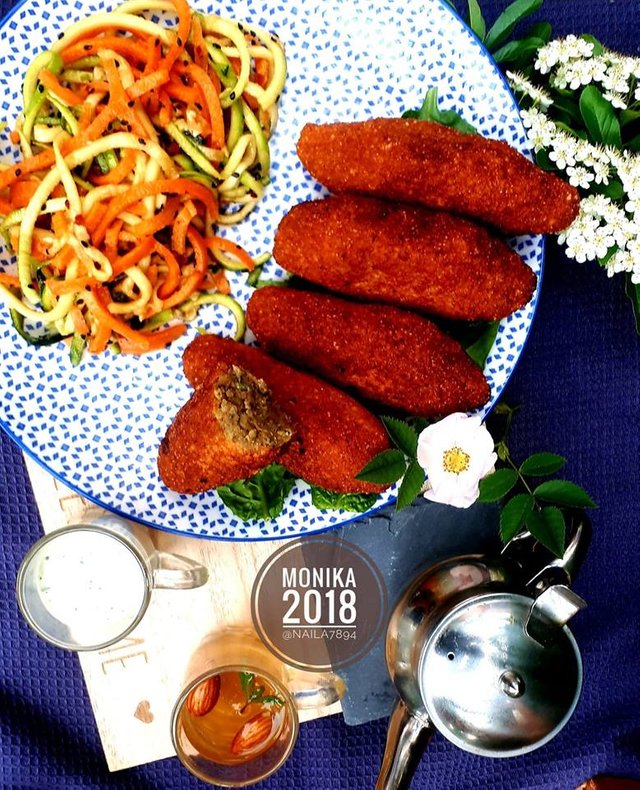 )
Arabska kebba
Składniki:
2kubki kaszy bulgur
2 kubki semoliny
1 łyżka soli
1 łyżka kminu
1/4 łyżki chili
3 kubki gorącej wody
3 łyżki koncentratu pomidorowego
Przygotowanie:
Kaszę, selomline, sól, kmin i chili wymieszać w misce. Następnie zalać gorącą wodą, przykryć i odstawić na 30 min. Po tym czasie dodać koncetrat, bardzo dobrze wymieszać i wyrobić ciasto.Ciasto powinno być elastyczne i powinno dać się ławo lepić z niego kebba. Gdyby okazało się za rzadkie dosypać semolinę.
*ciasto musi byc dobrze doprawione w razie potrzeby dodac więcej przypraw
Farsz
2 szklanki brązowej soczewicy
2 średnie cebule
2 ząbki czosnku
natka
Garść szpianku
sól
pieprz
Przygotowanie:
Soczewice gotujemy do miękkości z solą. Następnie przekładamy na durszlak. Kiedy woda odcieknie dodatkowo przesuszam soczewice na suchej patelni. Cebule czosnek i natke siekamy bardzo drobno ( ja uzyłam maszynki z ostrzem typu S ) i przesmażamy na łyżce oliwy. Przekladamy do miski. Garść świeżego szpinaku również siekamy na bardzo drobno i dodajemy do cebuli. Gdy soczewica ostygnie mielimy ja w maszynce do miesa lub w maszynce z ostrzem typu S. Ja nie robiłam tego na miazage - wolę jak masa jest grudkowata. Wszytsko ze sobą łączymy doprawiamy do smaku.
Lepienie kebba
Przygotowujemy miseczke z oliwą do zwilżania dłoni podczas lepienia. Nastepnie bierzemy trochę masy i lepimy kulke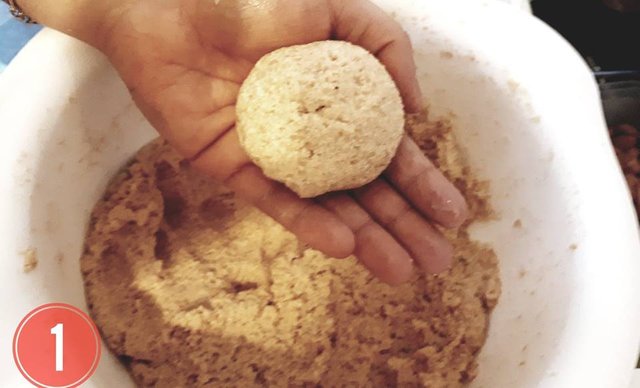 Robimy dziurke palcem :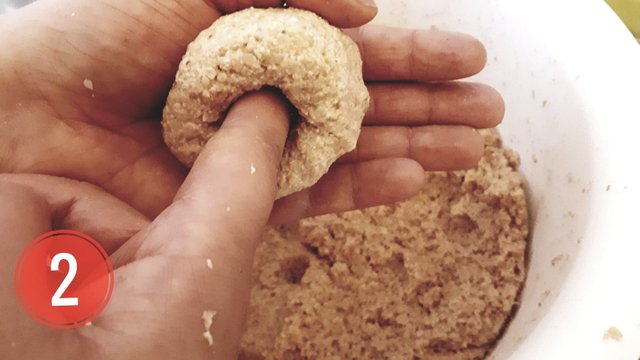 Obracamy kulke na palcu do okoła wydłużając ją w kształt rożka: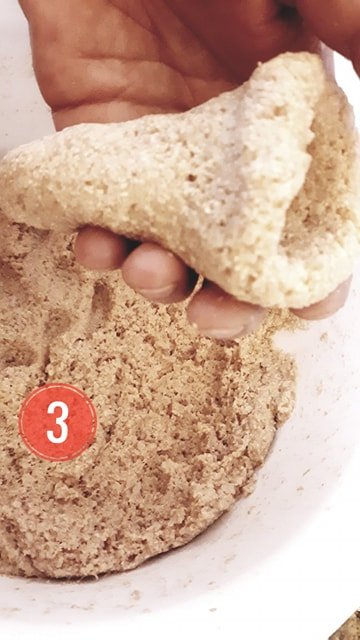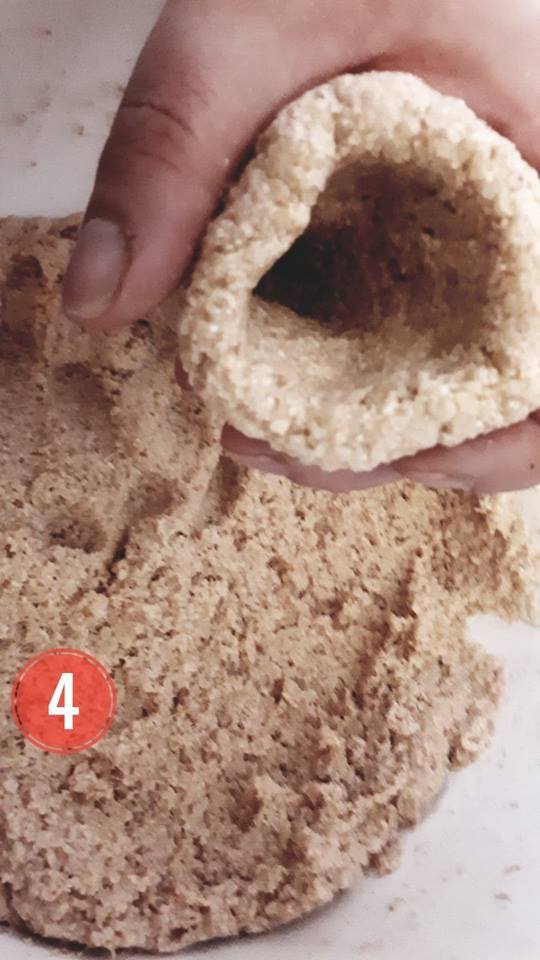 Rożek nadziewamy masą: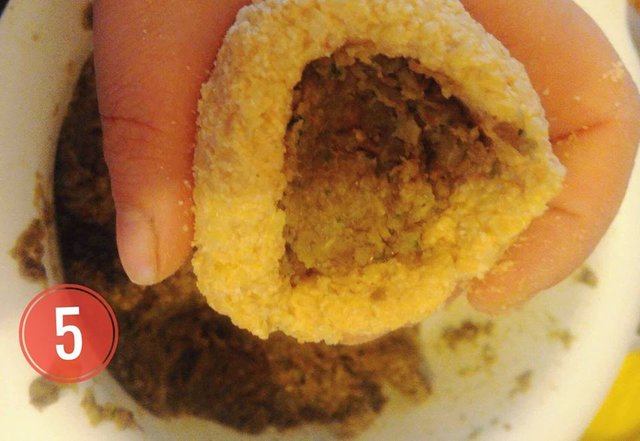 Zamykamy z drugiej strony i gotowe: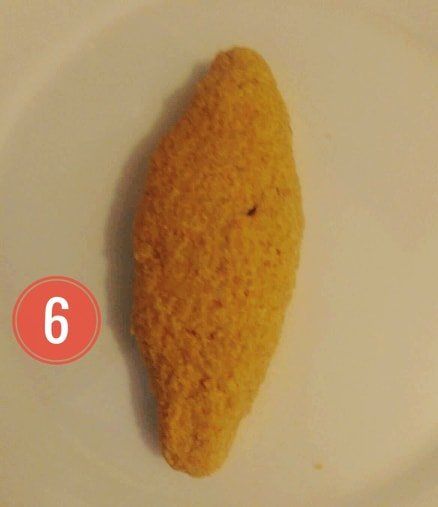 Kebba smażymy na złoty kolor lub pieczemy w piekarniku w 220C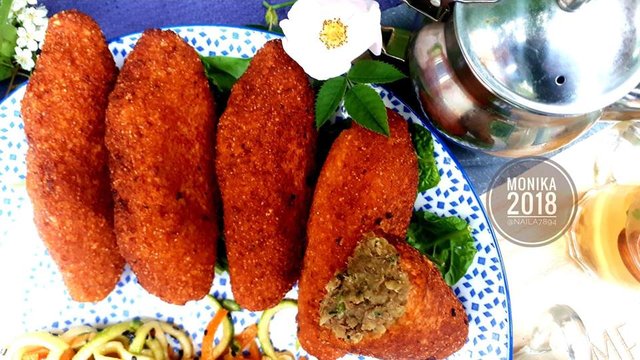 Markaron z marchewki i cukini 2 porcje:
1 śreniej wielkości cukinia
2 marchewki
Z cukinii i marchewki za pomocą spiralizera lub specjalnej obieraczki do julienne robimy makaron.
Następnie w oddzielnym naczyniu przygotowujemy sos.
3 łyżeki oleju tłocznonego na zimno
2 łyżki sosu sojowego naturalnie fermentowanego Kikkoman
2 łyżki syropu z agawy
1/2 łyżeczki słodkiej mielonej papryki
1/2 łyżeczki ostrej mielonej papryki
1 łyżeczka suszonego lub świeżego czosnku
sól (jeżeli trzeba , sos sojowy jest słony )
Makaron mieszamy z sosem i zostawimy na 15min. Posypujemy czarnym sezamem. Smacznego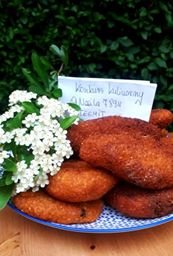 Sos miętowy:
3 łyzki tahini
2 ząbki czosnku
łyzka soku z cytryny
woda
6 listków mięty
Składniki zmiksować i gotowe :P
PS. Pieczona kebba jest twardsza :)