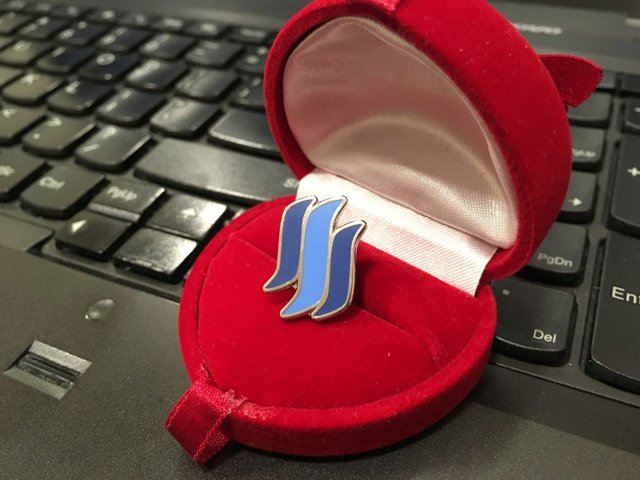 Kilka dni temu wybiła druga rocznica założenia konta @mys na Steem. Okres letni 2017 to był szalony czas dla rozwoju tej społeczności. Chciałbym tu jeszcze raz podziękować @noisy, że zaproponował mi opisanie rozwiązania zagadki Litecoinowej właśnie tutaj. Mój artykuł okazał się być naprawdę petardą na tamte czasy. @noisy, nie wiem jak aktywnie śledzisz obecnie losy Steem, ale wiedz że dałeś podwaliny pod budowę naprawdę interesującej polskiej społeczności!
5k Steem Power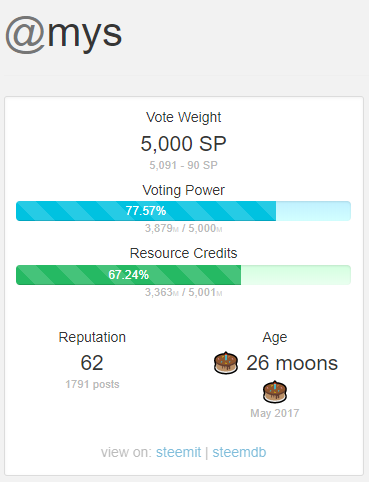 Tak, udało się uzbierać ponad 5000 Steem Power. To oznacza, że w terminologii Steemowej przeistoczyłem się z planktonu w delfina :D Cel z zeszłego roku został osiągnięty.
Miałem pewne obawy, czy pisząc artykuły naprawdę rzadko, uda mi się samą kuratorką wbić piątkę. Na szczęście bardzo pomogło zainteresowanie się grami blockchainowymi, a zwłaszcza SteemMonsters. Poza tym współpraca nad kilkoma projektami też dołożyła swoją cegiełkę. Pozdrawiam tutaj szczególnie @cardboard oraz cały @steemflagrewards :)
Karty Steemmonsters
Ups przepraszam, teraz ta gra nazywa się Splinterlands :)
Od początku koncept gry karcianej SteemMonsters bardzo przypadł mi do gustu. Wspminając Magic the Gathering, postanowiłem pobawić się w kolekcjonera i gracza karcianego. W momencie uruchomienia pierwszych potyczek, okazało się, że kolekcje kart nabrały całkiem sensownej wartości. Otwarcie rynku handlu otworzyło możliwość ciekawej spekulacji swoimi zasobami. Powoli przeistoczyłem się z gracza na handlarza. Nie jest tajemnicą, że mój automat skanuje blockchain w poszukiwaniu tanich ofert, szybko je wykupując. Muszę przyznać, że bardziej podjarałem się grą w handel niż samym układaniem talii do potyczek.
Całkiem mocnym zastrzykiem portfela było uzyskanie nagrody za stworzenie minigry w uniwersum SteemMonsters. To dzięki temu miałem fundusze na założenie swojej kolekcji kart.
Moja kolekcja kart jest dostępna do podejrzenia pod linkiem https://peakmonsters.com/@mys/collection
Zapraszam do handlu :)
Gry na Steem
Aktywnie śledzę rozwój gier blockchainowych. Uważam, że są one ciekawą alternatywą w stosunku do pisania postów jeśli chodzi o uczestnictwo w społeczności Steem. W ciągu ostatniego roku powstało kilka większych i mniejszych gier. Jedne okazały się mieć strukturę piramidalną, inne miały słabe założenia i się wyludniły.
Mimo to, dalej widzę blockchain Steem jako atrakcyjną bazę danych do gier przeglądarkowych. Przykład SteemMonsters świeci najjaśniejszym przykładem.
Ciekawostka: moja i @fervi'ego @steemnova jest najdłużej działającą grą Steemową :D Uni 1 działa już około 1,5 roku. Może nie jest ona tak atrakcyjna jak czołowe gry, ale dalej ma swoich fanów. Będziemy utrzymywać uniwersum do końca świata i o jeden dzień dłużej :)
Kuratorka
Mechanizm kuracji postów będzie dalej utrzymywany przeze mnie jak do tej pory. To znaczy, że śledzę kupno głosów u bidbotów oraz upvotuję stałych, sprawdzonych autorów. Nie jestem z niego do końca zadowolony, bo mój automat czasami upvotuje śmieciowe treści. Uważam jednak, że mimo to wykorzystywanie mechanizmu kuracji dobrych treści jaki oferuje Steem ma swoją wartość dodaną. Ufam, że jeżeli system nagród Steem działa dobrze, to moja dotychczasowa strategia jest najbardziej optymalna i tego będę się trzymał.
Społeczność i owocne znajomości
Aktywność na Steem to nie tylko projekty i blogi, które tu powstają, ale także ludzie i społeczność, jaką oni tworzą. To prawda, że nowe osoby przychodzą tutaj dla sławy i pieniędzy, a zostają dla społeczności. Niech dowodem będą liczne organizowane meetupy w ciągu ostatniego roku. Tak tylko z głowy mogę rzucić spotkania w Warszawie, na Śląsku, Łodzi i liczne w Rzeszowie. Dodajmy do tego SteemFest w Krakowie i mamy wypełniony cały kalendarz. Jestem mocno ciekaw, czy tradycji stanie się zadość i w tym roku także Warszawa wystawi mocne spotkanie Steemian.
Kto znajdzie mnie na powyższym zdjęciu w Królestwie ma u mnie apwołta ;)
Dzięki kontaktom na steem.chatach, Discordach i meetupach udało się poznać naprawdę interesujące osoby. Z niektórymi udało się nawiązać nawet bliższe relacje ;* Pozdrawiam tutaj gorąco ;)
Chciałbym tutaj jeszcze zachęcić do współudziału w rozwijaniu tagu #pl-zakochanapara, który razem z @anshia założyliśmy. Opornie, ale systematycznie staramy się go utrzymywać żeby nie był pusty. Taka nasza mała cegiełka na tym śmiesznym poliszu :>
Wizja Steem
Mimo wyludnienia oraz skrajnie pesymistycznych nastrojów na Steemie, ja uważam że sieć wcale nie ma się źle. Wręcz przeciwnie, w ciągu ostatniego roku powstało masę oddolnych projektów na tym blockchainie. Ci co się Steemem znudzili już dawno poodchodzili, ale z mojej perspektywy obserwatora różnych zakątków Steem, została całkiem spora grupka zatwardziałych Steemian. Jedni piszą dalej blogi, inni robią zdjęcia. Ktoś jeszcze notuje swoje postępy na Actificie albo gra w gry blockchainowe. Steem zdecydowanie się rozwija i staje coraz bardziej atrakcyjnym miejscem dla wielu grup. Według mojej obserwacji, coraz większą rolę będą odgrywały tu różne zdecentralizowane aplikacje, a coraz mniejszą samo pisanie blogów.
Jak będzie zobaczymy. Ja tokeny zbieram dalej. Cel 10 tysięcy :)
Cel 10 tysięcy
---
Chciałbym tutaj podziękować wszystkim rozsianym po różnych kątach polskim społecznościom. Pozdrawiam czaty Rocket steem.chat, Discord Steem Polska, Discord sp-group, a także wykop.pl ( ͡° ͜ʖ ͡°) .
Po czarodziejsku chciałbym mocno podziękować Ci @dobranoc, wiesz za co :)