GŁOSUJ NA STEEM na BITBAY! PLEASE VOTE FOR STEEM on BITBAY !!!
Hej,
Pod linkiem : Głosowanie na nowe kryptowaluty na Bitbay
znajduje się formularz google jest w nim ankieta giełdy BitBay dotyczących wprowadzenia nowych kryptowalut... na tą giełdę...
Droga społeczności - Głosujcie na STEEM i udostępniajcie znajomym ! Pokażmy siłę !
Sytuacja na godzinę 23:20 GMT/02.07.2018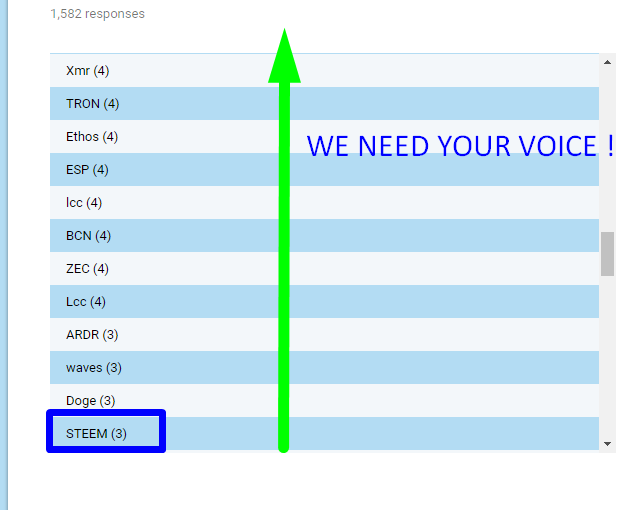 Do tej pory na STEEM - głosowało bardzo mało osób i wynikało to chyba z niewiedzy, że jest taka ankieta!
Tak więc działamy moi mili!
Znacznie nam to także ułatwi zakup STEEM za fiat...
---
VOTE for STEEM on BITBAY
@Bitbay.net - one of the largest stock exchanges in Europe - launched a survey regarding new cryptos. Vote for STEEM!
Let's show power!
How to vote? Very simply:
1.We are going to the form:
Voting for new crypto currency on Bitbay
Enter STEEM and confirm.
That's all!
Let's do it together - Vote for STEEM!