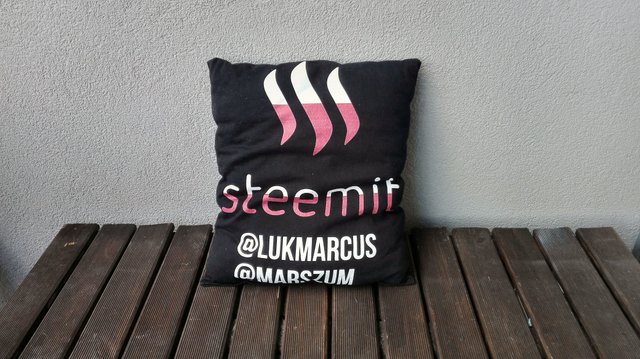 A było to tak: mój małżonek postanowił rok temu zamówić sobie specjalną koszulkę ze swoimi loginami Steem. Miał w niej pójść na wrocławski meetup, ale nie dość, że paczka nie przyszła w terminie, to jeszcze t-shirt okazał się ze dwa rozmiary za duży i po prostu wylądował na dnie szafy.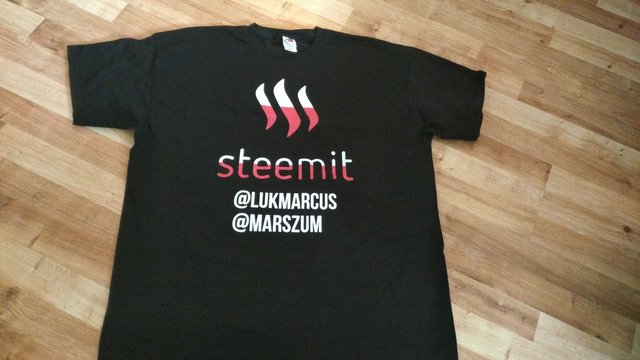 Dobrze wiedziałam, że już nigdy go nie założy. Tak jak myślałam, po kilku tygodniach w ogóle zapomniał, że tę koszulkę kiedyś kupił. Dlatego tylko poczekałam, aż wyjdzie do pracy, a potem zabrałam się do roboty. Plan był prosty i w zasadzie niezbyt wymagający - przerobić koszulkę na poduszkę.
Zaczęłam od dokładnego wymierzenia, wycięcia i prasowania materiału idącego na przód oraz tył poduszki.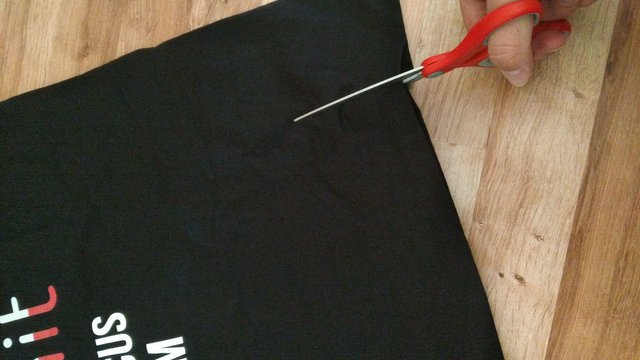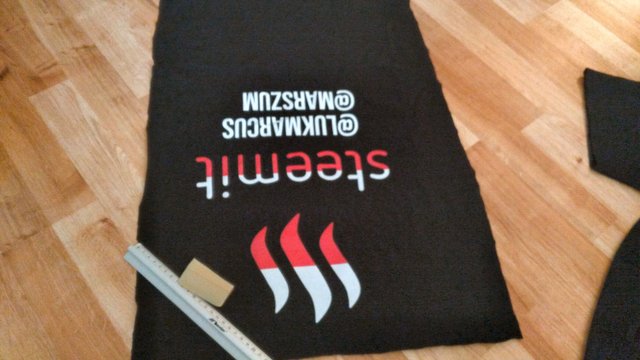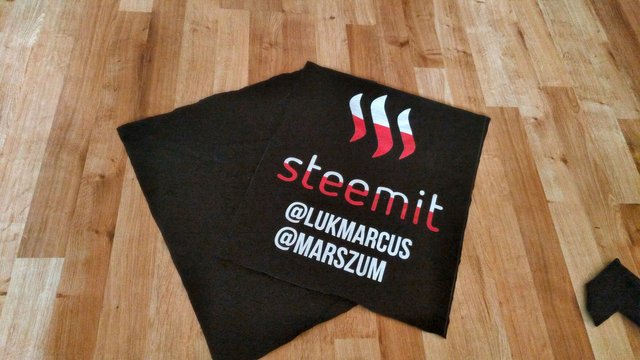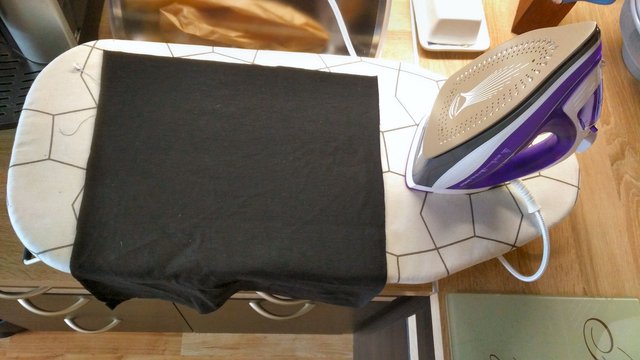 Dopiero po tych czynnościach mogłam tymczasowo połączyć kawałki materiału szpilkami i potem na lewej stronie zszyłam na maszynie trzy boki poduszki.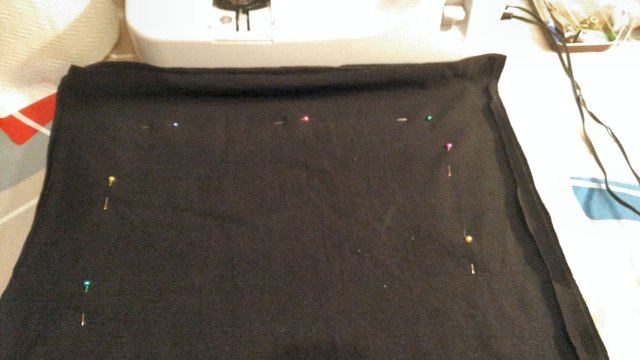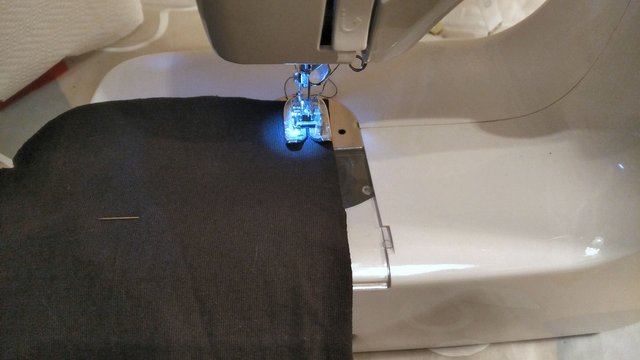 Po obróceniu materiału na prawą stronę pozostało już tylko napełnienie poduszki - w tym przypadku użyłam kulki silikonowej.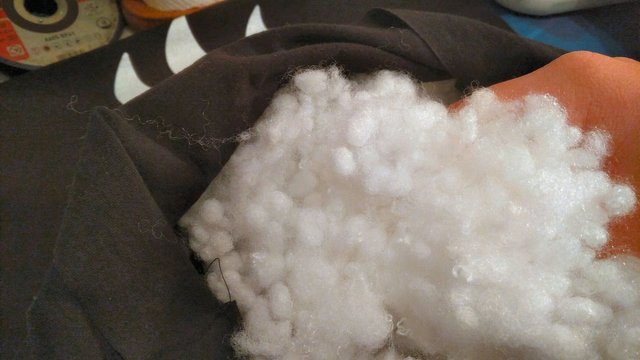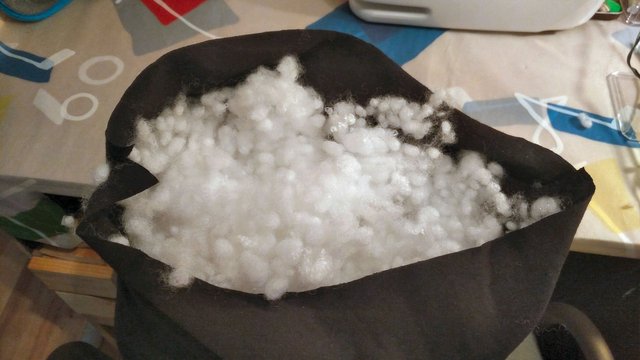 Wystarczyło jeszcze tylko zszyć bok, przez który napełniłam przed chwilą poduszkę i mamy gotowy nasz gadżet!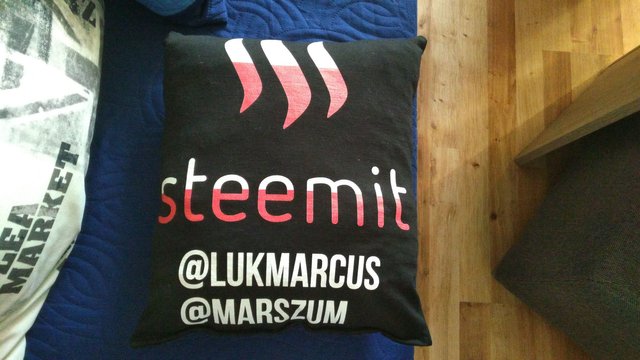 Podsumowując: Jest to naprawdę prosta rzecz do zrobienia - maszyna do szycia nie jest wymagana, można to przecież zrobić ręcznie. Środek z kolei można wypełnić dowolnym miękkim tworzywem.
---
Post ten zgłaszam do Konkurs Kreatywny #7 o temacie STEEM gadżet.
---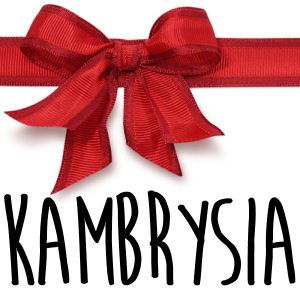 Nie zapomnij obserwować mojego profilu!